Available for the following Plan types:
FullStory Enterprise
FullStory Advanced
FullStory Business
FullStory for Mobile Apps
FullStory Free
Available to the following User roles:
Admin
Architect
Standard
Yes! With FullStory, you can identify sessions where users highlight content on a page. This may be an indication that users are:
Particularly interested in a piece of content

Confused by a piece of content

Preparing to take action on a piece of content (for example, perhaps they're copying and pasting a product name to comparison shop elsewhere)
To identify these sessions, build a search using the "Highlighted" event filter.

You can also track page highlight trends using metrics and dashboards. For example, this Dimensionality Card shows us which Product Names are highlighted most frequently on an ecommerce site.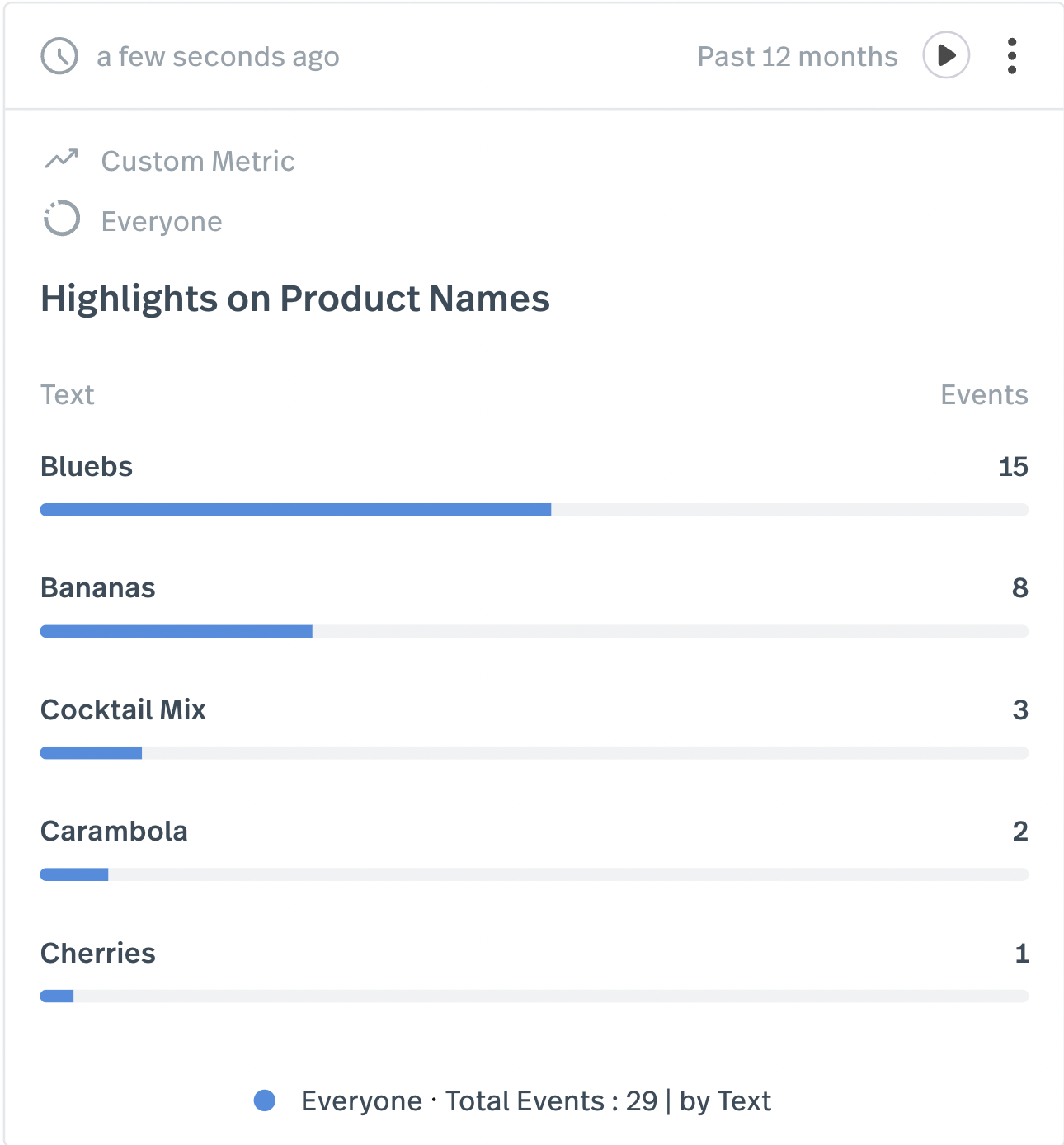 You can also create a Defined Event for page highlights and use it to analyze the impact of page highlights on your conversions. For example, this conversion analysis shows that we lose over 1,000 conversions annually when users highlight a product name during the checkout flow on an ecommerce site.
FAQs
Do I need to enable highlight capture in my account?
FullStory will automatically begin capturing highlight events after the Beta is enabled for your account. Previously captured sessions will not show highlight events. 
Does FullStory capture highlight events for both web and mobile apps?
Yes
Does FullStory detect highlight events triggered by double or triple clicks that highlight full words or paragraphs?
Yes. We'll detect highlights that are triggered when a user clicks and drags their mouse, double clicks to highlight a word, or triple clicks to highlight a paragraph.
Can FullStory detect when a user highlights text using their browser's search feature (i.e. Command/Control + F)?
No, text that is highlighted as part of a browser search is not captured in FullStory. 
Will I see Highlight events if I use Private by Default (PbD)?
If you are using our default PbD setting, you likely have text masked; however, FullStory will still capture the selector of the element. In that case, you'll still be able to know that a user highlighted something in a specific selector, you just won't know exactly what text was highlighted. If you are completely excluding elements, then highlight events will not be captured.