With the "Report Bug" feature, you can copy the content of notes and all other session metadata for easy pasting into any external tool you use for tracking bugs and projects.
How to "Report a Bug" in FullStory
There are a couple places you'll find the Report Bug session metadata. Clicking on the Report Bug link is all that's required to pull up the report a bug modal.
Each item in your Notes feed contains an additional Report Bug link at the end of the existing list of "Send to" integration links. If no integrations are enabled, the Report Bug link will appear by itself.





The same report bug information also appears in the event list whenever you've made a session note during session playback. Find the shared note in your event stream, click the three dots in the top-right corner, and select Debugging info to pull up the data.


Copy/paste session metadata where you need it
Once you view the report a bug modal, you can copy the session metadata by clicking the COPY button inside the "Session Metadata" text box. The content of the text box will be copied to your clipboard, and you'll see a "copied" success status message at the bottom right corner of your window.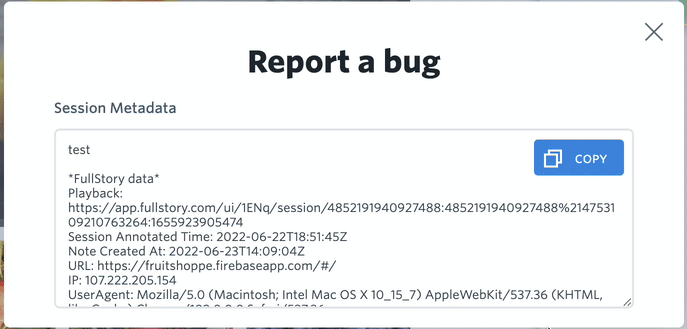 Session metadata you get when reporting a bug
Session metadata is a snapshot of what was happening at any given moment in a session replay. There is also a session link to the exact moment you want to share included. When you click Report Bug you'll trigger a modal that provides the following information:
A link to the FullStory session replay at the moment the problem occurred.
Any notes you took and when they were created
The page URL on which the problem happened
IP address, Country, City
UserAgent data — E.g. Mozilla/5.0 (Macintosh; Intel Mac OS X 10_13_3) AppleWebKit/537.36 (KHTML, like Gecko) Chrome/64.0.3282.167 Safari/537.36
Referrer information
Viewport — E.g. 1440px (w) x 780px (h)