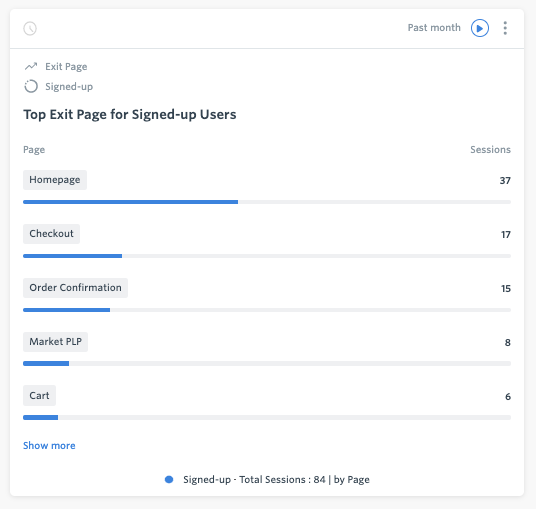 Top Exit Pages for Signed-up Users
This Dashboard Card will display the count of unique sessions with a breakdown by Exit Page for signed-up users over the last month.
Ingredients
Segment: Signed-up
Metric: Count of sessions with Exit Page
Dimension

: Page
Instructions
The Signed-up segment is already saved by default in your FullStory account. If you are not identifying your users, the "Signed-up" segment will be empty.

Create and save a Dimensionality Dashboard Card called "Top Exit Page for Sign-up Users", using the Metric of count unique sessions with visited page any when the Exit Page is true.

Set the time period to the past month and apply the Sign-up segment.

Select Page as the dimension to group by to see the count of sessions summarized by Exit Page.

Click to view details on any Dashboard Card to watch related sessions.