Available for the following Plan types:
FullStory Enterprise
FullStory Advanced
FullStory Business
FullStory for Mobile Apps
FullStory Free
Available to the following User roles:
Admin
Architect
Standard
This is part 1/5 of a series explaining Conversions:
Introduction to Conversions
This series will explore what Conversions are in FullStory, how to set up an analysis, how to interpret your results, and walk through some examples. If you want just the basics, you can read our quick-start guide first and come back here for a deep-dive.

Introduction to Conversions
Discover, understand, and fix the most pressing points of friction affecting your customers' experiences. Whether you're interested in their onboarding, purchase behavior, or feature adoption, FullStory's Conversions will provide you with a prioritized list of the most impactful issues reducing your conversion rates through any workflow.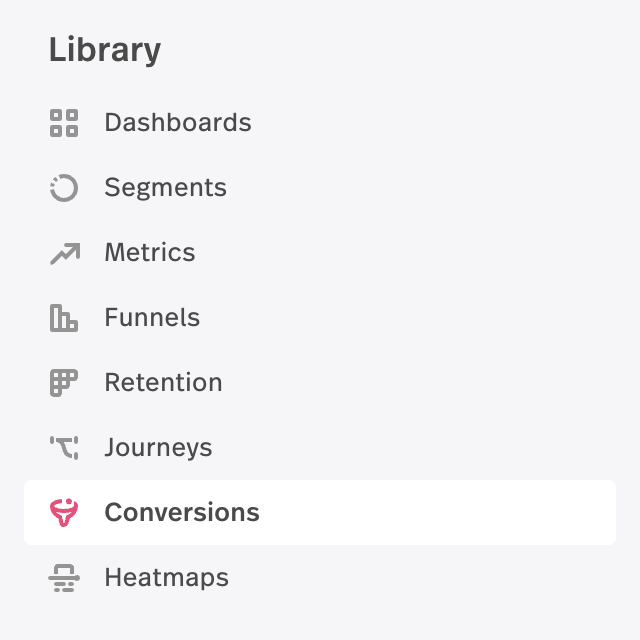 You already use FullStory's powerful search and segmentation to ask questions, test hypotheses, dig into user reported issues, and find problems. Conversions will help you answer questions you might not have thought to ask.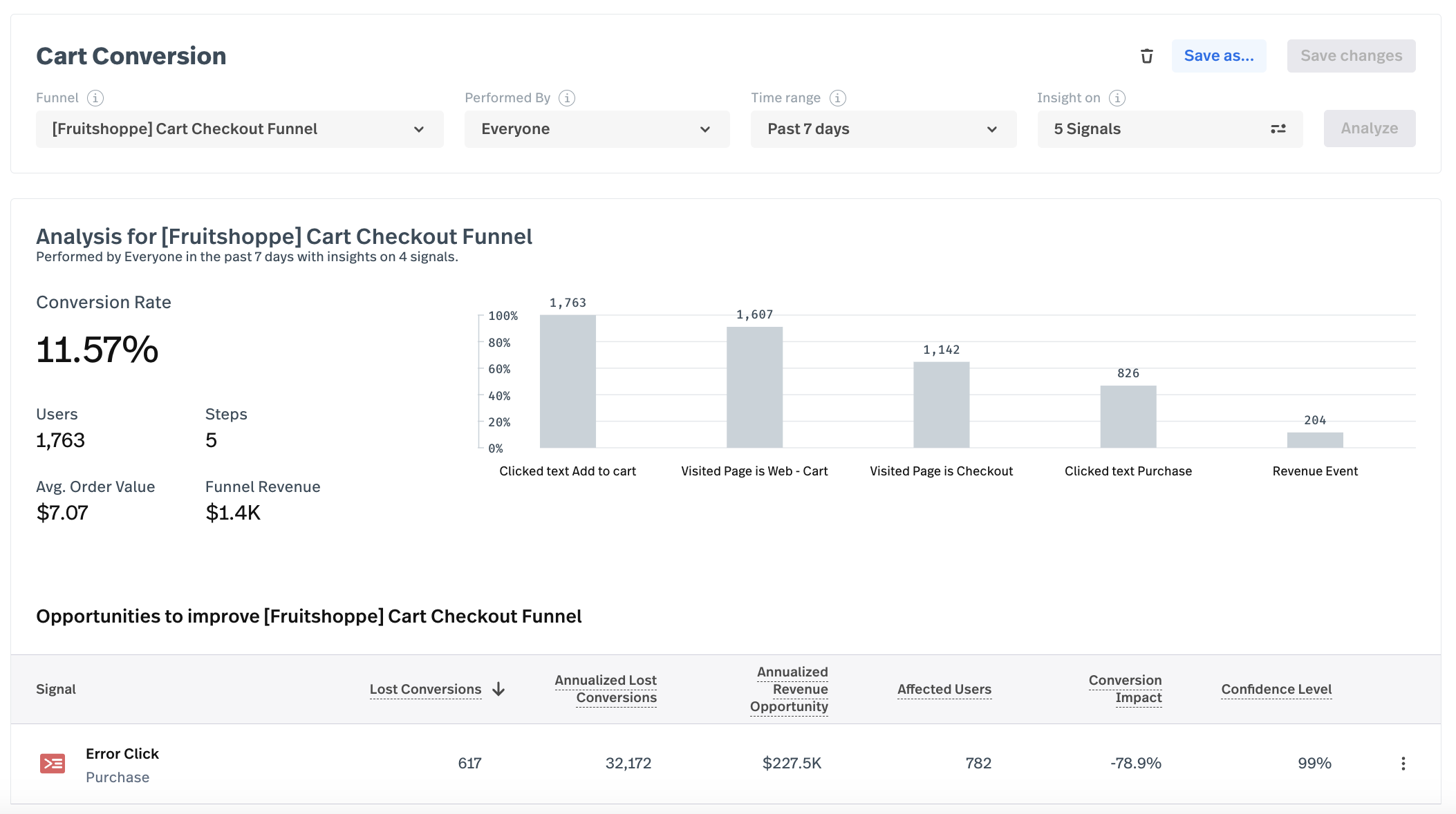 Conversions puts sound statistical methods to work. It automatically detects signals that tell you that your users are having repeated, specific problems using your website compared to the background noise of your everyday "business as usual."
So, what does this look like in practice?
Control which Conversion Funnels, cohorts of users, and date ranges you'd like to see insights for so that your data is always relevant.

Automagically analyze the effects of performance issues, Rage Clicks, Dead Clicks and Error Clicks out-of-the-box.

Enrich these insights with your own custom events to understand business-specific potholes in your digital experience.

Review a prioritized list of issues impacting your conversions, each with a detailed analysis of the step in your funnel that needs attention.

Dive into a curated list of sessions to gain context and empathy for what your users are experiencing.
How can Conversions help my business?
You can use Conversions to optimize conversion rates and prioritize your product development by answering questions such as:

What's the most important digital experience pothole that's stopping people from completing the signup flow?

Is this error click stopping people from going through the checkout funnel?

Is page performance an issue for all of my customers, or does it impact some segments more than others? 

What issue should I prioritize next for my development team to make the biggest difference to our KPIs?
What other features in FullStory support Conversions?
Segments vs. Conversion Funnels
As a user of FullStory, you are probably familiar with segments, which are created when you name and save a search. In addition to these, you'll also be creating Conversion Funnels that are similar but distinct from segments. So, as a Conversions user, you'll need:
Segments

: These are used for defining the cohort of people that have ever done one or more actions or have common properties.

Conversion Funnels:

 These specify a series of events that occur in a specific order, which we call funnel steps.
You will be able to import your segments for use as Conversion Funnels. Conversion Funnels need at least two steps, and the best practice is to have between four and six steps. 
Signals
Signals is our name for usage events that may impact your customers' ability to complete a conversion funnel. FullStory analyzes and identifies the signals that represent the top opportunities to improve your conversion rates.
While signals can be positive or negative in general, Conversions is focused on usage events that negatively impact conversion, such as the built-in FullStory frustration heuristics (Rage/Dead/Error click) or slow page load times (first contentful paint > X number of seconds).
You can also specify Custom Events and Watched Elements as meaningful signals that you'd like Conversions to analyze (learn more about these options in the next part of this series). 
Conversions Visualization
When you navigate to conversions, you'll see a few sections. We've named the different sections of Conversions and will be referring to them throughout this article, so you can use this section as a reference.
Conversions Composer - the panel at the top of the Conversions home page where you can choose your Conversion Funnel, cohort, date range, and signals that Conversions can consider.
Opportunity Table - the list of prioritized results that Conversions will return to you based on your funnel set up.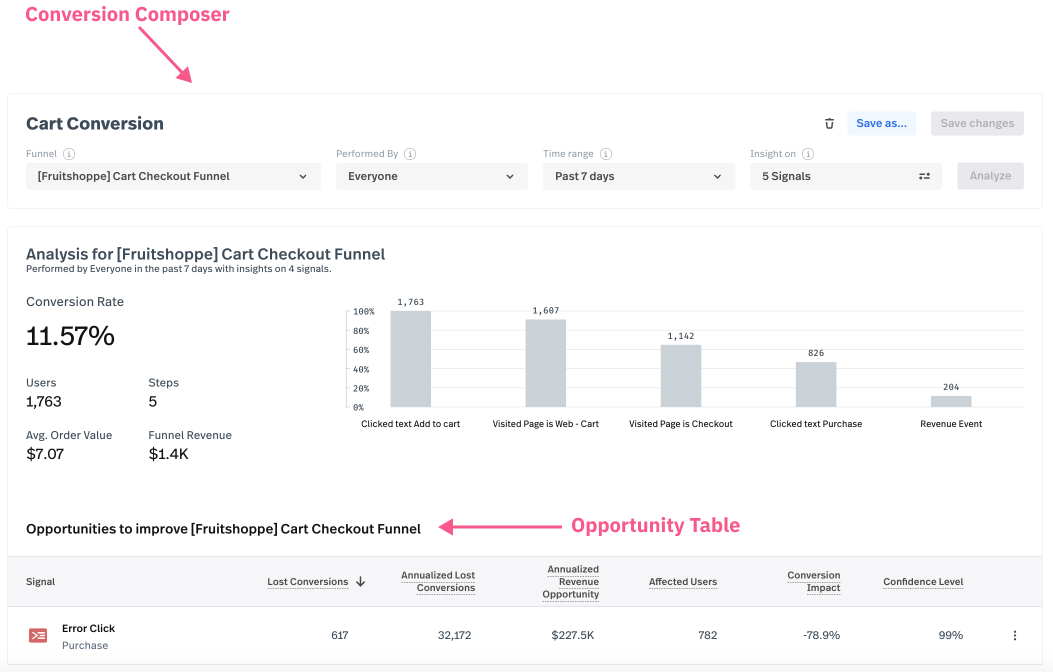 Conversions Funnel Builder - From the conversion composer, select funnel, and click create custom funnel. A module appears that allows you to edit or create a conversion funnel.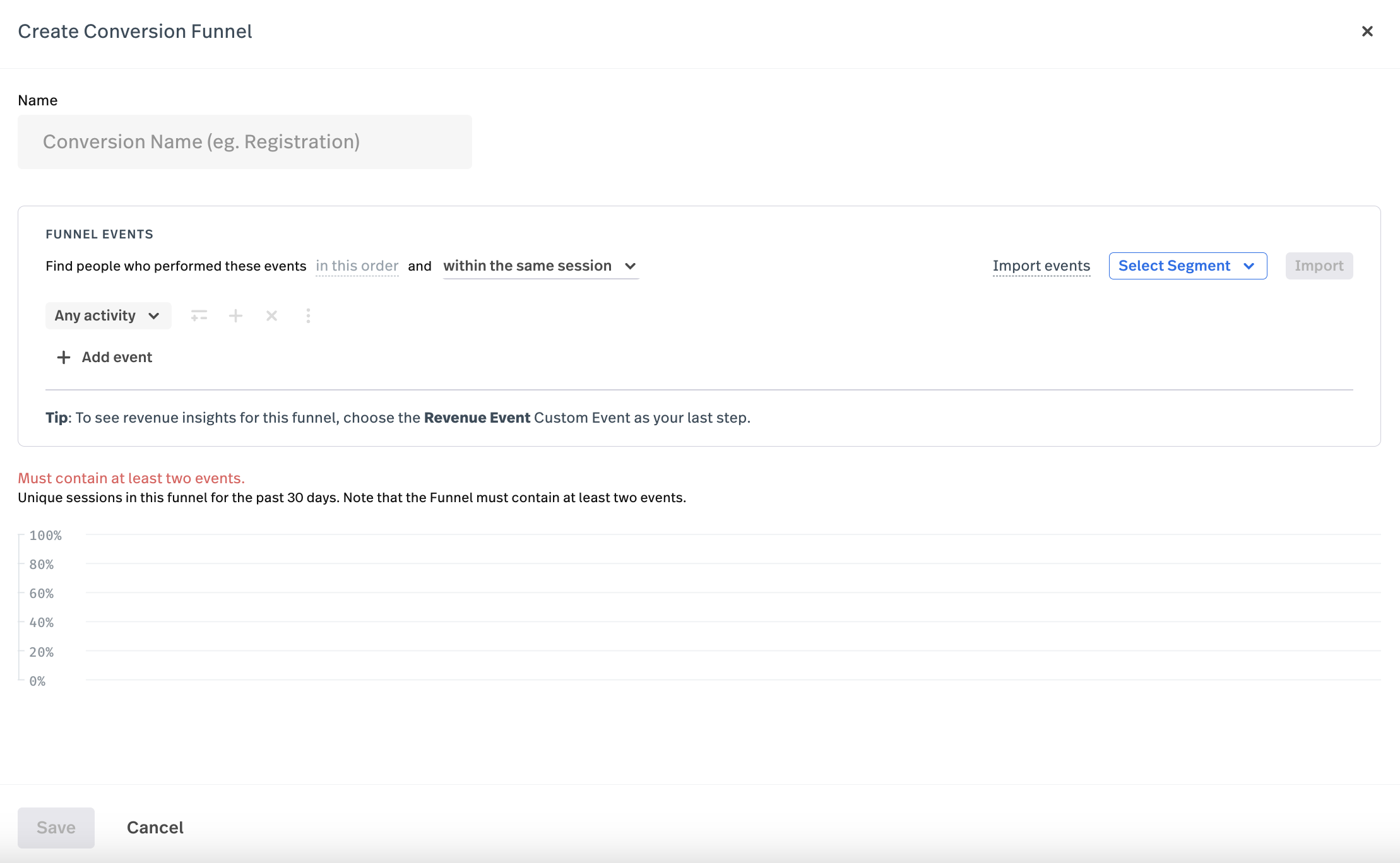 Opportunity Analysis - the detail view when you click into a specific result returned in the Opportunity Table.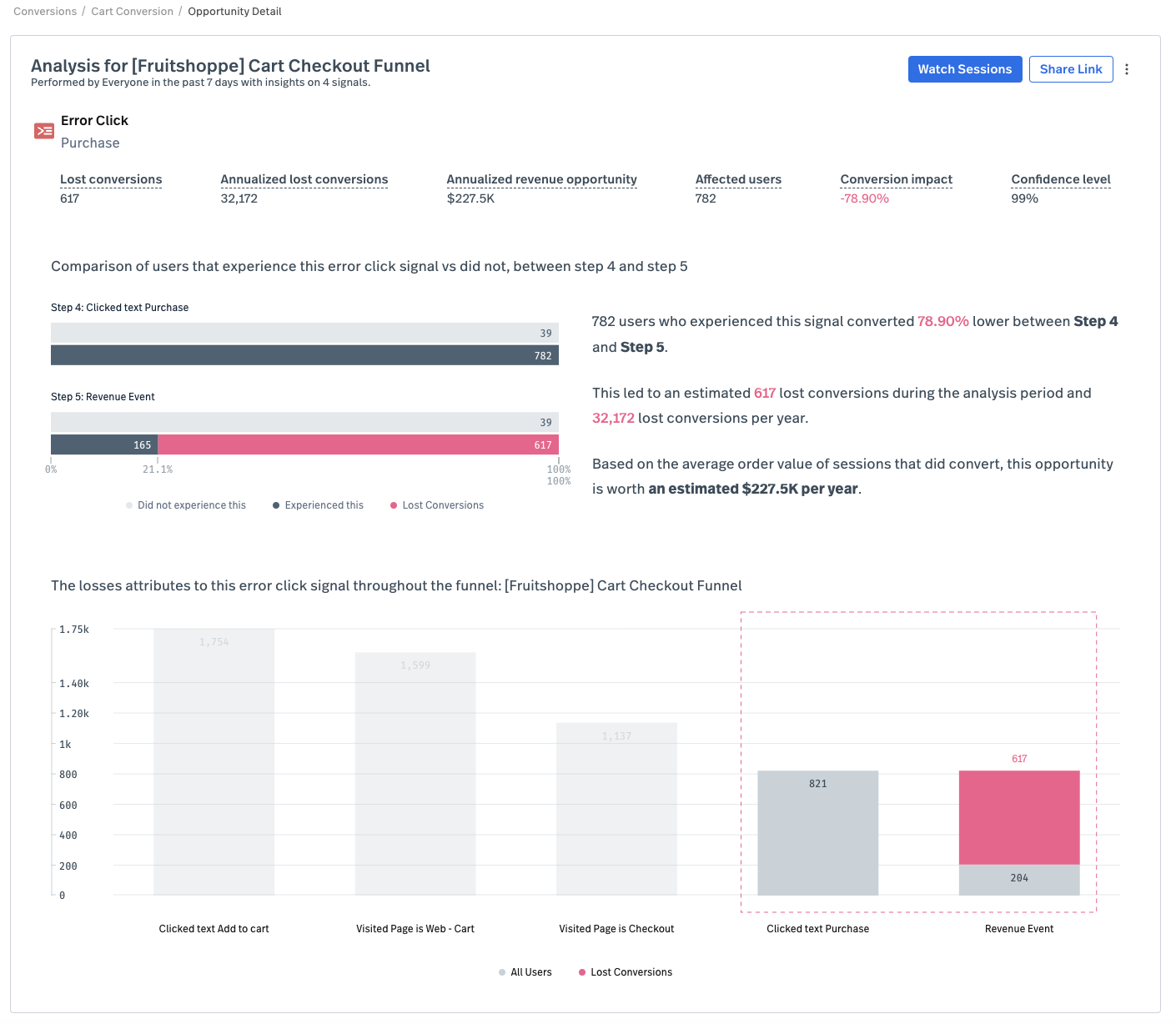 Next, learn how to set up your first Conversion Funnel.