The Home experience provides a flexible, organized and personal workspace for you in FullStory. The experience was designed to speed up your workflows and provide streamlined access to the different capabilities in FullStory. With your own personal workspace, you can quickly access the metrics and visualizations you care most about, all in your personal Home experience.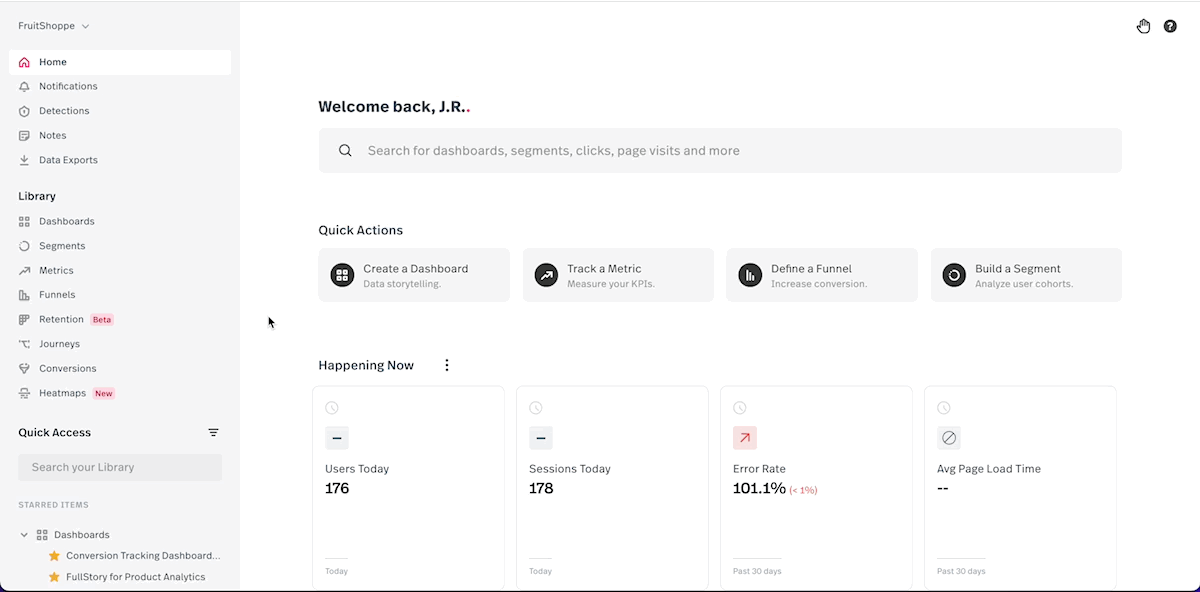 The Home experience gives you a personal layout and the freedom to shape your workspace by putting the data you need, how you need it-- right at your fingertips. From easy to use quick actions, to simplified navigation, and drag-and drop organization; there are so many ways for you to unlock insights into your users' digital experience.
Across FullStory, you can access contextual search allowing you to streamline your work by creating or viewing Segments, Funnels, Metrics, and more at any point in your workflow.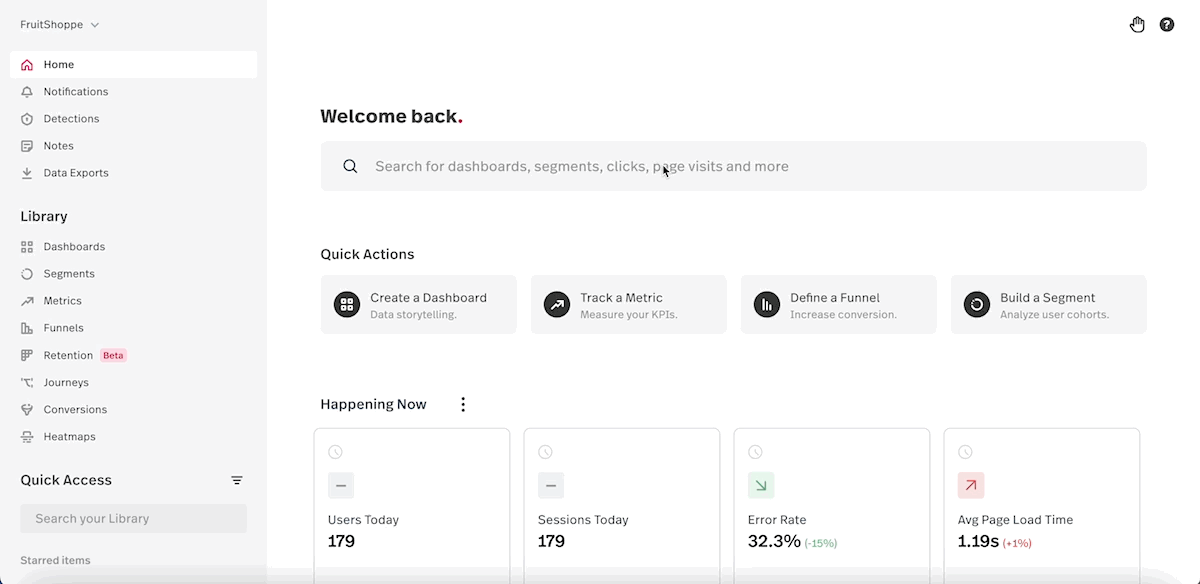 In this article, we'll walk through how to navigate and optimize your FullStory experience.
Home Experience
Customizable for each user, think of the Home experience as your own personal playground within FullStory. Here, you will have easy access to both your product analytics and session replay insights right away. There are a few standard cards in your Home experience to get you started, but customizing your personal workspace will improve workflows and ensure access to the data you care most about.
Add sections to your Home experience to organize and label groups of cards. Create a new section by clicking the vertical ellipsis on any existing section. You can also reorder, remove or duplicate sections. Name the sections in a way that makes sense to you and your personal workflow. Additionally, Add a Metric or Funnel from your Dashboard directly to Home.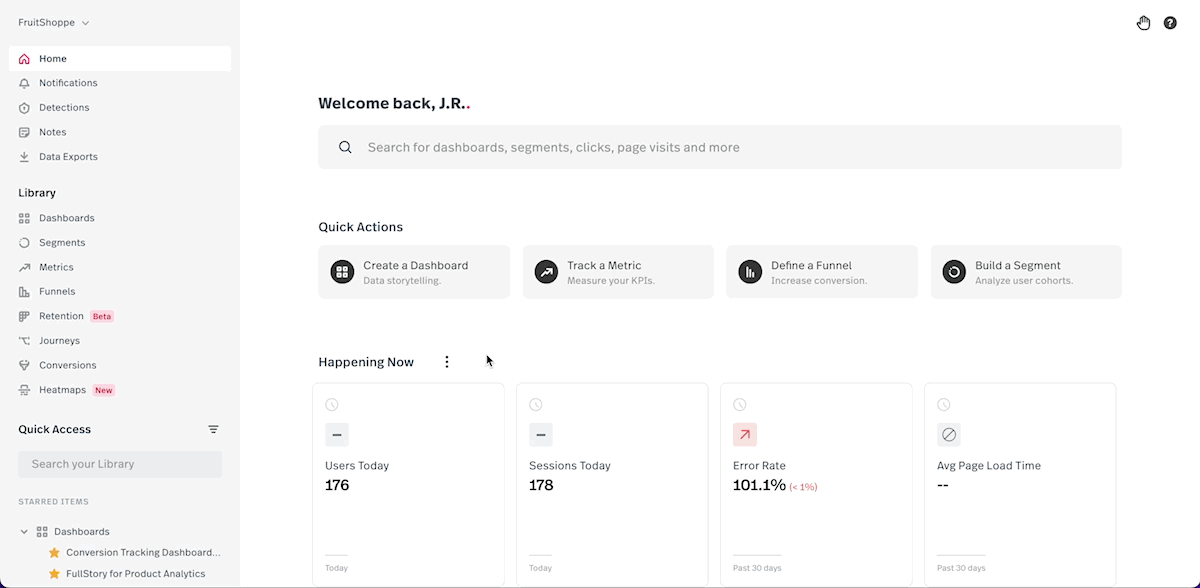 Move cards around easily using the drag and drop feature to organize your Home experience. Design your own personal workspace to prioritize the visuals you want to see first in FullStory.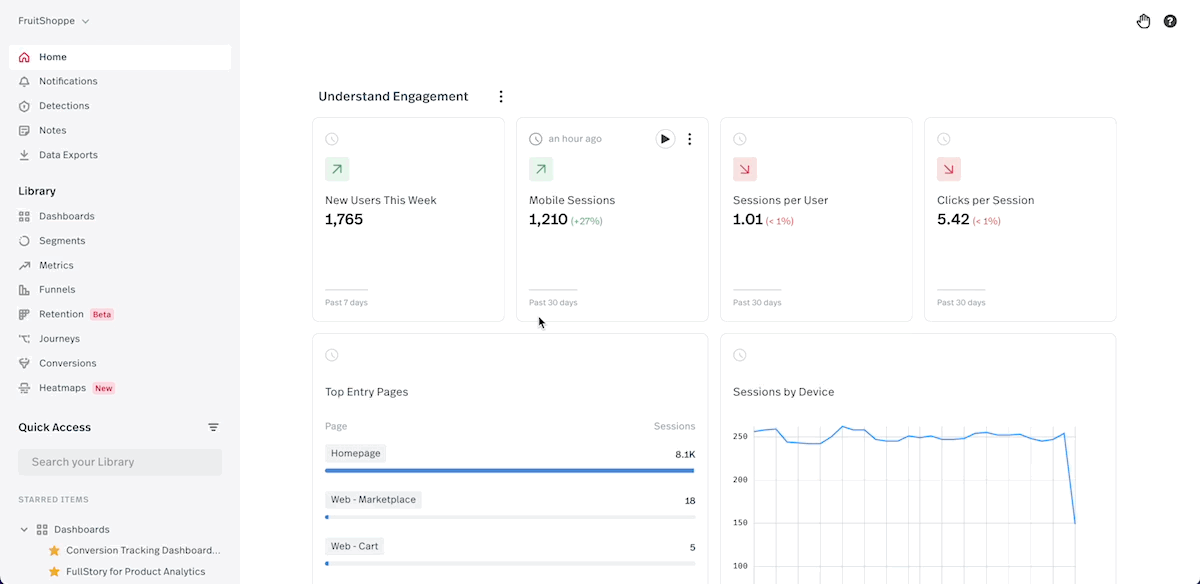 Easily adjust the size of each card to various formats to make the most of the space you have in your Home experience. Click the vertical ellipsis on the card to select the best format for your personal workspace. Add playlist views to have quick access to both quantitative and qualitative insights.
The Home Experience gives you four different card formats to choose from:
Small - Basic numbers and percentage change

Medium - A half width card that shows the visualization

Large - A full width card that shows the visualization, useful for complex funnels and long trends

Playlist - A session playlist view that allows users to jump directly to playing sessions from Home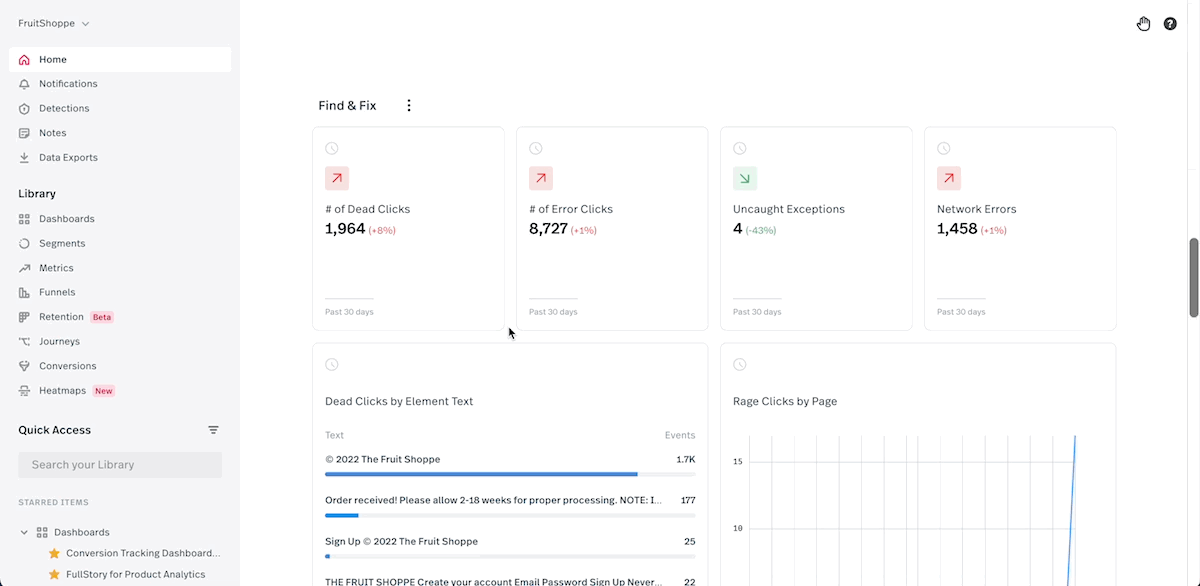 Additionally, add an object (Metric, Funnel, etc) from your DX Library directly to Home.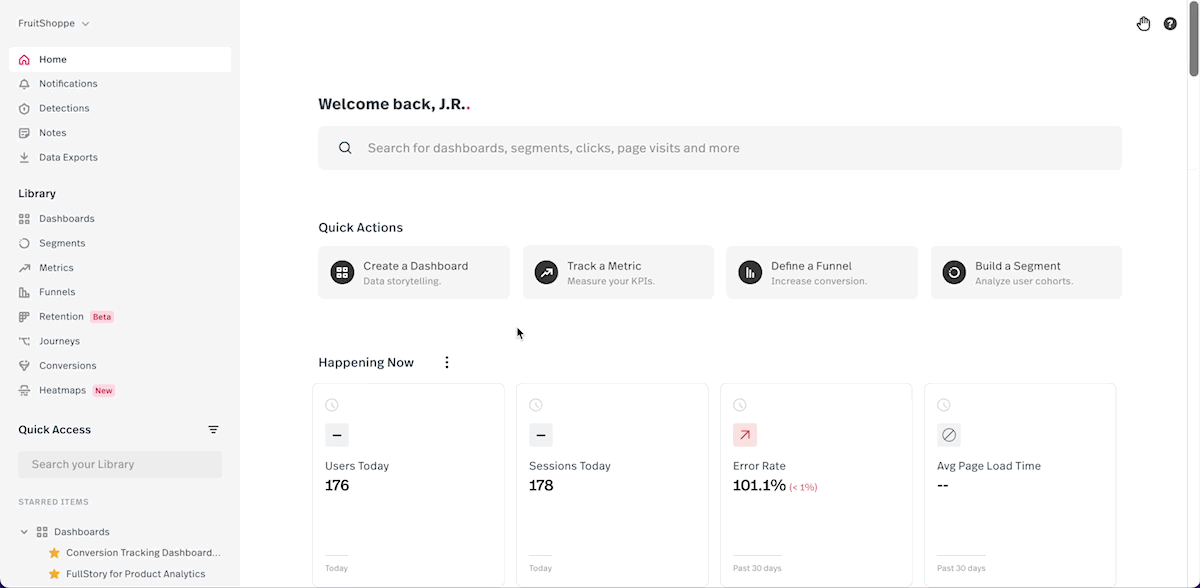 Quick Actions
Quick actions allow you to create Metrics, Funnels, Segments, and more all from your personal Home experience. Use these quick actions as an easy jumping off point for creating shareable insights across your organization.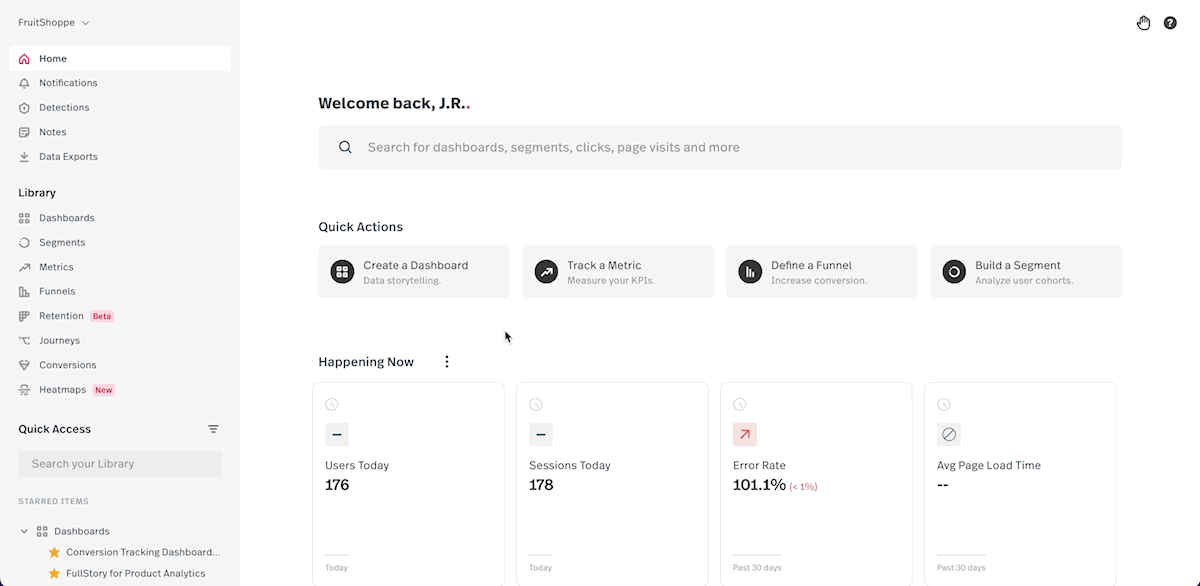 Once you've created something using a quick action, easily add it back to your Home experience using the Add to Home button on anything you create.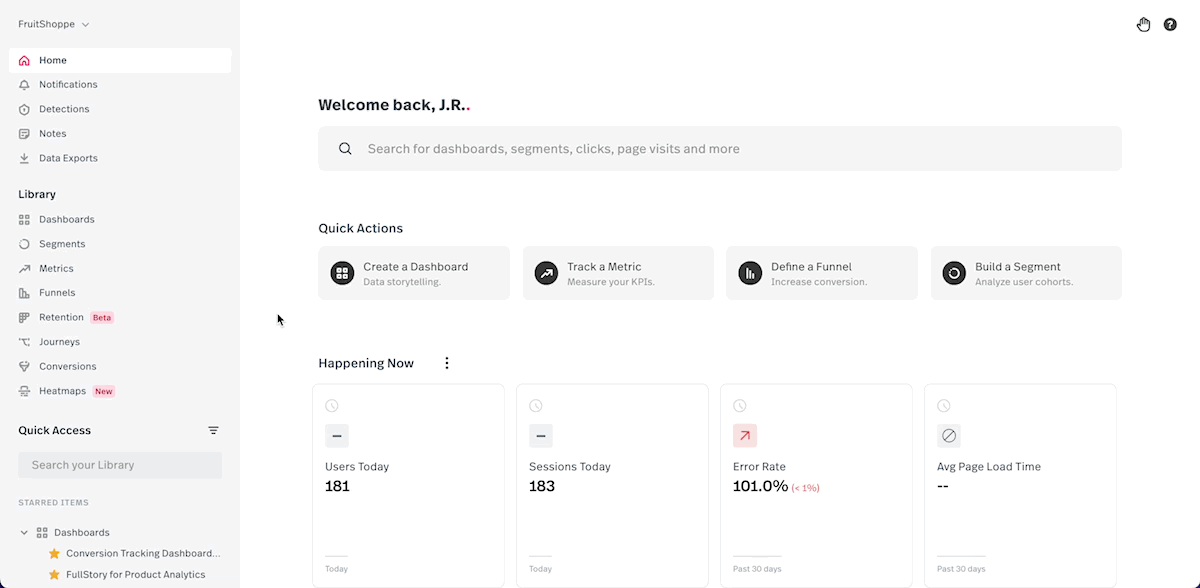 Universal Sidebar
A universal sidebar that is the same throughout FullStory, allows for easy navigation and consistent access to your most important digital experience insights. Find easy to access features like Notes, Data Exports, and more here. Collapse the sidebar to optimize what is visible as you are using FullStory. Most importantly, the sidebar will stay the same no matter where you are in FullStory. As you navigate through the app, the sidebar can serve as your compass for finding your way back to all that you're working on.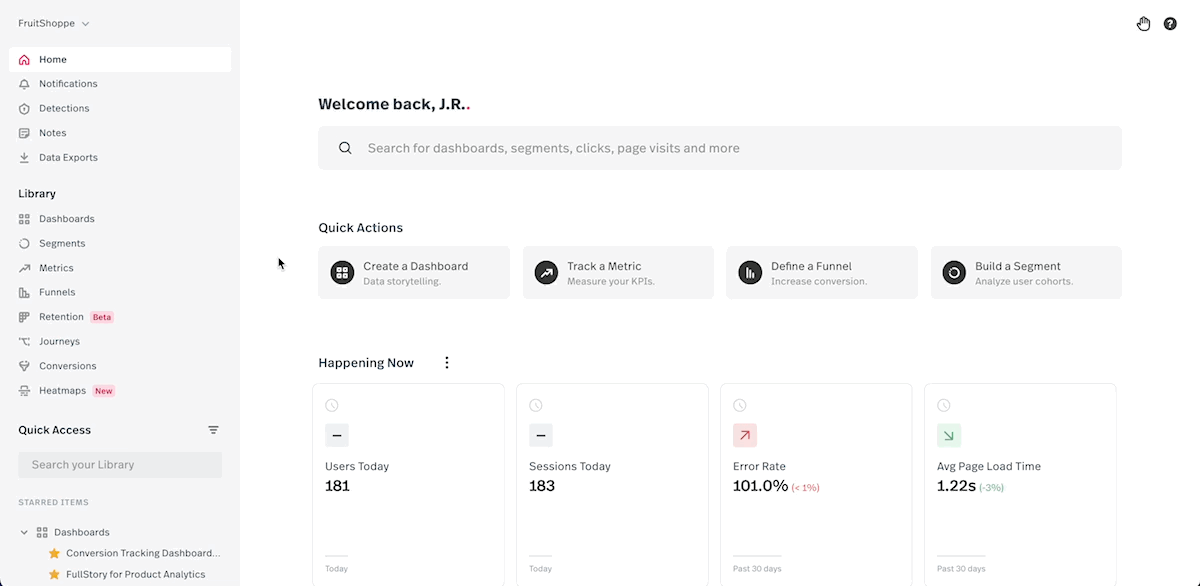 Settings are found on the left-hand side, accessible through clicking your account name.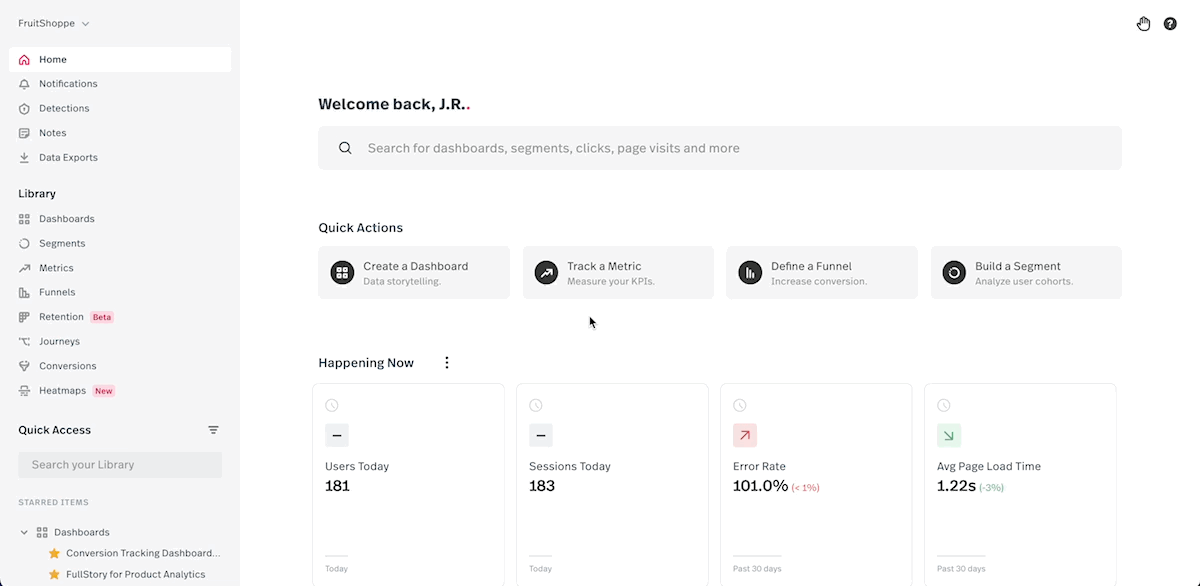 Quick Access
FullStory provides quick access to the DX library in the universal sidebar. Search the DX Library for any Metric, Funnel, Dashboard, or Segment in FullStory. Pick and choose from anything in the DX library to explore and discover the complete value of FullStory's capabilities. From the DX library, you can easily add anything to your own personal workspace or to an existing dashboard.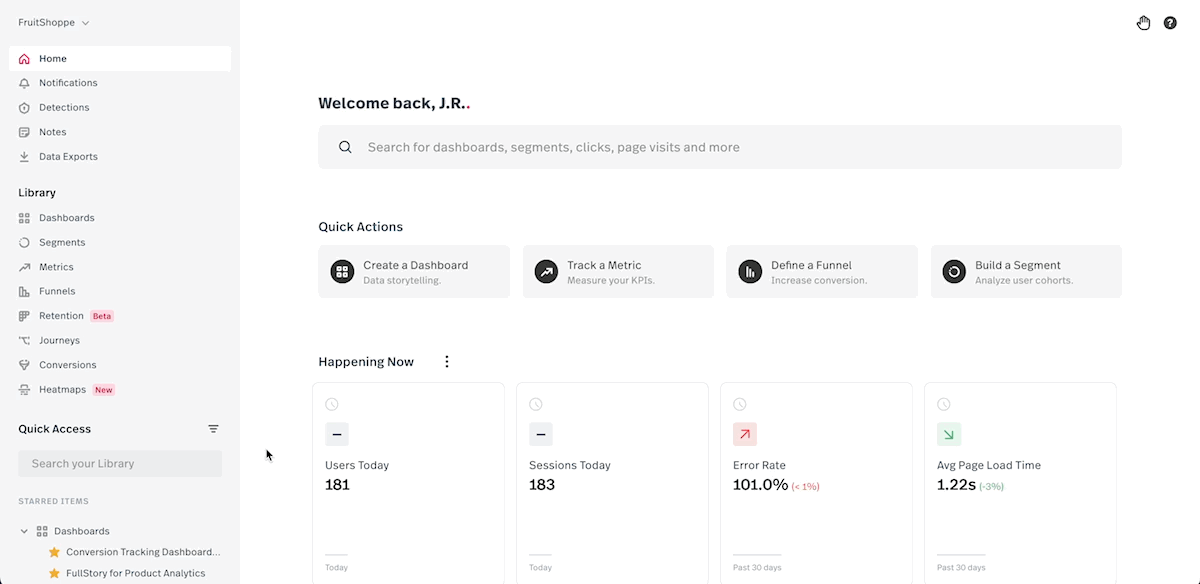 Starred Items
Starred items are always visible in the universal sidebar. With one click, navigate to any Segments, Metrics, Funnels, or Dashboards that you've starred in your personal workspace. By starring the objects that are most relevant to you, your workflows will be both customizable and efficient.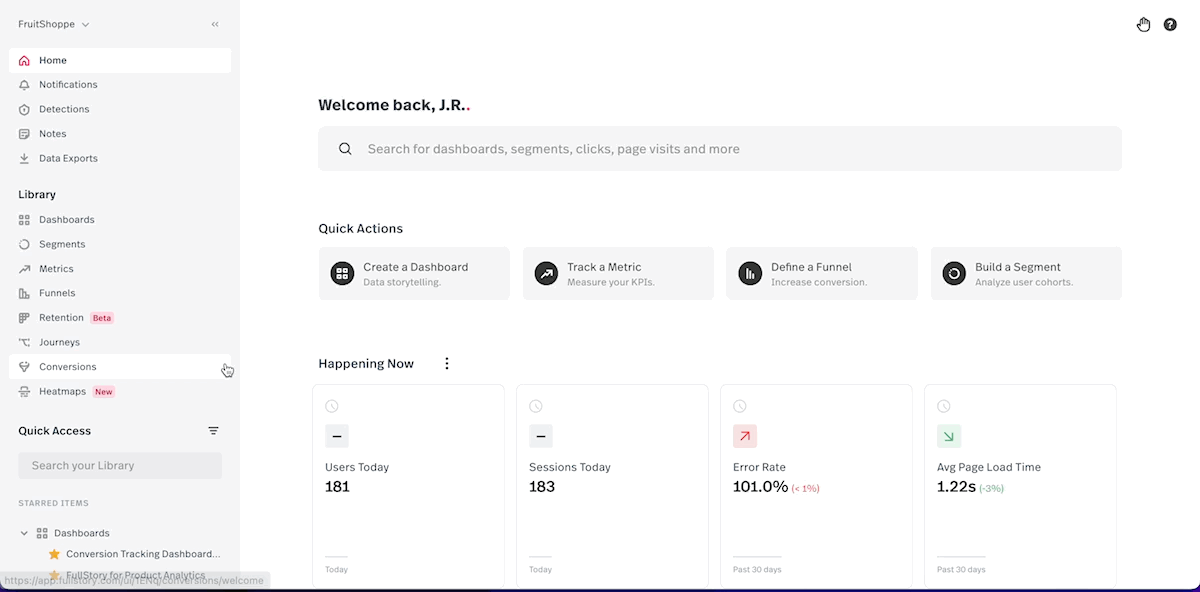 OmniSearch
Front and center on your Home experience is OmniSearch. With contextual discovery capabilities, OmniSearch allows you to search for anything in your users' digital experience as well as anything in your FullStory account. The powerhouse for search, OmniSearch is infused throughout FullStory in places like the Quick Filter in Segments.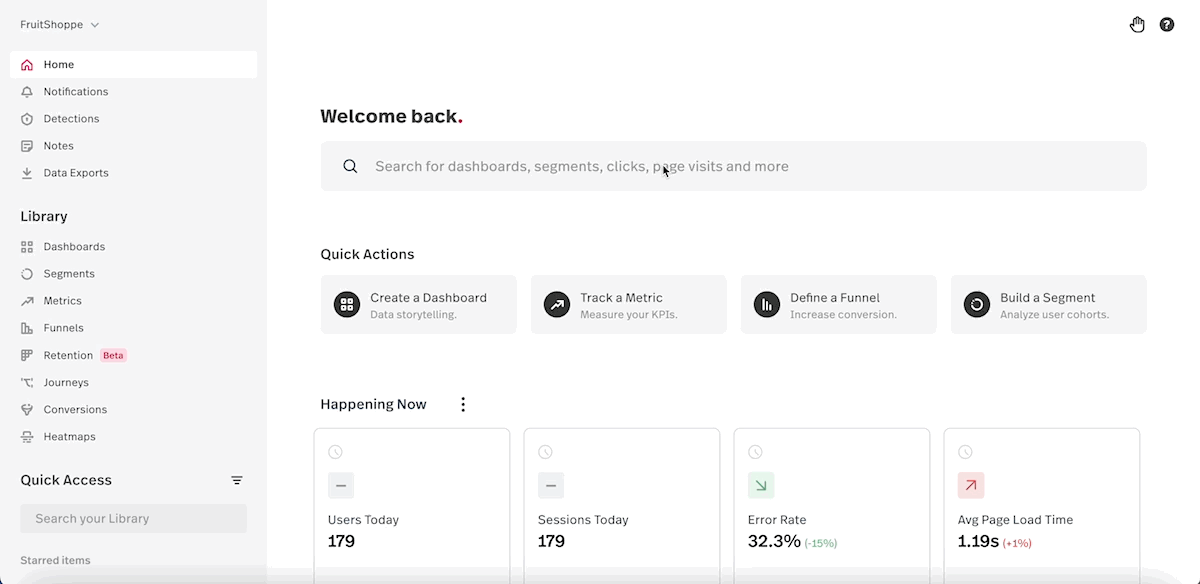 The Home experience empowers you and your team to work effectively from the same data set without compromising how you like to work. You can swiftly hone in on the data and use cases of FullStory that matter to you most.