Available for the following Plan types:
FullStory Enterprise
FullStory Advanced
FullStory Business
FullStory for Mobile Apps
FullStory Free
Available to the following User roles:
Admin
Architect
Standard
With FullStory's Preview Mode, Admins now have the ability to test new data data capture rules on themselves before pushing changes live for actual end-users. This feature gives Admins confidence in new iterations of their data capture settings and should reduce the need to constantly test new data capture rules in an actual staging environment.
Scoping Data Capture Rules
Core to the new Preview Mode functionality is the ability to Scope your Element Data Capture Rules. As you can see in the image below, Admins will now have the ability to set each data capture rule to one of four different scopes: Preview Sessions Only, Live Sessions Only, Preview and Live Sessions and No Sessions (Inactive).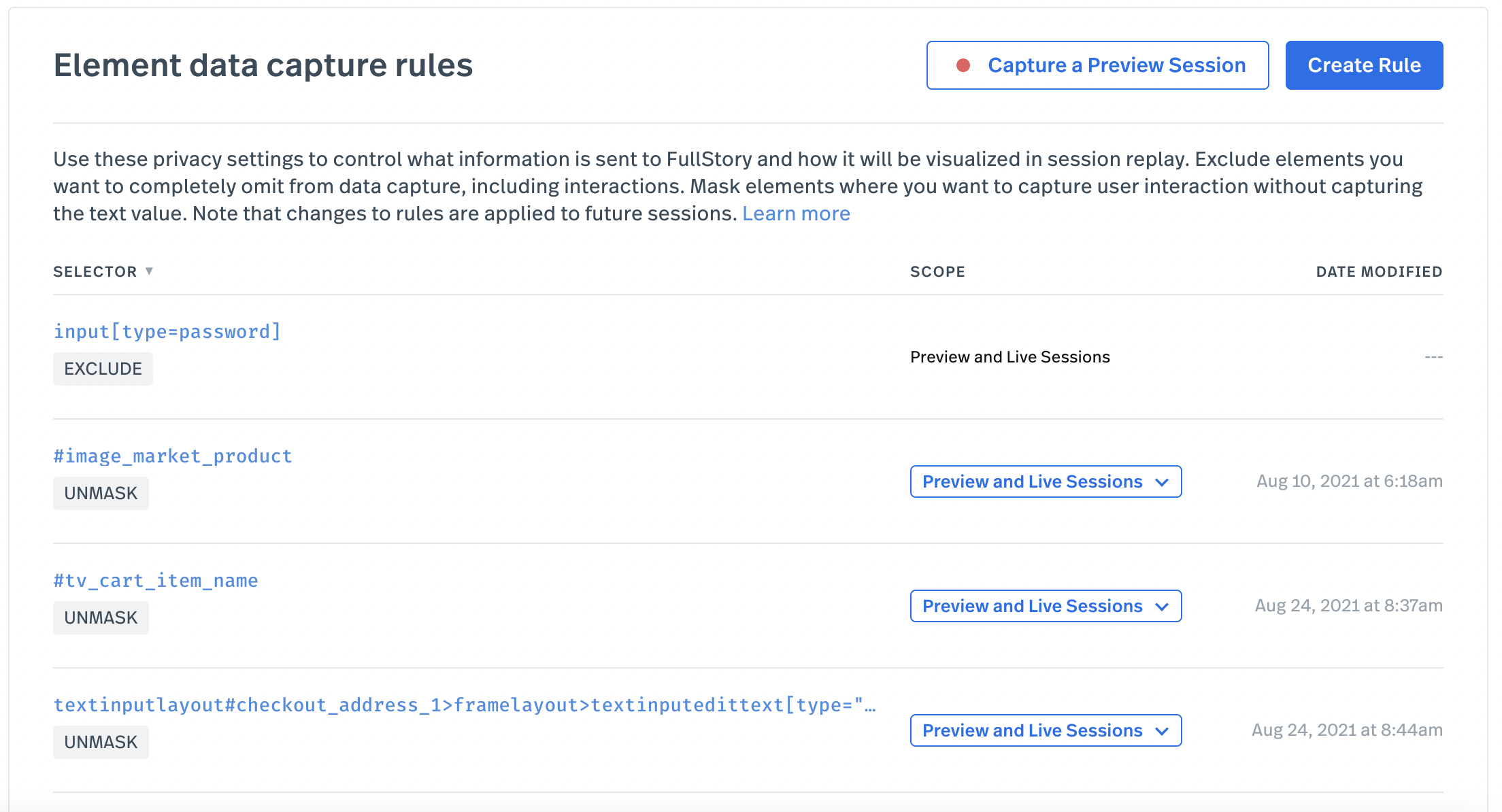 This table provides short descriptions for each of the four rule scopes:

Once you have a set of rules scoped for Preview Mode, test them out by capturing a preview session.
Capturing a Preview Session
Note:
FullStory
must be actively capturing data on a page in order to capture a preview session
. 
In order to capture preview sessions, an Admin will click the "Capture a Preview Session" button in the Element data capture rules table as seen here: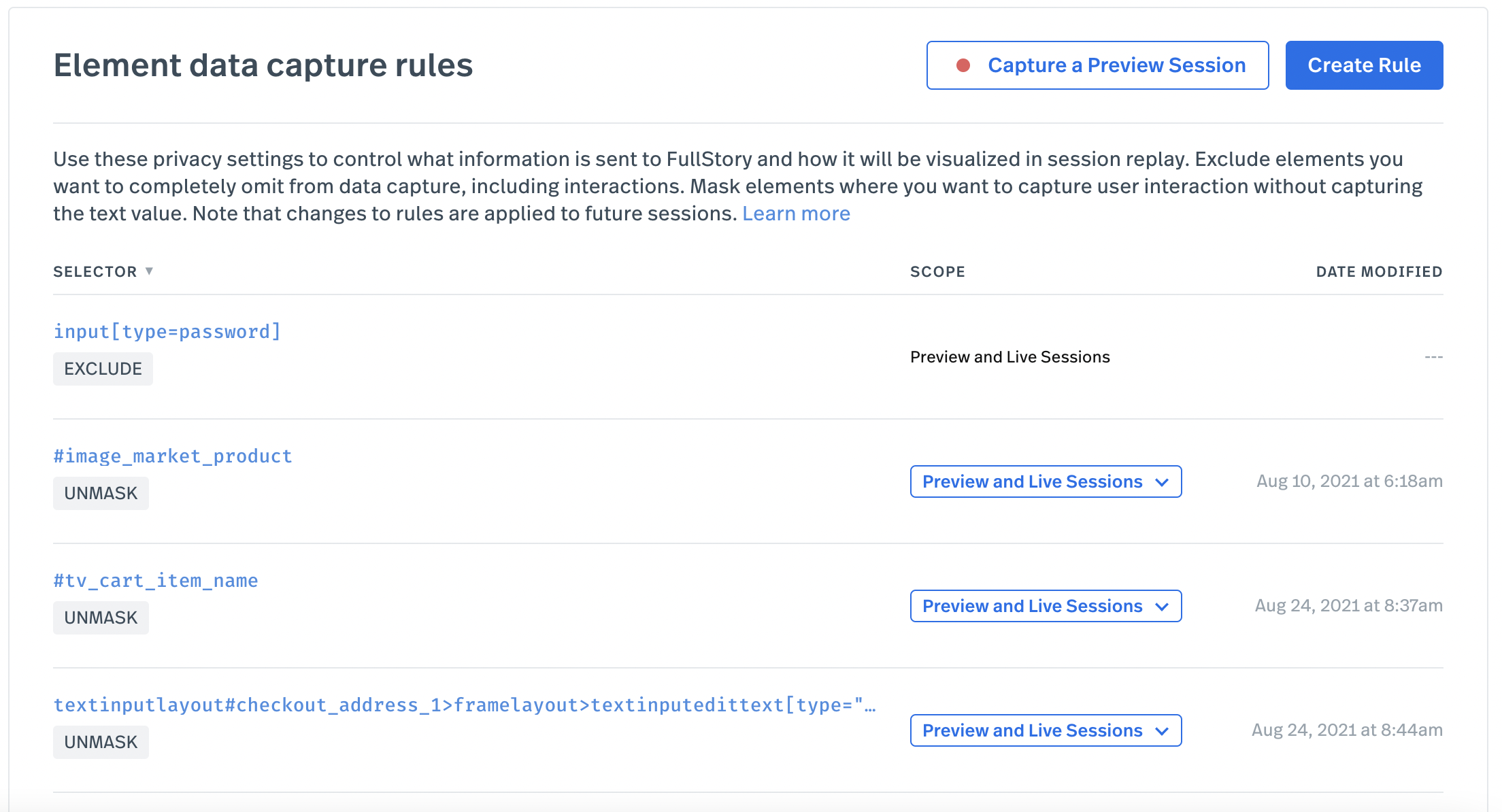 Clicking this button will prompt the Admin to set a short-lived 3rd party cookie that will expire after 12 hours (or after clicking "End Preview Session" on the Preview Mode banner). The dialog box looks like this:
Clicking "Set Preview Session Cookie" will provide you with the confirmation message seen here:

While this cookie is active, Preview sessions will be captured for the Admin when they navigate the site or app associated with their FullStory account. While Preview session data capture is active and an Admin is browsing their own site, a hide-able banner will be inserted at the top of the the page that will look something like this:

As you can see, this banner includes several buttons.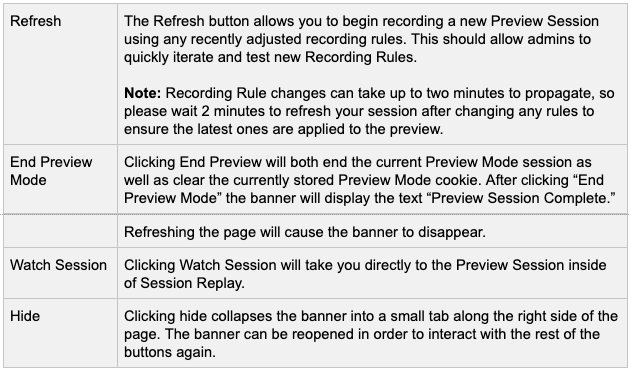 Once you have completed testing of any new data capture rules, you can simply let your Preview Mode cookie expire or you can exit preview mode by clicking the "End Preview Mode" button.
If you're unable to use Preview Mode due to restrictions on third party cookies, we have put together a bookmarklet that you can add to your browser. Clicking on the bookmarklet will enable preview mode on the page you're viewing.
To add the bookmarklet to your browser, drag the following button to your browser's bookmark bar:
In certain situations the preview banner may fail to appear (generally if the site's CSP policies is preventing the banner's iFrame from being included on the page). In the event this happens, you can exit Preview Mode using this bookmarklet:
If you prefer to create the bookmarklet's directly instead of dragging the buttons above, here is the code snippets used for each:
Enter Preview Mode: 
javascript:location.search=location.search.replace(/^(\??).*$/,function(e,r){return e+(r?'&':'?')+'_fs_preview=true'});

Exit Preview Mode:
javascript:location.search=location.search.replace(/^(\??).*$/,function(e,r){return e+(r?'&':'?')+'_fs_preview=false'});
Hopefully Preview Mode leaves you feeling more empowered than ever to properly manage your privacy settings in FullStory. If you would like to learn more about Private by Default and FullStory's Element Data Capture Rules, please check out this article.