In this article, we'll review how to interpret the results of your funnel. If you're interested in how to build a funnel, check out our article — Creating a Funnel. 
Now that you have built your funnel, you can begin to interpret the data to determine overall funnel conversion rate and the breakdown between each of the steps. You can clearly see where users are falling off and begin to investigate if there are any errors preventing progress, determine if there is a poor user experience, and begin refining your purchase funnel to improve conversion rate.
For this example, we'll be using a three step funnel for Cart Conversion:
Add to Cart >> Checkout >> Purchase
Note: A funnel must contain at least two events and cannot use an empty 'Any Activity' filter.
The funnel results provides the number of users who completed each step. In the example below, 5,944 people clicked 'Add to Cart' and only 2,599 clicked the 'Checkout' button.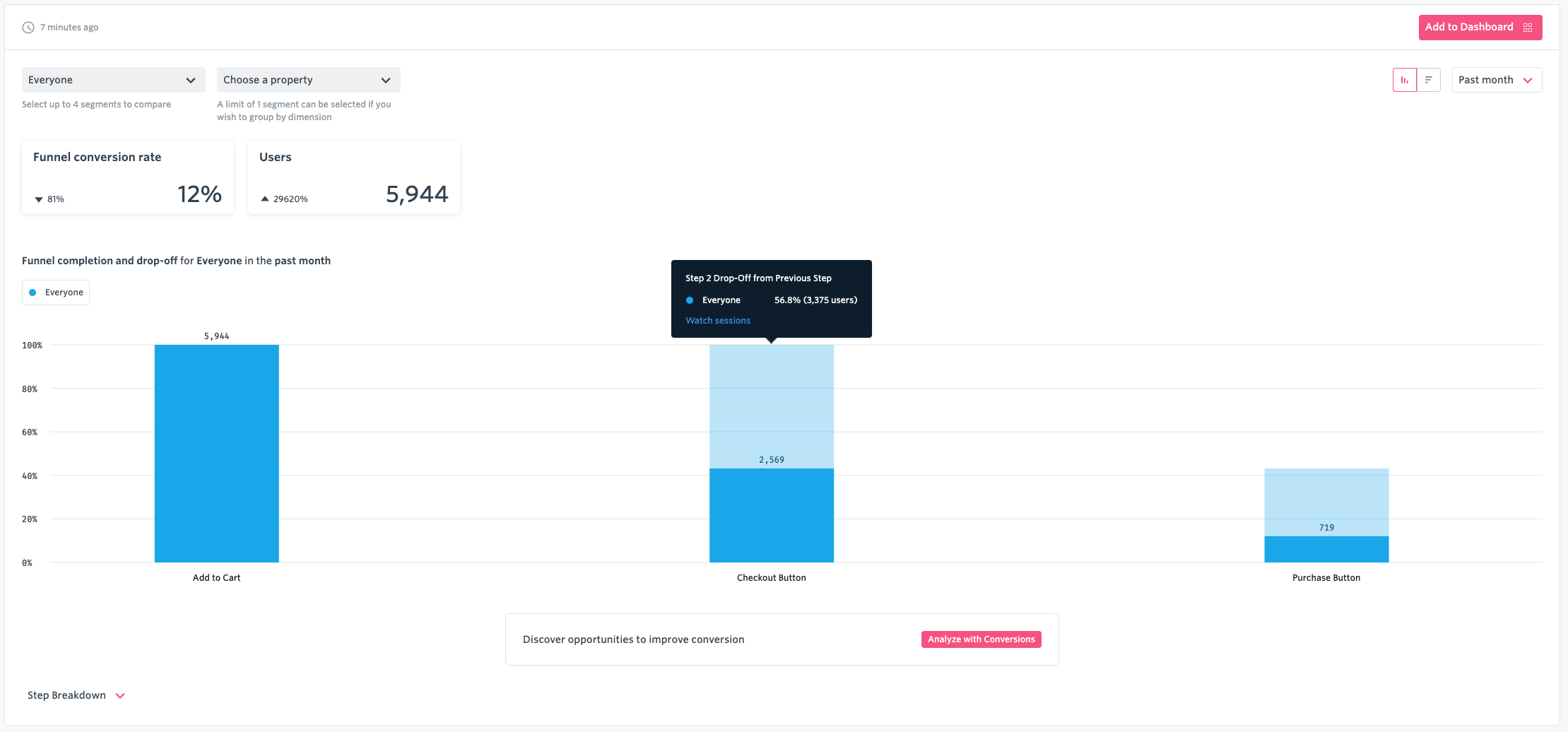 Additional tip: You can gain more detail on conversion rate by hovering over each bar. This provides you with the percent drop off from the previous step and the total number of users who dropped off. You can also 'Watch Sessions' for the group of users who did not complete that step in the funnel.
Below the visualization, you can expand the 'Step Breakdown' view to see the percentage of users who completed each step.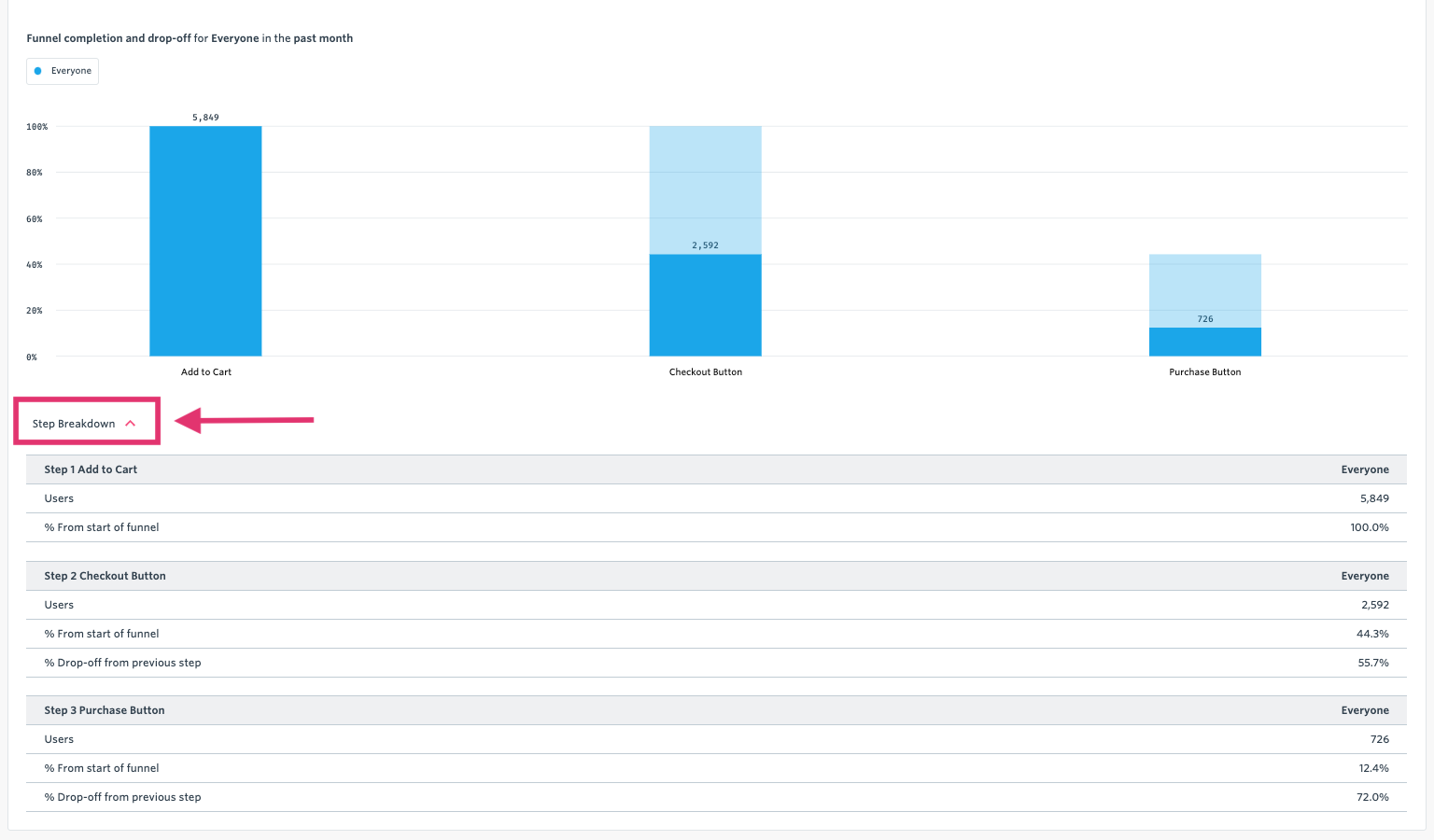 If you prefer to visualize your funnel horizontally, you can switch your view at the top-right corner of your funnel results. This view can be more helpful for funnels with many steps.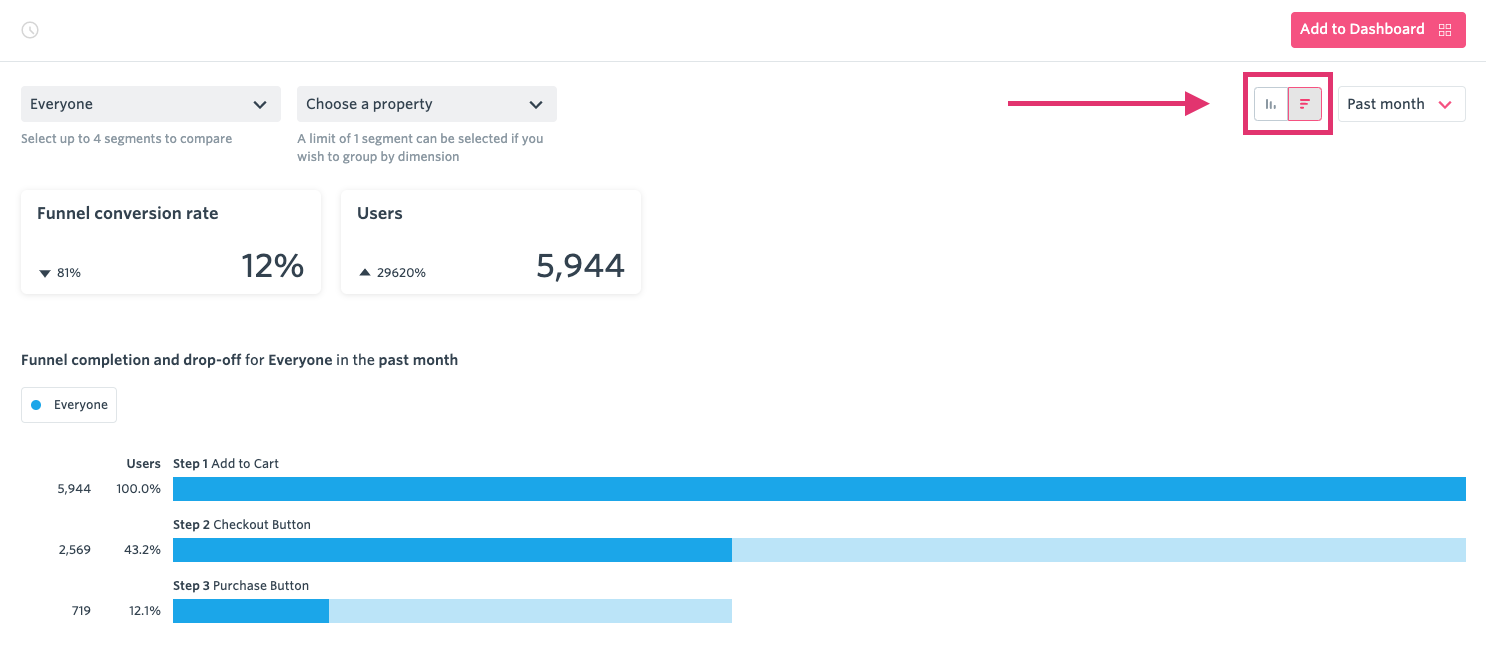 Adding a Segment to a Funnel
In some cases, you'll want to layer in a Segment on top of a funnel and compare Segments of users side by side. This allows you to distinctly view and analyze different cohorts of users. In the example below, adding the 'Mobile' Segment will allow you to see the conversion rate for only mobile users. The ability to slice and dice your data is one of many steps you can take to determine a potential root cause for conversion impact.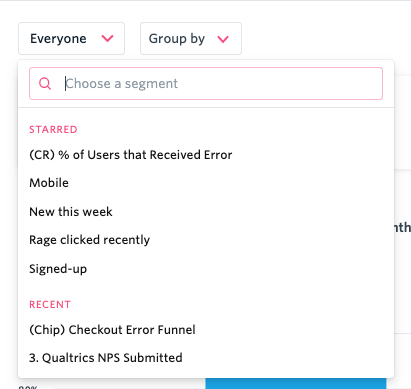 With the 'Mobile' Segment layered onto our funnel, the conversion rate goes up to 100%. This data can help isolate any potential friction points and help focus resources and attention to a different cohort of users.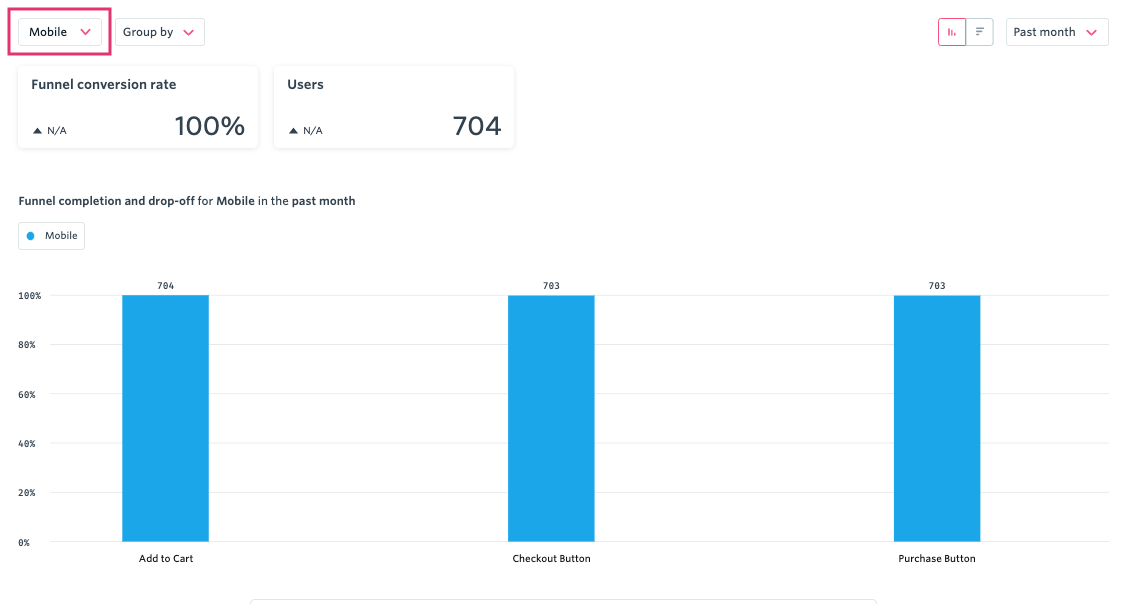 Comparing Multiple Segments 
Let's also review how you might want to compare multiple segments side-by-side. In the example above, we only chose one segment to look at, however you'll find that selecting multiple segments at once is great for a side-by-side comparison. 
You can answer questions such as:
Which A/B test had a better/worse conversion rate? (ecommerce)

Do new users tend to convert at a higher rate than returning users? (ecommerce)

Do different user types (admin/general/guest users) complete a certain work flow at the same rate? (SaaS) 
Note: Four is the max number of Segments that you can compare at this time.
Once you click on the Segment drop down, you'll also be able to refer to which filters define the Segment, so you can quickly identify and confirm that it's the correct cohort of users.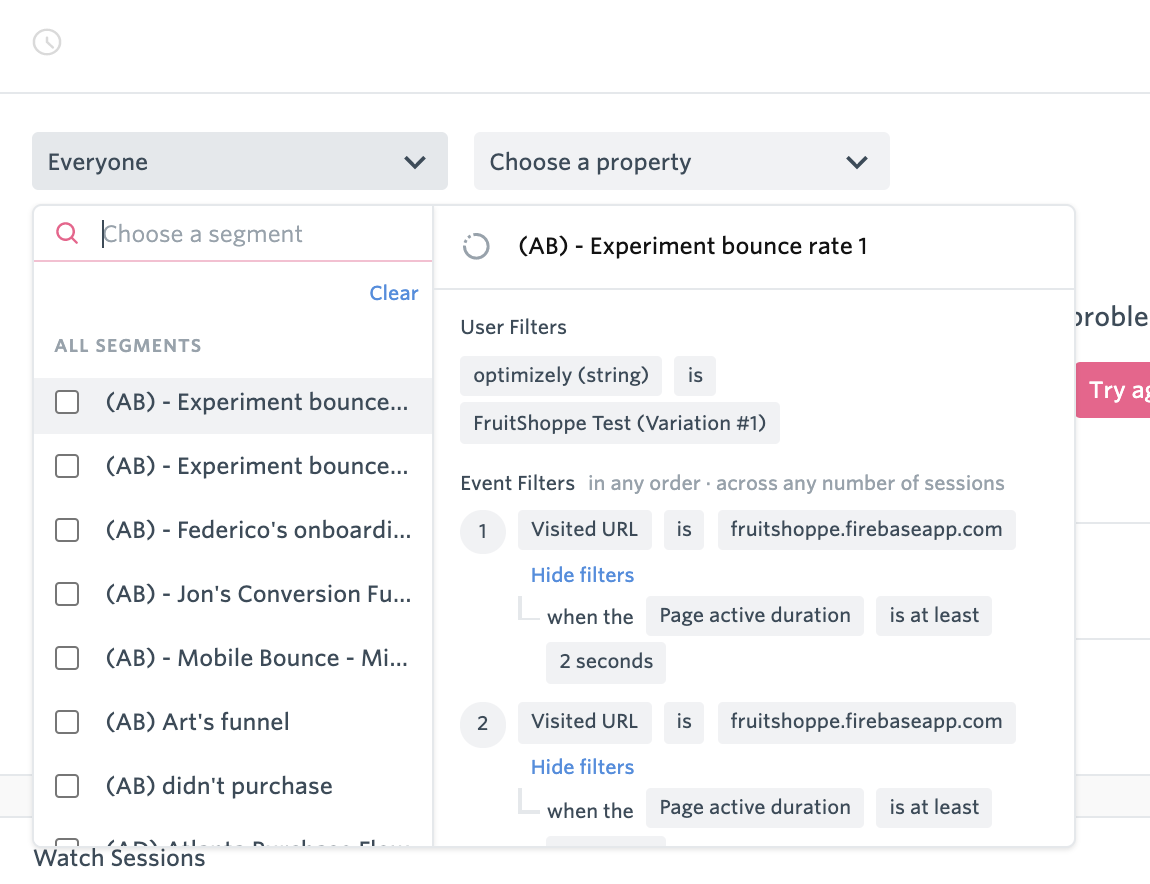 In the view below, you can quickly visualize that 'Group B' had a slightly lower rate of conversion than 'Group A'.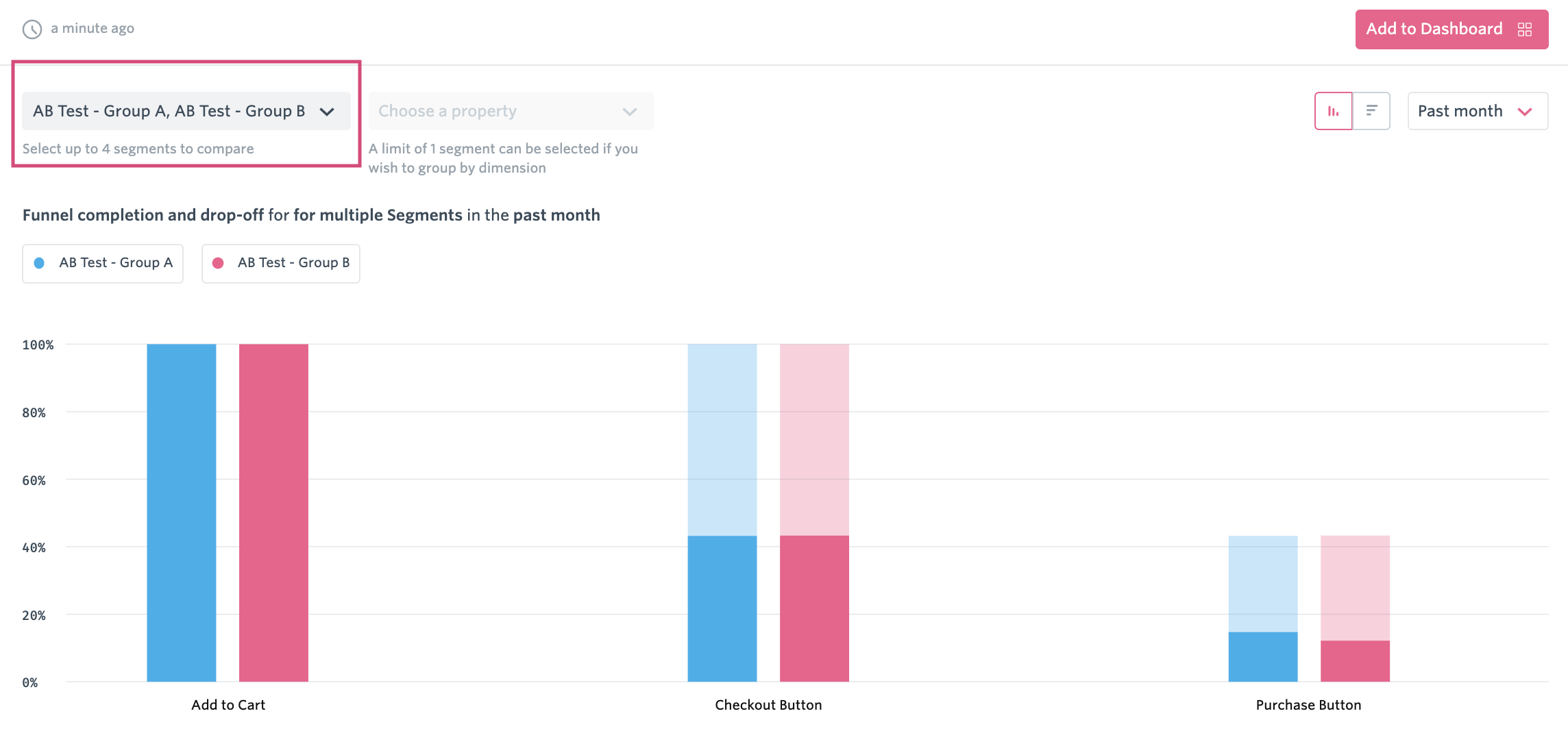 With this information, you can then watch the relevant sessions for Group B to get a better understanding of what these users (who didn't convert) experienced.

Grouping by Properties 
Once you have your funnel completed, you can begin to investigate areas of impact to your users experience. Using the 'Group By' option, you can examine your results with different dimensions. For example, are certain browsers or device types performing differently?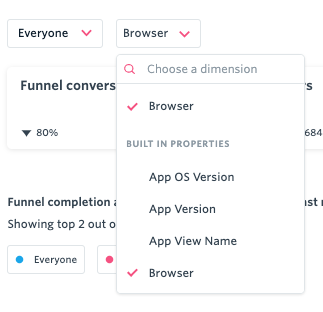 This takes the guesswork out of what could be causing friction or drop off and allows you to make informed decisions. In this example, we can see Chrome users are significantly more likely to reach the 'Purchase' step, while there is 100% drop off for Safari users. No Safari users successfully completed a purchase.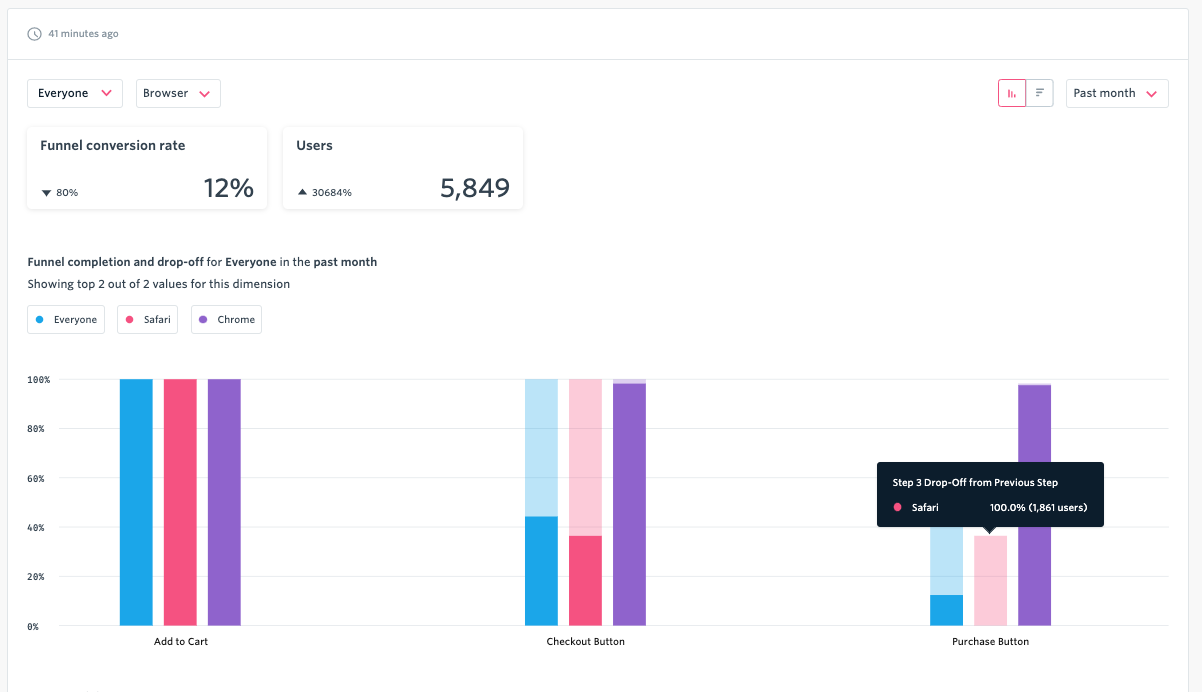 This is a great indication to investigate further by watching sessions, sharing this across teams or adding this to a Dashboard to monitor for a fix. 
In a few short clicks, we've ruled out Mobile users and Chrome users. 
Watching User Sessions from your Funnel 
Now that you have conversion results for the entire funnel and between each step, you can dive into relevant sessions to investigate from a qualitative perspective, what could be impacting your users experience. 
You can group sessions by steps completed or not completed. And by which step was or was not completed. This gives you the opportunity to review only those sessions that might be important to your analysis.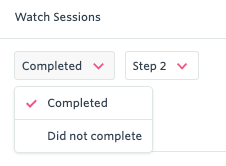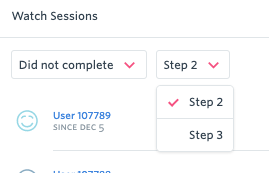 Adding a Funnel to a Dashboard
Dashboards are custom visualizations using your FullStory data. Adding funnels to Dashboards allows you to monitor them overtime alongside other important metrics and trends related to your funnel.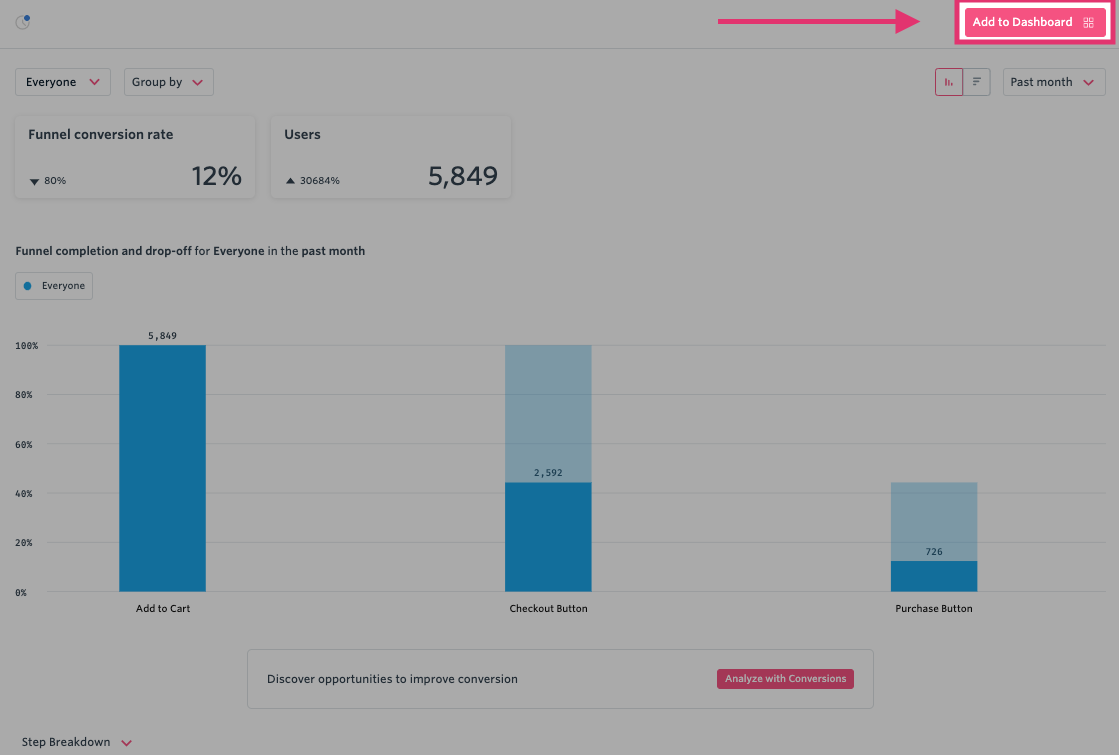 First, you must save your funnel and ensure you have created an existing Dashboard to add your funnel to. 
When adding your funnel to a Dashboard, you'll name the funnel as it will appear on the Dashboard, add an optional description, then choose the Dashboard you would like to add this to in the 'Select a Dashboard' dropdown.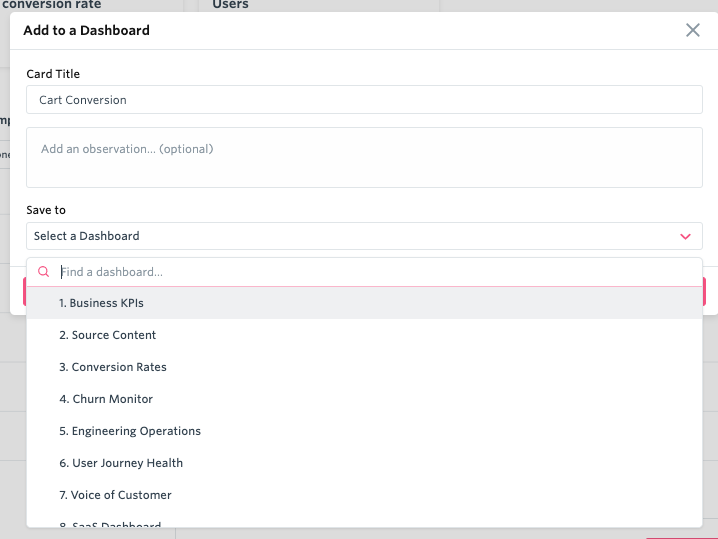 Analyze with Conversions
This feature is currently available as an add-on for our FullStory Enterprise plans. Please contact your Account Executive or reach out to Support to learn more about FullStory Enterprise.
Now that you have your funnel built, you can easily analyze for areas of opportunity. By using Conversions, it will help you answer questions you might not have thought to ask. On your behalf, Conversions puts sound statistical methods to work by detecting 'Signals' that might be impacting your users experience.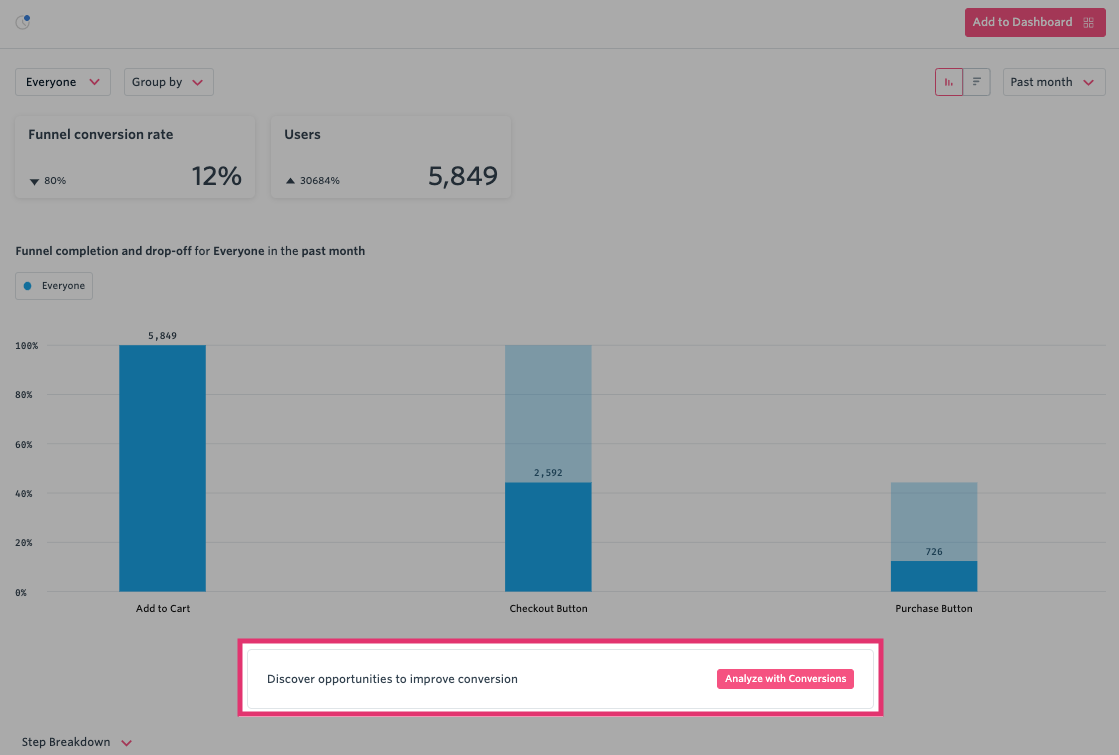 Note: Your funnel must be saved in order to use 'Analyze with Conversions'. 
Read more about Conversions here.
Using a Revenue Event in a Funnel 
Revenue events allow you to take your analysis one step further to determine potential impact. 
In order to add a Revenue Event as your final step, make sure you have configured this in Settings. Once Revenue Opportunities has been turned on for a funnel, all analyses run in Conversions using that funnel will show revenue values along with lost conversions.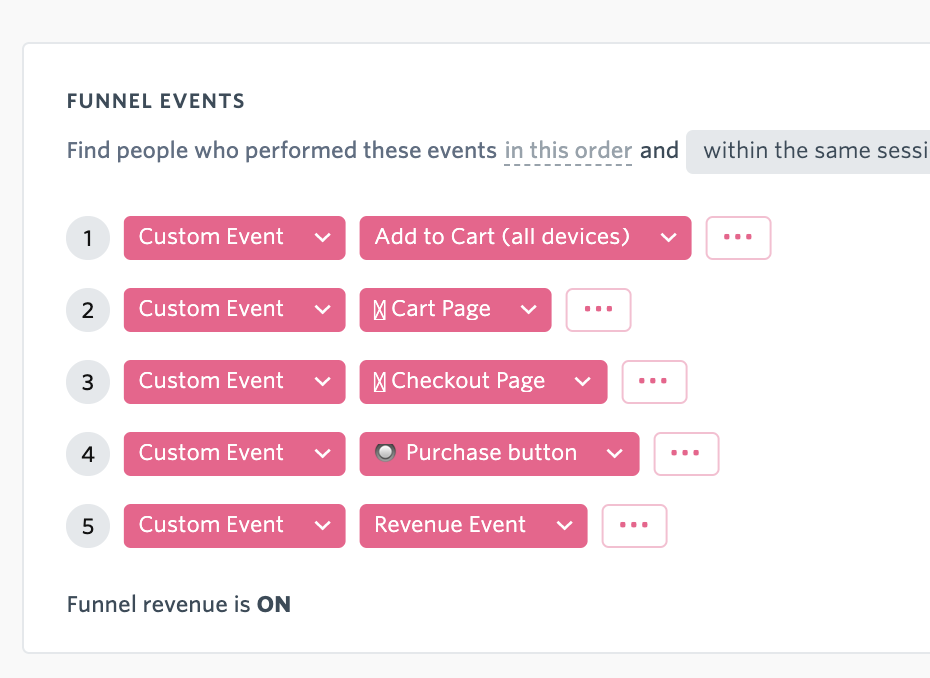 Read more about adding Revenue Events here.