Note: This feature is currently in beta.
Available for the following Plan types:
FullStory Enterprise
FullStory Advanced
FullStory Business
FullStory for Mobile Apps
FullStory Free
Available to the following User roles:
Admin
Architect
Standard
What is a spec?
FullStory provides industry-specific data assignments, known as a "Specification" (or Spec for short), that give your data meaning. By assigning elements, events, and pages to known industry concepts and workflows, we can better surface insights and proactively monitor your experience against industry norms. Assigning this data puts you in an insight-ready state for product analytics.
Why do I need to fill out a spec?
FullStory aims to provide you with autocaptured data available for quick analytics. However, that data needs to be labeled and then surfaced to other teammates. At the outset, Spec provides guidance on what recommended data to label. Once those data are labeled, Spec offers your teammates a way to quickly find the right data for analysis. Spec also uses assigned data to power out-of-the-box insights automatically generated for you based on your industry's key use cases.
How do I get started?
To start with the spec, you can go to Settings and find Recommendations in the Data Management section:

What does the spec look like?
The spec has several points of interest that you should familiarize yourself with:

Data type tabs - These each contain a list of recommended data to assign according to the data type listed.
Recommended data - This list contains the recommended data points you assign to the spec, such as the eCommerce spec shown in the screenshot. 
Assignment and Description - Choose an element, page or event to assign to the corresponding recommendation. Notes can be added to each Spec assignment as well. For example, you may leave a note on any assignment you skipped with an explanation of why you skipped it. 
Skip - You can choose to "Skip" assigning data to a recommendation. There is no technical difference between selecting "Skip" and simply not assigning the recommendation regarding how it affects your FullStory experience. Therefore, selecting "Skip" is an acknowledgment that you have considered the recommendation and are choosing not to assign it for now. 
Completion - This shows your progress in assigning data to the spec, or skipping it. This is primarily for record-keeping purposes, so you can ensure you've attended to every recommendation.
How do I assign data to the spec?
To fill out the spec, select the dropdown next to the recommended data and choose the most relevant element, event, or page in your library. For example, the "Order Completed" event is recommended for e-commerce businesses to track.
Spec assignment in Data Definitions
You can also assign data to spec from other places in FullStory. Select the "Role" dropdown to designate the assignment when editing a specific page, event, or element. You can edit data in session replay or in Settings > Data Management for elements, events, and pages. Assigning a role in this way will update the spec as well. Check out our articles on naming elements or defining events to learn about managing them from other places in FullStory. 
Spec in Search
Spec data is prioritized in FullStory to help you quickly get reliable insights. After data has been assigned to the spec, it will appear at the top of search results when creating a metric, segment, or other objects in FullStory: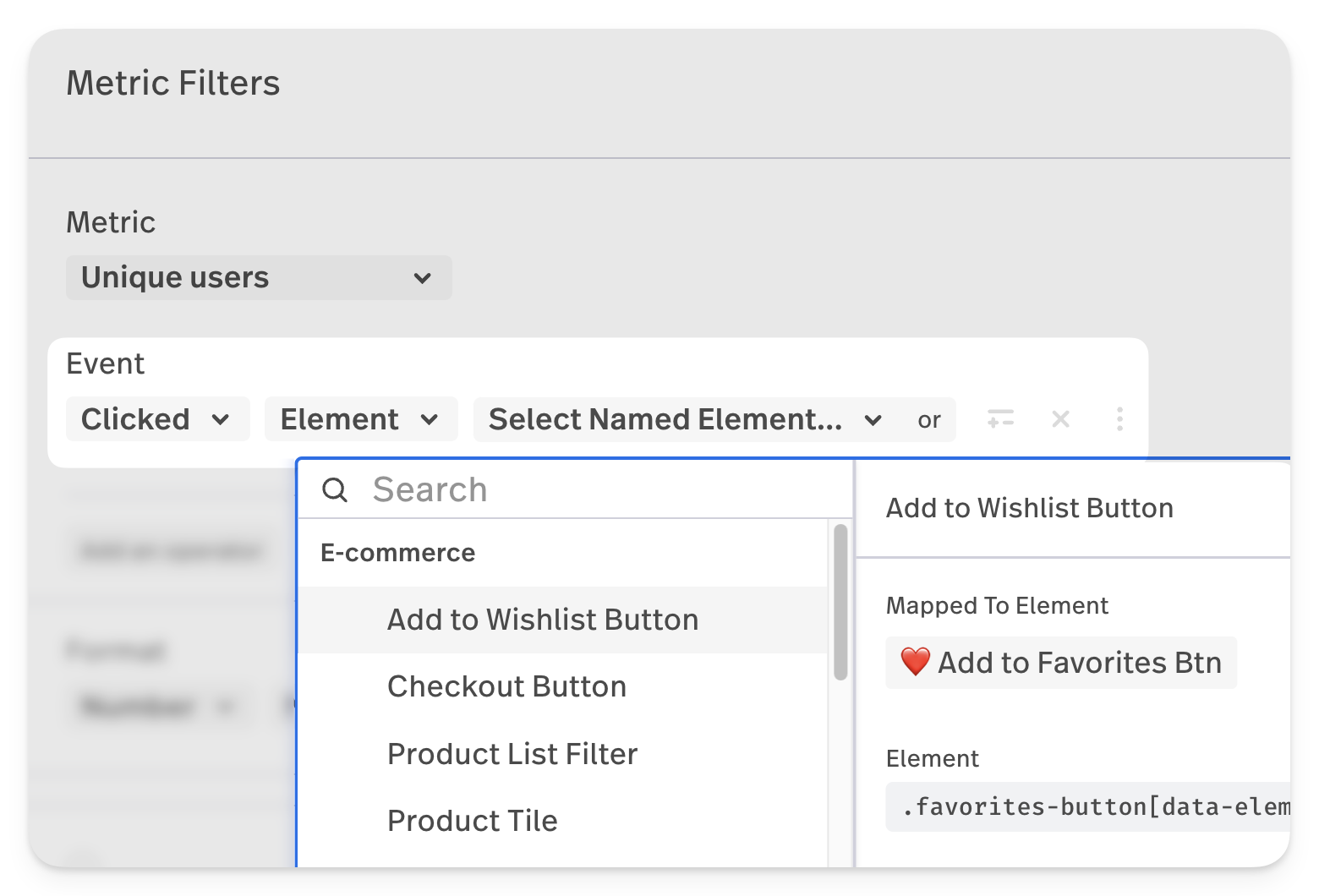 FAQs
What industries does FullStory offer recommendations for?
Currently, the FullStory only supports an e-commerce spec, and additional industries will be included in the near future.