FullStory sends system-generated notifications to inform all users (regardless of seat type) of important information related to their FullStory account, such as:
Session limit warnings
Data capture has paused
Any @ mentions in session replay
For issues relating specifically to Account Management, notifications will be sent to inform Admins and Umbrella Managers. This could include:
No seats remaining
Credit card charge failure
Account Notification Center
System-generated account notifications are sent via email and to the Account Notification Center. Admins and Umbrella Managers can view all account-related notifications by clicking the bell icon at the top of your FullStory screen.

Notifications are categorized into the following tabs:
All Unread: All unread account notifications and your triggered alerts (metrics or segments).  
Account: All system-generated notifications that FullStory sends about your account.
My alerts: Notifications of recently triggered metric or segment alerts.

Applicable to Advanced and Enterprise plans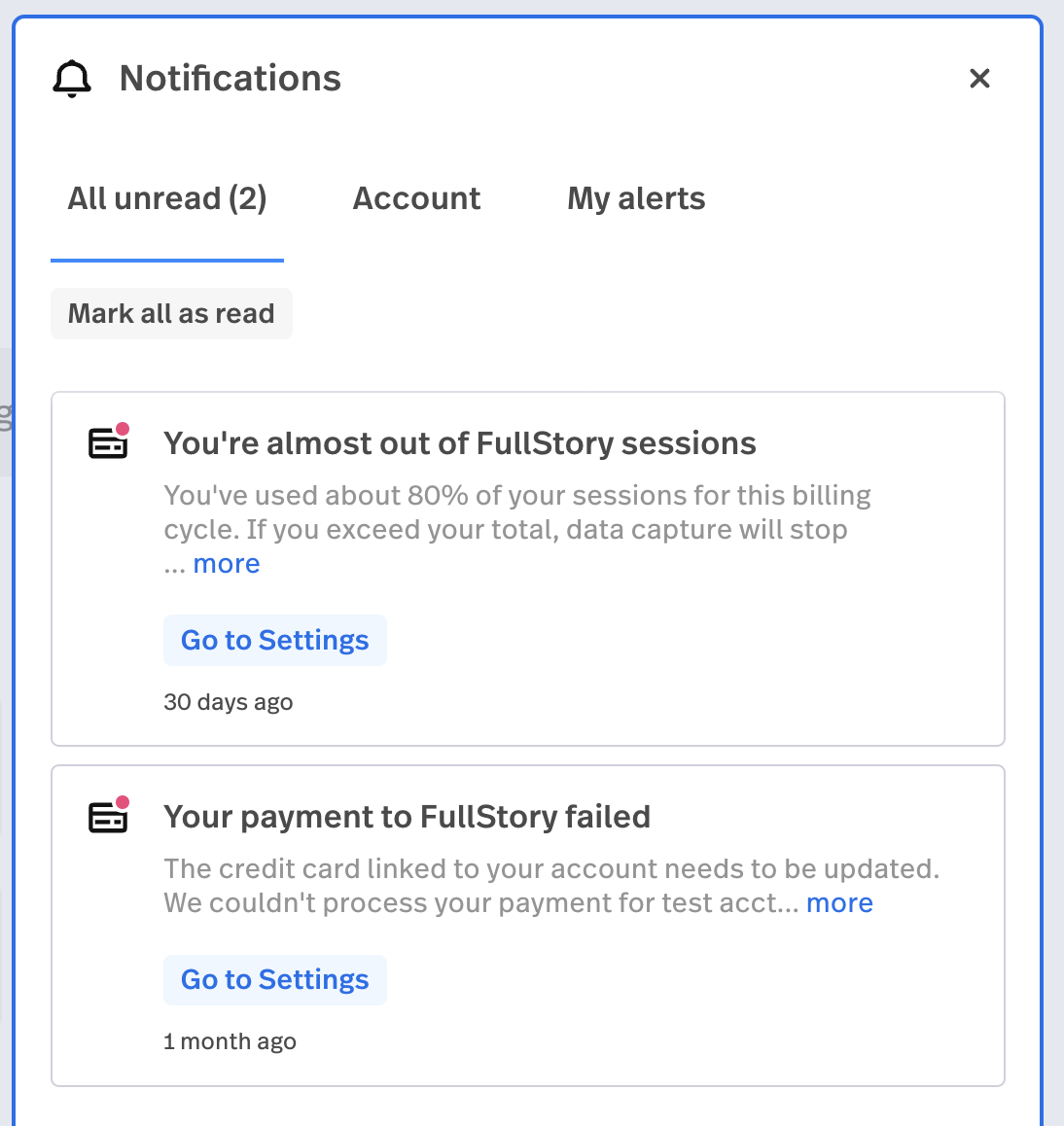 Settings - Notification Preferences
Admins can designate any FullStory user as the recipient of ad hoc notifications, such as topics that are not covered by our system-generated Account Notifications.
To designate a recipient, navigate to Settings > Notifications and choose a username to add to each notification drop down. You can add more than one user for each notification option. 

Notification Descriptions
| | |
| --- | --- |
| Notification Option | Description |
| New Features | Primary contact(s) for product and feature updates. |
| Critical Incidents | Primary contact(s) for service interruptions, data processing questions, or security concerns. |
| Product Updates Requiring User Action | Primary contact(s) for technical updates that require user action. |
Default Users
FullStory Product & Service Notification options are pre-populated with the Creator of the account (either an Admin, or in the case of an Umbrella account, the Umbrella Manager). Any Admin (or Umbrella Manager) can modify these options.