Available for the following Plan types:
FullStory Enterprise
FullStory Advanced
FullStory Business
FullStory for Mobile Apps
FullStory Free
Available to the following User roles:
Admin
Architect
Standard
One of the roles an Admin plays in their FullStory account is to determine how to efficiently allocate FullStory licenses to the relevant teammates. In other words, the decision making process comes down to "who should have a seat, and what level of permissions should each user have in my account"? (If you'd like to bypass this account set-up and automatically grant teammates seats without first inviting them via the User Management screen, you can opt to use SSO with Just-in-Time Provisioning, which is available as part of the FullStory Enterprise plan).
Some additional questions that may come up along the way are:
How many FullStory seats has my company purchased?

How many seat licenses are already allocated, and how many licenses do we have left?

Who is active in my account, and who hasn't logged in yet?

Which users can I remove from the account to free up seats for new teammates?
Or you may even ask yourself, "what is a seat?"
An account seat is simply an access point to your FullStory account, with varying permissions depending upon the role. Find out more about these permissions here.
Getting Started with FullStory's User Management capabilities
All users with a Standard, Architect, Admin, or Umbrella Manager role in their FullStory account have access to the Users page in Settings. However, only Account Admins are able to see teammates' Last active date, invite new teammates to the account, remove users from seats, or change users' roles. After navigating to the Settings menu, you'll click Users under Account Management. This view will show you the number of FullStory seats that have been allocated to users and the number of seats remaining.




This page is also where you can invite new users to your account.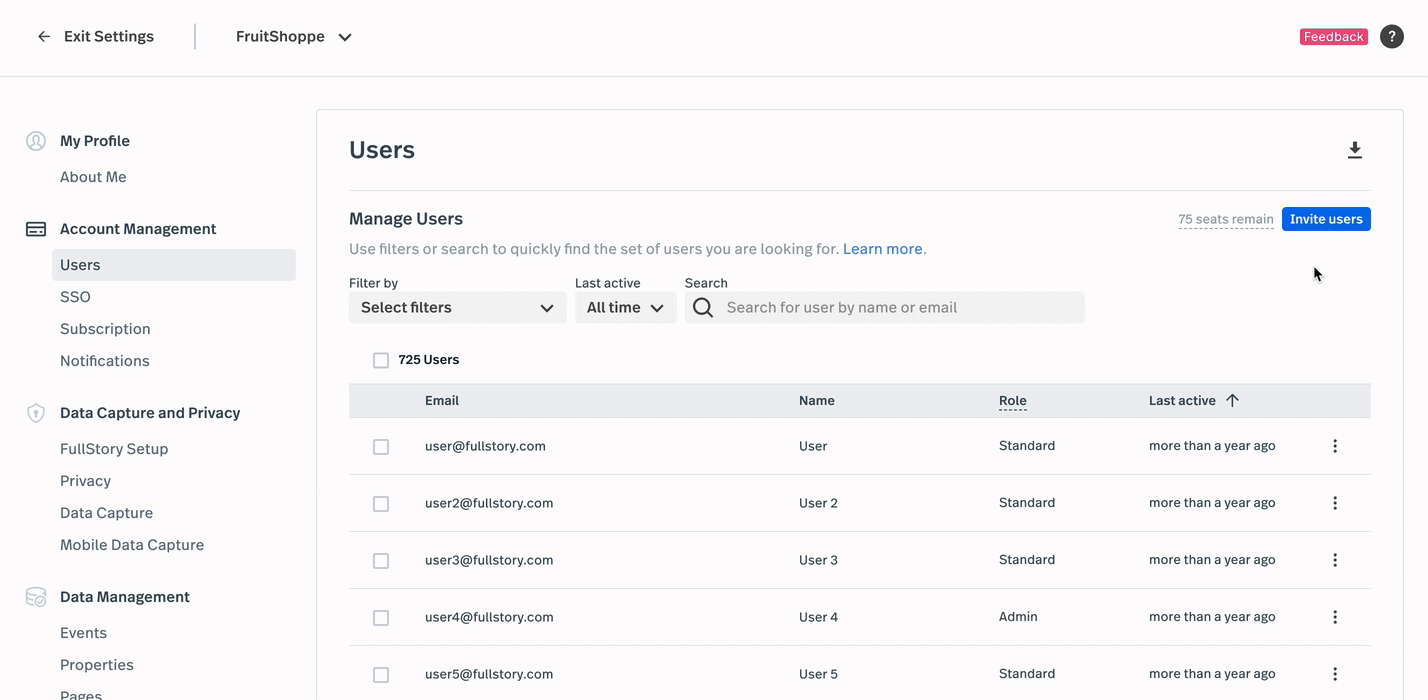 You can invite a single user or up to 30 in bulk. To add in bulk, simply click the link as seen above in the Invite user pop up.

From here, you can start to see the bigger picture of who makes up this list of users and more importantly, quickly identify users whose seats you could remove in order to make room for additional teammates. 
Additionally, if an existing user is invited to join, you will receive the following message: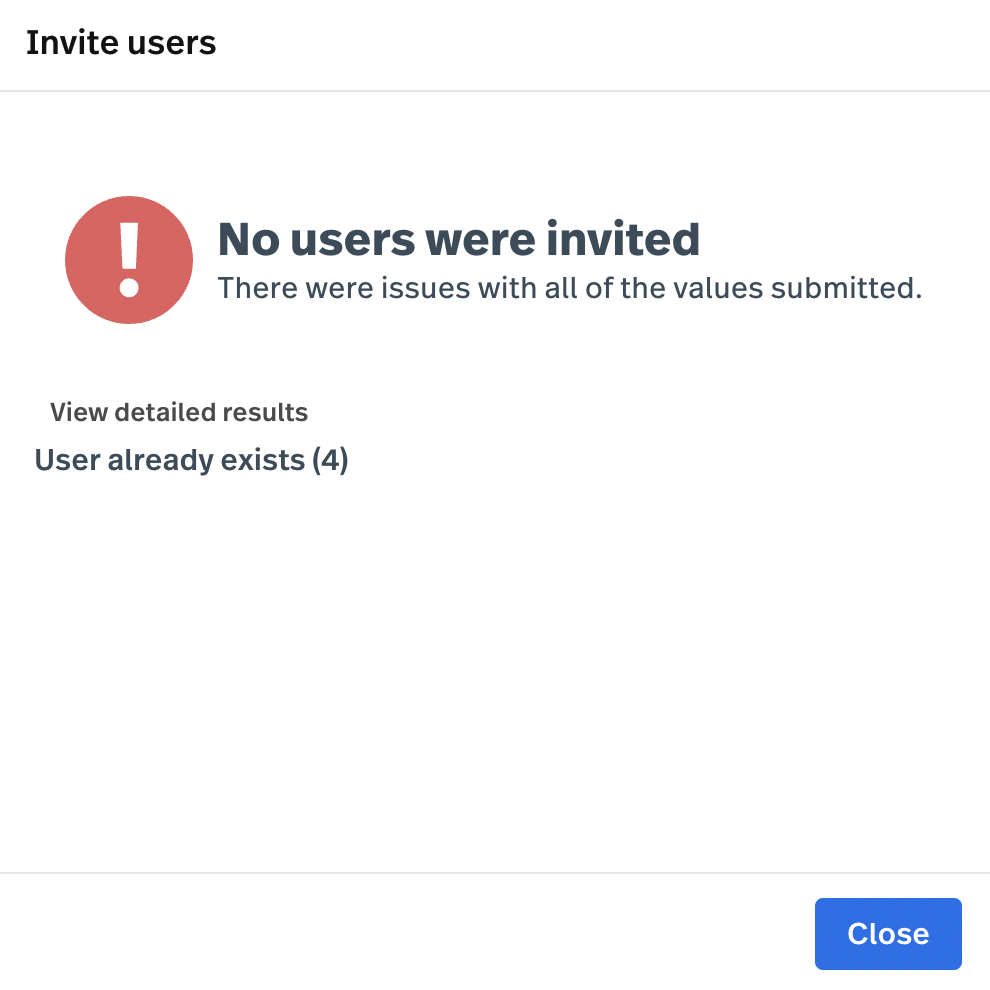 Join your company on FullStory
To make it easier for new users at FullStory to join an existing account, you can enable them to join your company from the FullStory Log-in page.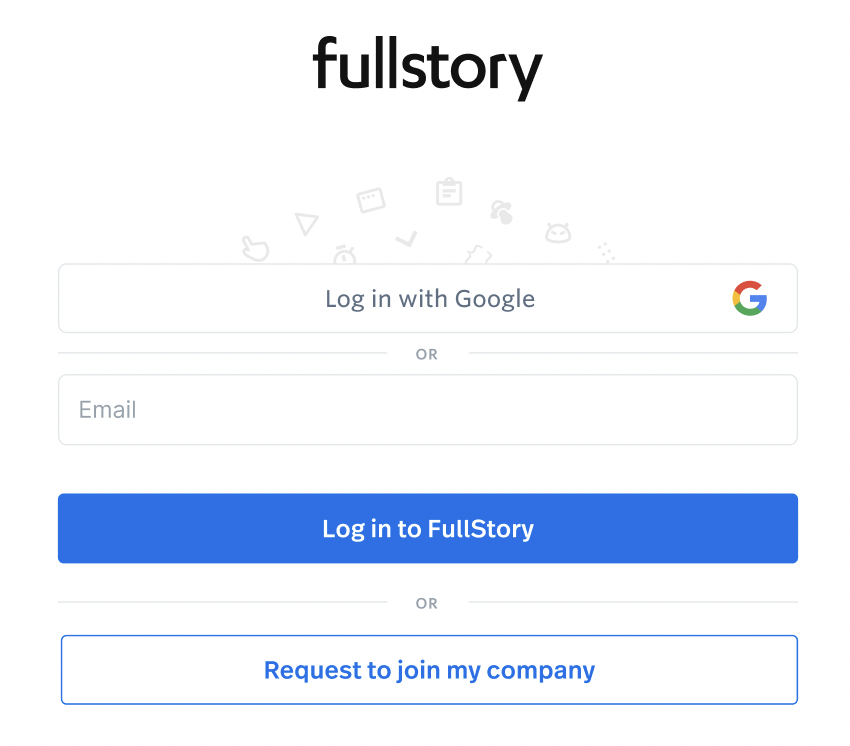 When a new user navigates to the Log-in screen and clicks "Request to join my company" all admins on the account will receive an email that will need to be approved in order for the user to join. If you would prefer to take the seat approval process out of your admins' email inboxes, you can customize how new user seat requests are routed by following the steps outlined here.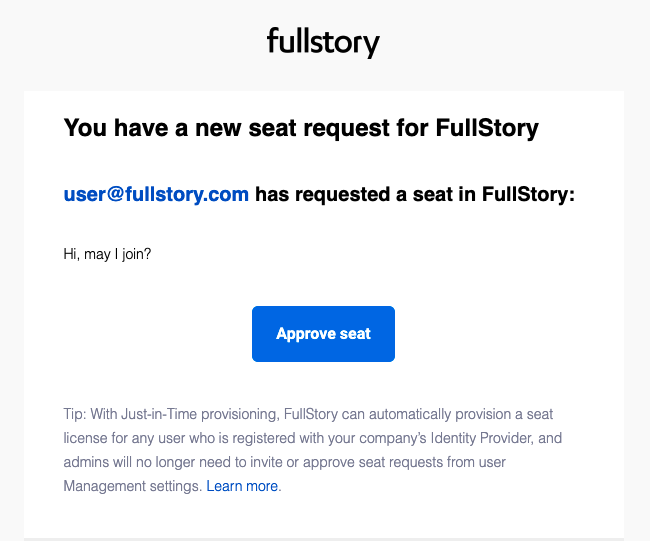 By default, all domains are allowed to request a seat to an account. Alternatively, you can limit these requests by specific domain, to ensure only individuals who have an approved domain can join your account.
To build your list of specific domains, Navigate to Settings > Account Management > Users. Scroll down to the "Seat Request Settings" section.
From here you can click the Add Domain button to add all approved domains. You can also choose to toggle on Allow Seat Requests from this view.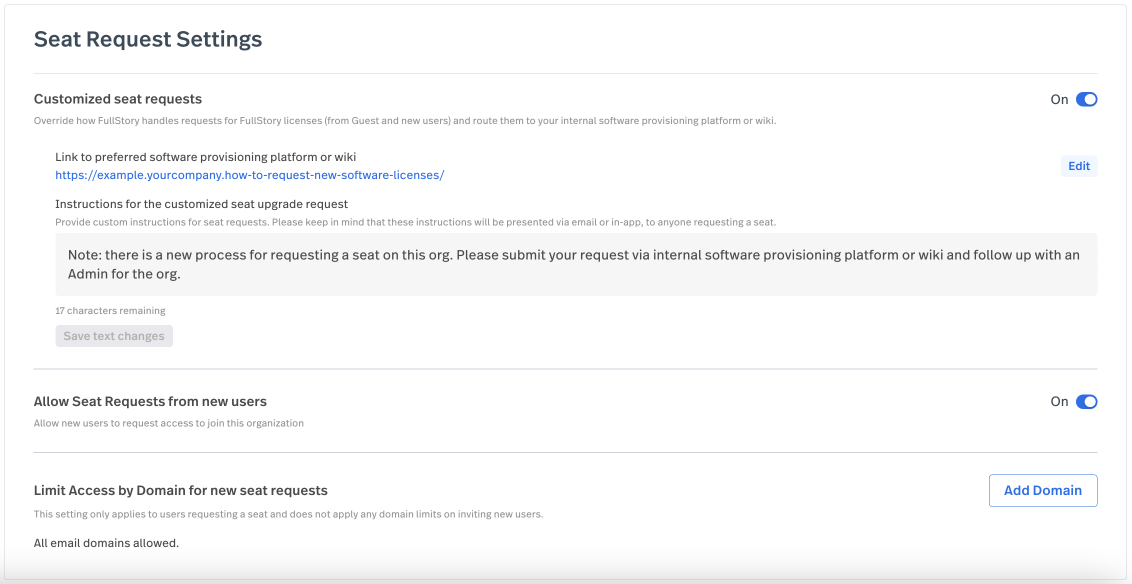 Filters
FullStory provides a variety of filtering options so the Admin can quickly identify a teammate or groups of teammates based on their usage of FullStory.

Those options are: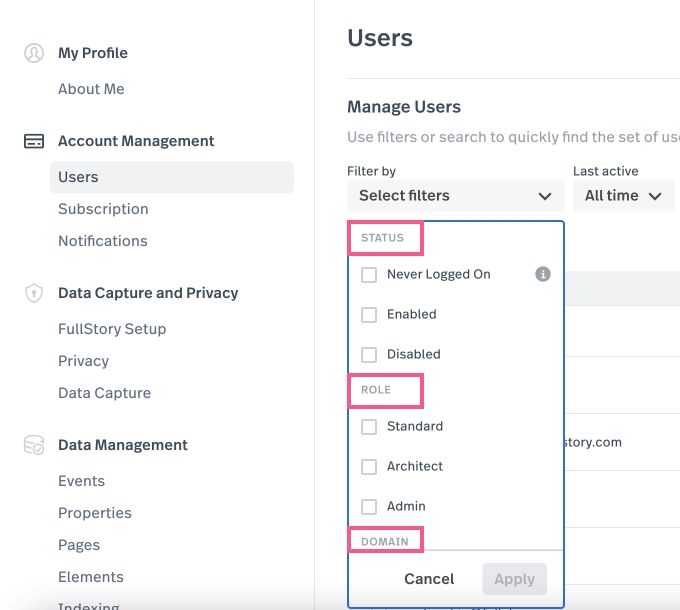 The Status category offers you the ability to filter by Enabled & Disabled users as well as users who have never logged on. 
Never Logged On: These users have received a FullStory invitation but have not yet logged on. Teammates automatically acquire a seat as soon as they receive an email invite to that account, even if they have never logged on. Admins can revoke the invite to free up a seat, or

resend the invite

as a prompt to join the account.

Enabled: These users are able to access the FullStory account. 
Disabled: These are users whose access has been temporarily disabled.  They will not be able to log into their FullStory account until their seats are re-enabled by an Admin. Even though their access to FullStory has been temporarily disabled, these users continue to take up a seat. They must be removed from the account in order to free up that seat for a new teammate. 
The Role category allows you to filter by user roles (Admin, Architect, or Standard). 
The Domain category lets you filter by email domains used by your users. This can be helpful when filtering if you have a policy in place that only allows a company-specific email domain to be used in your account.
Last Activity Date
FullStory User Management also offers a Last active date filter tool that allows you to see who has been active in the account and using their seat in a given time period. This is especially useful if you are trying to see how many users are active in your account versus how many haven't used it recently (or ever - if they've never logged in). Admins can also quickly sort the list of users to identify those who have not used FullStory recently by clicking on the arrow next to the Last active column. From there, Admins can select multiple users, revoke or re-send their invites, edit their roles, or remove the users from the account in bulk. More on leveraging that information here.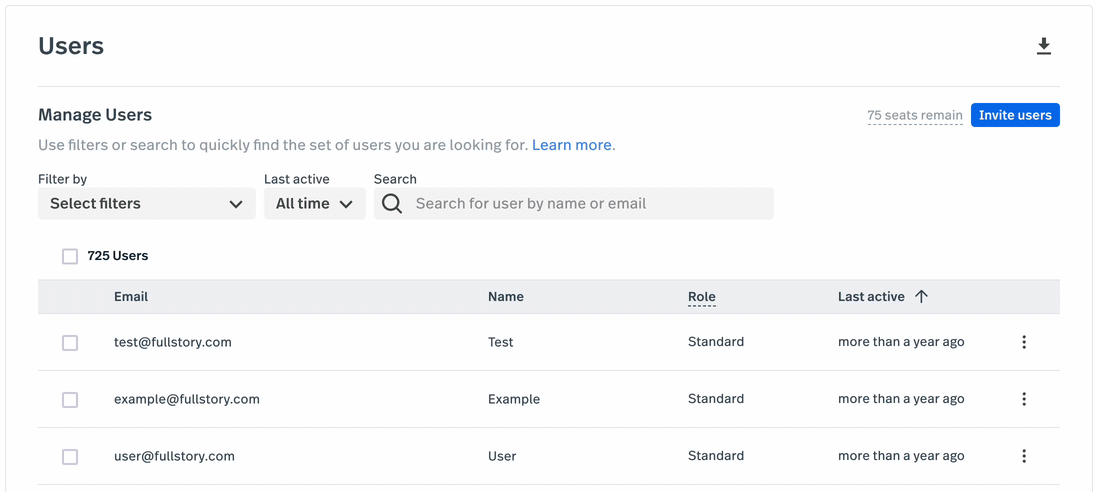 Inactivity Timeout Settings
To protect your company's FullStory data, admins can use the Inactivity Timeout Setting to set a custom timeout window for users of the FullStory application. For example, your company may have a policy that requires users of any software application that contains customer data to re-authenticate following 24 hours of inactivity. Admins can specify the period of inactivity before which users will be required to re-authenticate from Settings > Users > Inactivity Timeout Setting.  Using the previously cited example, to require your teammates using FullStory to re-authenticate after 24 hours of inactivity, adjust the setting to 1,440 min (24 hours). 
Edit a User's Role
Admins can change a teammates' role by clicking on the Edit role icon or the vertical ellipsis to the right of the Last active column. For example, you may want to upgrade a user from Standard to Admin permissions, or downgrade a user's permissions from Standard to Guest in order to free up a FullStory seat for another teammate. You can also edit user roles in bulk. See below.

Remove a member of your account
If at some point you need to remove a team member from your account, for any reason, follow the below steps.

Navigate to Settings > Account Management > Users

Check box next to name of team member you wish to remove and click the "Remove" button that appears


Alternatively, locate the user in the above mentioned view, click on the vertical ellipsis at the end of the row and select "Remove"


Note: After a team member is removed from your FullStory account, all objects created by that individual (e.g. dashboards, segments, metrics) are still available to all users within the account. Only admins, architects and umbrella managers will be able to modify or delete these objects.
Download User List
All users can export the list of teammates with a FullStory license by clicking the down arrow at the top right of your user list. Only the Account Admin will see information pertaining to their teammate's last activity date in the data export.