Available for the following Plan types:
FullStory Enterprise
FullStory Advanced
FullStory Business
FullStory for Mobile Apps
FullStory Free
Available to the following User roles:
Admin
Architect
Standard
Tabbed browsing helps you understand the way users open and close tabs as they browse your site. Visualizing behavior across one or multiple tabs can help you better evaluate, analyze, and optimize your users' digital experience. Instead of seeing one complete tab or page play all the way through before seeing the next tab/page load in playback, you can now see a user jump from one tab to another and back again.
Note: FullStory captures any browser tab where your site is open and our script is installed. This means you won't see a user's activity on other sites or in other apps. 
Getting Started with Tabbed Browsing 
Open a session you'd like to explore and note the tabs at the top of playback. A blue dot indicates the user's active tab. View inactive tabs by clicking on them. This will automatically pause replay. Click play on the session to resume watching the user's active tab. 
Optionally, view tabs the user has previously closed using the "Include closed tabs" toggle. When toggled on, you'll see tabs the user closed during their session in playback. These tabs are not clickable, but they help provide an accurate representation of the user's tabbed browsing journey.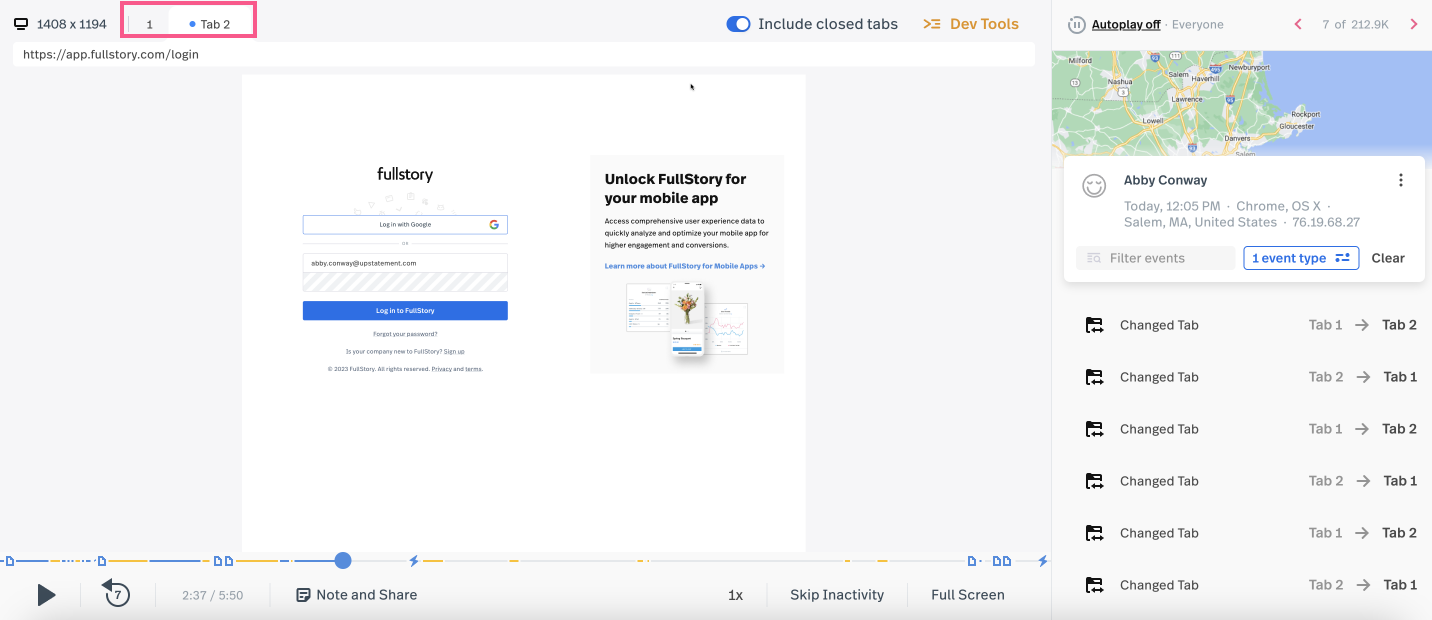 Identifying Tab Events
Tab Events are displayed in the event stream on the right side of your screen. They are broken up into three events: 
New tab event

: a user opens a new tab in their browser 

Change tab event

: a user navigates to another tab in their browser 

Close tab event

: a user closes a tab in their browser 
Use the event types filter to quickly show these tab events in the event stream, then click on the event to view the tab's URL and jump directly to the tab event in playback.