This feature is currently available as an add-on for our FullStory Enterprise plans. Please contact your Account Executive or reach out to Support to learn more about FullStory Enterprise.
Introduction 
The Umbrella feature allows you to manage multiple accounts from one screen in FullStory.  If you are managing FullStory for multiple clients or websites, Umbrella may be the right feature for you.
How It Works
Overview:
When Umbrella is enabled for your account, you will be able to choose an initial user as the Umbrella Manager.  This user will have access to the Umbrella page within Settings and can also create additional Umbrella Managers if needed.  From this page, the Umbrella Manager will be able to perform different tasks including: allocating a pooled bucket of sessions to different accounts on the umbrella, creating a new account, and managing which teammates have access to which accounts.
The top box of the Umbrella page, contains all the plan information about your Umbrella, including how many sessions you have to allocate across all the FullStory accounts associated with your umbrella and the price you're paying for all of your accounts.
Allocating Quota:
Quota can be allocated at any time during the month.  There is no need to set your quota ahead of time and then be stuck with it.  Simply click into the Sessions box for any of your accounts to adjust the allocation up or down.  The amount of unallocated Sessions will appear in grey at the top of the table.  Don't forget to click on the blue 'Save' button on the right-hand side to apply these changes.
A few things to remember when allocating sessions:  
Umbrella Managers will automatically get a seat on every account created.

You can never allocate fewer sessions than what has currently been recorded.

Creating a New Account
To create a new account, you must first make sure you have at least one unallocated session left under your Umbrella account. From there, simply click on the 'Add Account' button. It will ask for what you would like this new account to be named as well as how much quota you'd like to allocate to this account. Once you click 'Save,' the new account is created and should be available for you to log into. New accounts will have their own unique FullStory Snippet for you to apply to the separate website.  

Managing Team Members
Team members that have a seat on one of the accounts in your Umbrella can be managed at the bottom of the Umbrella page.  (Note: If someone does not already have a seat on one of the accounts, you'll want to follow the steps outlined in this FAQ first). By clicking on the value in the Membership & Role column, you will have the option to assign a seat type for each user for each account. 

Please note: If you make someone an Umbrella Manager, they will be given a seat on every FullStory account in your umbrella.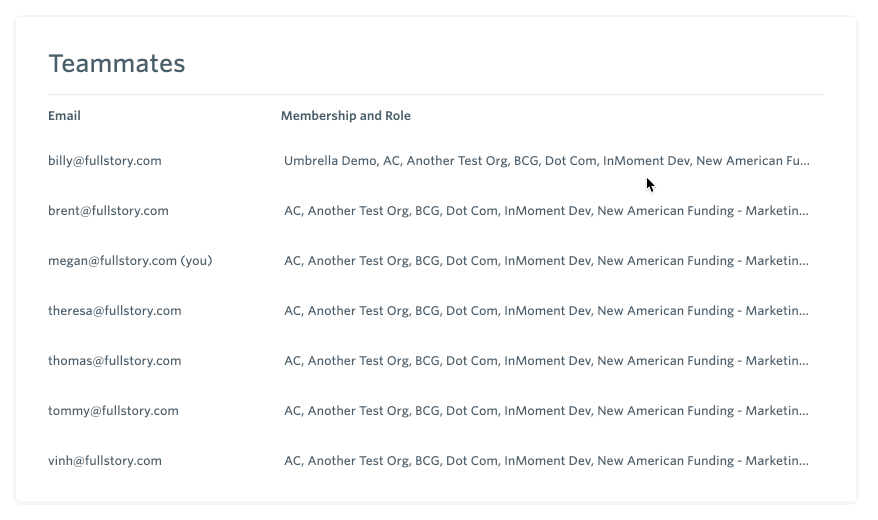 Removing an Account from your Umbrella
If you ever need to remove an account from your umbrella, you can do so by clicking on the three dots on the right-hand side of the Accounts box and then select 'Cancel account.' You will then see a confirmation page where you can cancel or confirm the action.
A few things to take note of when cancelling an account:
This will put the account in a cancelled state. You can still log into the account but recording will be shut off.

If you would like to subscribe the detached account to an individual subscription, please reach out to your Account Executive directly or our Support team here.

If you would like to permanently delete the account, please reach out to our Support team here for assistance.
Frequently Asked Questions
How do I add a teammate to an account on my Umbrella if they aren't already a member?
For users that aren't already a member of an account under your Umbrella, you'll need to first invite them under the Settings > Team Settings page.  This will send them an email to accept the invitation. Once they have accepted this invitation to one of your Umbrella accounts, the Umbrella Manager will be able to add them to any account under the Umbrella.
How do I remove a teammate from all accounts on my Umbrella?
To remove a teammate from all accounts, you need to go to the Settings > Team Settings page. We first recommend removing the teammate on the Umbrella page so that they only have a seat on one FullStory account. After doing so, you can then go to the Settings > Team Settings page for the sole account that this individual has a seat on and delete the user on that page. Once refreshed, that user will no longer show up on your Umbrella page, and you would need to re-invite them from the Team Settings page (see above) if you would like to re-add them to your account.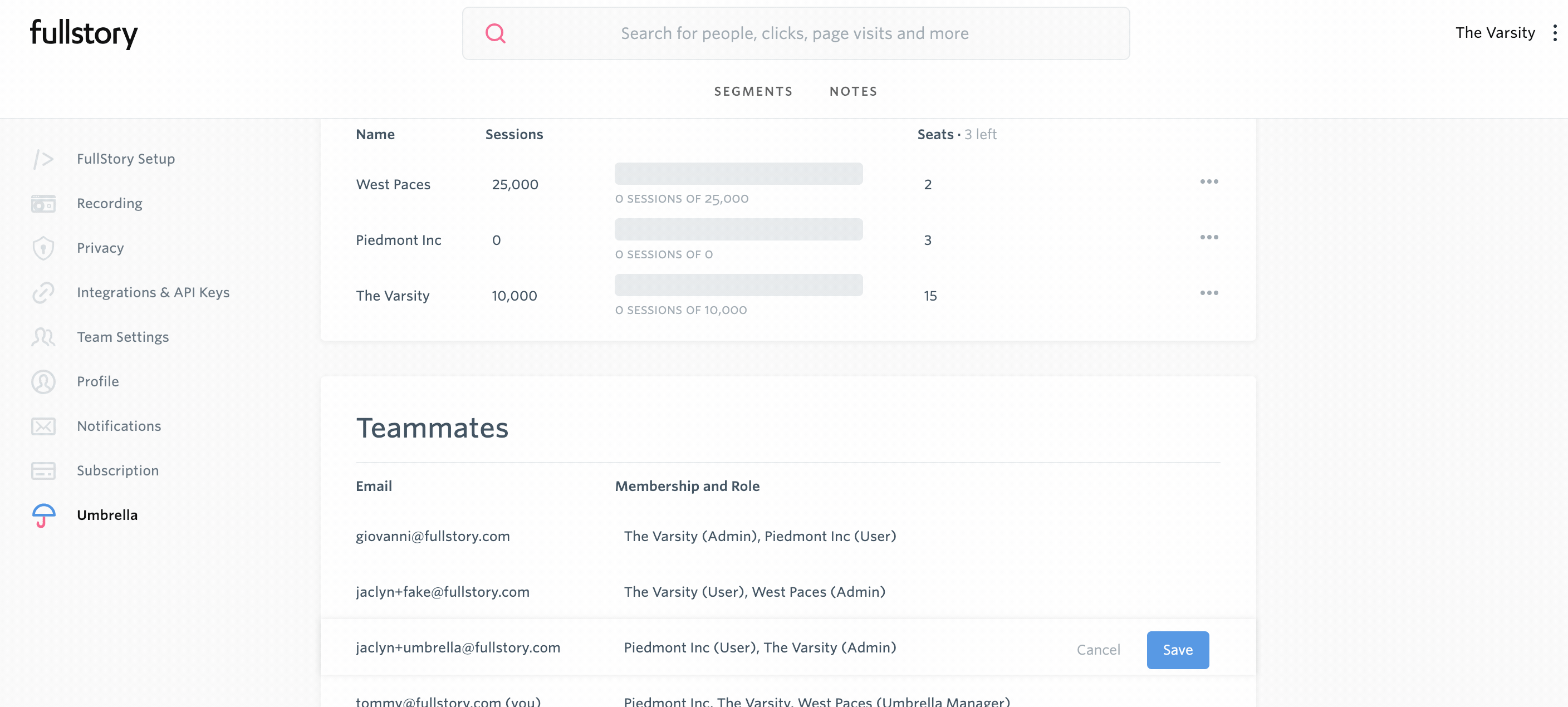 How are seats allocated to each individual account under an Umbrella?
All accounts associated with an Umbrella will have the same number of seats available to use, depending on how many seats you purchased. For example, if your Umbrella plan includes 50 seats, this would mean that you could add up to 50 users to each individual account under your Umbrella.  
How do I rename one of the accounts once I have created it?
Absolutely! When logged into the FullStory account you'd like to be renamed, simply navigate to the Settings > Profile page and update the Name field.