Available for the following Plan Types:
FullStory Enterprise*
FullStory Advanced
FullStory Business
FullStory for Mobile Apps
FullStory Free
*with the following add-on:
Multi-org Management
Available for the following User Roles:
Umbrella Manager
Admin
Architect
Standard
Introduction 
Umbrella Management (aka "Multi-org Management") allows you to manage separate FullStory accounts in one place, providing essential visibility into session allocation and User access across your entire organization. Umbrella Management is ideal for:
Customers who manage multiple digital experiences but want to keep sessions and product analytics separate.
Agencies that work with multiple FullStory clients.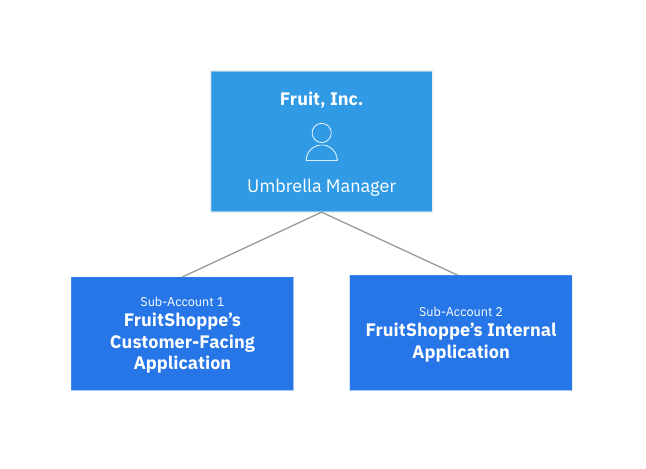 How It Works
Choose your Umbrella Managers
After FullStory enables Umbrella Management for your account, choose your Umbrella Managers. Umbrella Managers:
Can add and remove sub-accounts. 
Can allocate sessions for all sub-accounts.
Can turn data capture on and off for all sub-accounts.
Can manage User access for all sub-accounts.
Have

admin permissions

for all sub-accounts.
To choose your Umbrella Managers, go to Settings > Umbrella > Users. Edit an existing User and toggle Umbrella Manager on, or click Invite User to create a new Umbrella Manager from scratch. 
Note: We recommend selecting at least two Umbrella Managers. This allows you to continue managing your Umbrella if one User becomes unavailable. 
Allocate Sessions to Sub-Accounts
To allocate sessions to sub-accounts, go to Settings > Umbrella > Details. From the Account table, click on an account to edit its session allocation. 
Notes:
You can allocate sessions anytime during your monthly or annual quota usage period.
Unallocated sessions appear as Remaining Sessions at the bottom of the account table. 
If you increase your session limit, the new sessions are added to Remaining Sessions and must be allocated by an Umbrella Manager. 
You cannot remove or reallocate sessions from an account after the sessions have been used. 
You cannot allocate fewer sessions than an account has already used during the current usage period.
Create a New Sub-Account
Before you create a new sub-account, make sure you have at least one unallocated session available under Settings > Umbrella > Details. Then, click Add Account to set the account name and allocate sessions.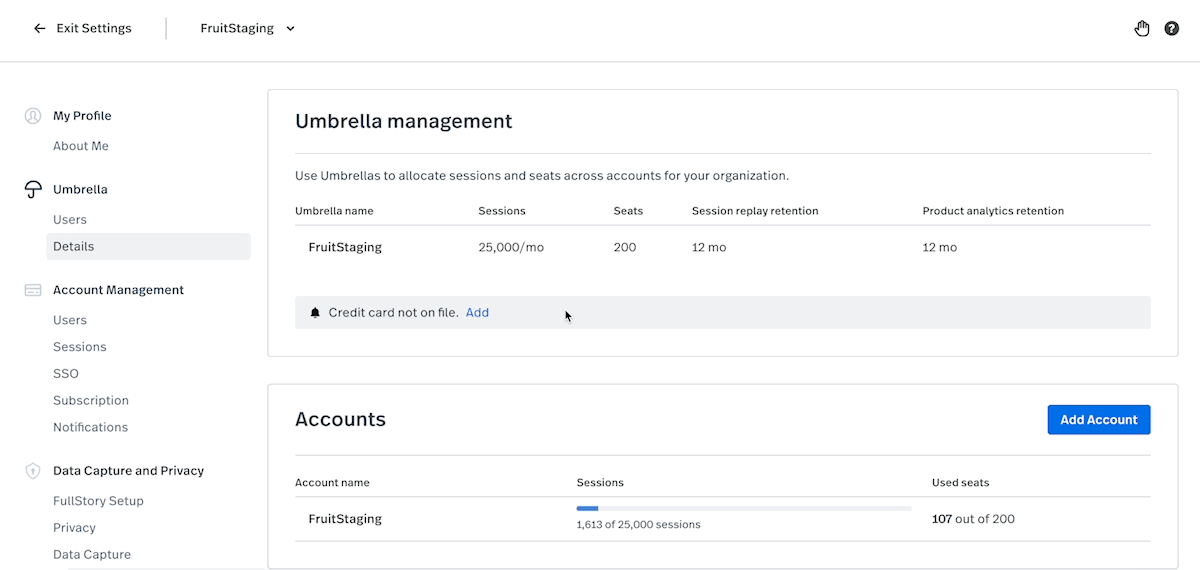 You can access the sub-account immediately using the account dropdown, and you can create as many sub-accounts as you'd like. 
Note: Each sub-account has a unique data capture script under Settings > Data Capture > FullStory Setup. 
Manage Users
Umbrella Managers can manage User permissions under Settings > Umbrella > Users. Click Invite User to start from scratch, or click the vertical ellipses next to an existing User to adjust their permissions.
Choose Edit User to change the User's role or edit their access to specific sub-accounts. 
Choose Disable on all to temporarily disable the User's ability to log in to all available sub-accounts. An Umbrella Manager must re-enable access before the User can log in. 
Choose Remove from all to remove the User from all available sub-accounts permanently.
Remove a Sub-Account
To remove a sub-account from your Umbrella, go to Settings > Umbrella > Details. Click the account, then click Delete Account to confirm. 
Notes: 
You can still log in to the removed account, but data capture will stop. 
If you want to resume data capture for this account with an individual subscription (separate from your Umbrella), contact your Account Executive or the

Support team.
If you want to delete the account permanently, contact the Support team.
Frequently Asked Questions
How are users allocated across sub-accounts?
The User limit in each sub-account is the number of Users included in your Umbrella plan; however, the total number of unique Users across all sub-accounts must not exceed the number of Users purchased.
Can I rename a sub-account after I create it?
Yes. Log in to the account you'd like to rename and update the Name field under Settings > My Profile > About Me.