Yes! Event Funnels are one of several different kinds of Cards. Create a search with a series of events, including click events or page visits, to create an Event Funnel Card. 
Have you explored FullStory's new Funnels functionality? Use Funnels instead to create dashboards, analyze conversions, and gain more advanced insights into how your users move through a series of steps. 
How do I create an Event Funnel Card?
To create an Event Funnel Card, you must first start a search containing the events you consider important for a given outcome. FullStory will create a Card with a funnel when your segment contains two or more event queries. Then FullStory will show you the percentage of your users who have been in this funnel during the specified time frame. 
Scroll down below the user list fo find your funnel: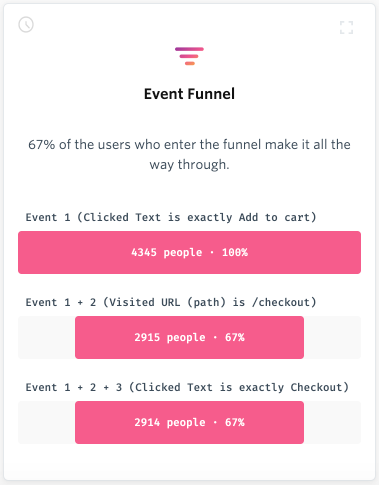 And here is the search that produced this funnel:

Interacting with the Event Funnel Card
If you're curious about why your customers are falling out of the funnel at certain steps, start by clicking on one of the bars in your Card to instantly alter your search to the first step. 
Clicking on the bar titled "Event 1 + Event 2," for example, will automatically show you customers who completed those two steps, with no reference to Event 3. This Card results in any customer sessions that clicked the text Add to Cart and Visited URL (path) "/checkout". 
Next, you can compare how many customers added to their carts, but didn't complete their purchases by clicking Checkout. To see which customers were affected, simply drag Event 3 to the area just below the event filters which begins with the word Exclude. This search will now show you all the users who performed Event 1 and Event 2, but failed to perform Event 3. 

This will capture all customers that added to their carts, went to the checkout page, but didn't complete checkout. Of course, this technique is up to you to alter to suit your application! You'll narrow down the search to exactly where in the buying process customers are dropping off. 
Now, by watching a handful of sessions, you can see for yourself where customers get tripped up or lose interest and leave your funnel.


Are you interested in more conversion funnel insights?
FullStory's dedicated Conversions product, available on the Enterprise plan, will analyze your funnel to provide proactive, actionable insights you can use to help improve your conversion rate.
Learn more about it in our Introduction to Conversions!