September 2023
Integrate Metric Alerts with Microsoft Teams
Set up Microsoft Teams notifications when key metrics fall outside of an expected range. Read more here.
Configure Pages for Mobile Apps 
Set up pages for your mobile apps via the API to monitor screen performance and generate heatmaps. Read more here.
Analyze Mobile App Page Performance with Heatmaps
Understand user engagement and improve your UX using heatmaps for mobile applications. Read more here. 
August 2023
Integrate Metric Alerts with Slack 
Set up Slack notifications when key metrics fall outside of an expected range. Read more here.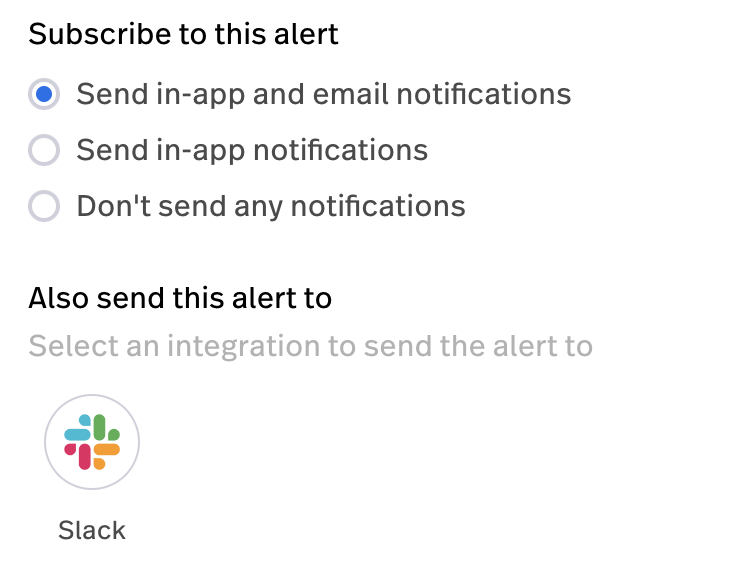 Data Quality Monitoring for Elements
Data Quality Monitoring helps admins and architects ensure the accuracy and reliability of their collected data by detecting and flagging potential issues with any created element.
API V2
FullStory has released version 2 of our API! This is the first major version bump in the history of FullStory and the first step to bring more consistency and expose more feature functionality via API. This update includes an entirely new Users endpoint and a refreshed Events endpoint.
A sample of benefits include:
Create new users in FullStory that weren't captured directly through a FullStory SDK
Pass event context like location and device along with server events
Pass server events for anonymous (un-identified) or identified users
Pass user and event properties without type suffixes 
July 2023
Page Flow Updates
Metric Insights on Cards
You can now access a metric insight from a metric trend card. At the bottom of a medium or large card, there will be a one line description of your metric insight.
URL Component Privacy Rules
Create and manage custom URL component privacy rules that prevent any unwanted or sensitive data within captured URLs from reaching your FullStory instance. Read more here!

Metric Trend Chart Enhancements
In addition to the standard view, try out rolling average and rolling window visualizations in your metric trend charts to calculate common trends such as Daily Active Users, Weekly Active Users or Monthly Active Users and add these metrics to a dashboard. These new views provide a more stable time series analysis by smoothing out natural fluctuations in your data, providing a clearer picture of underlying patterns to help you make informed decisions.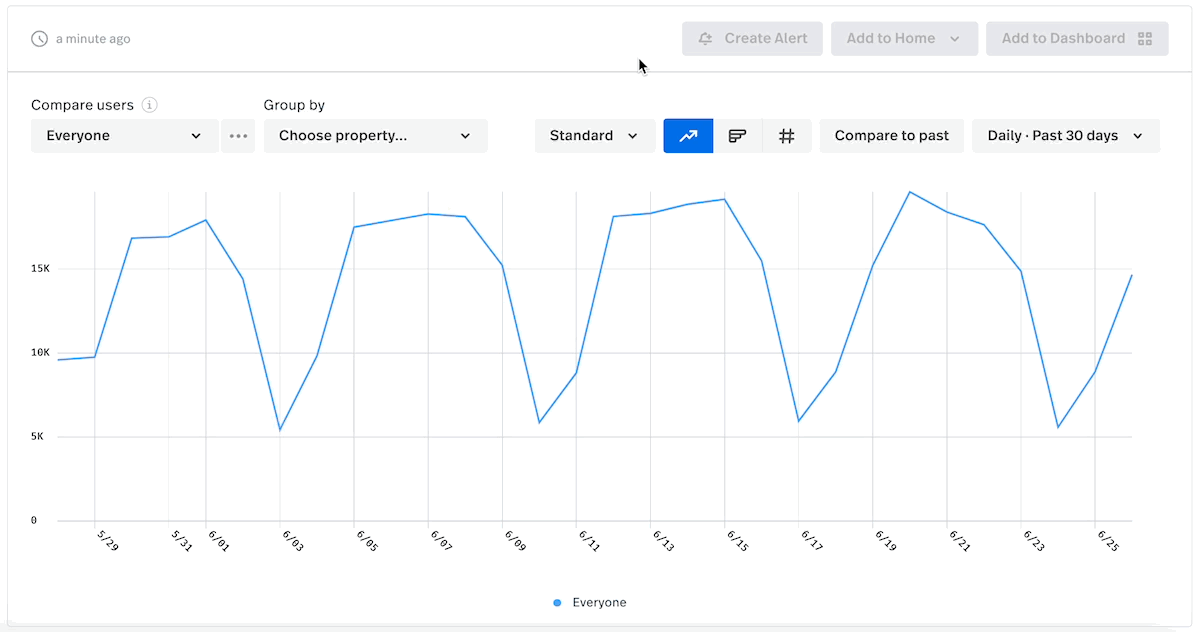 Metric Alerts
Metric Alerts offers the ability to get notified as soon as a metric you're watching falls outside of an expected level, so you can stay ahead of issues and resolve them quickly.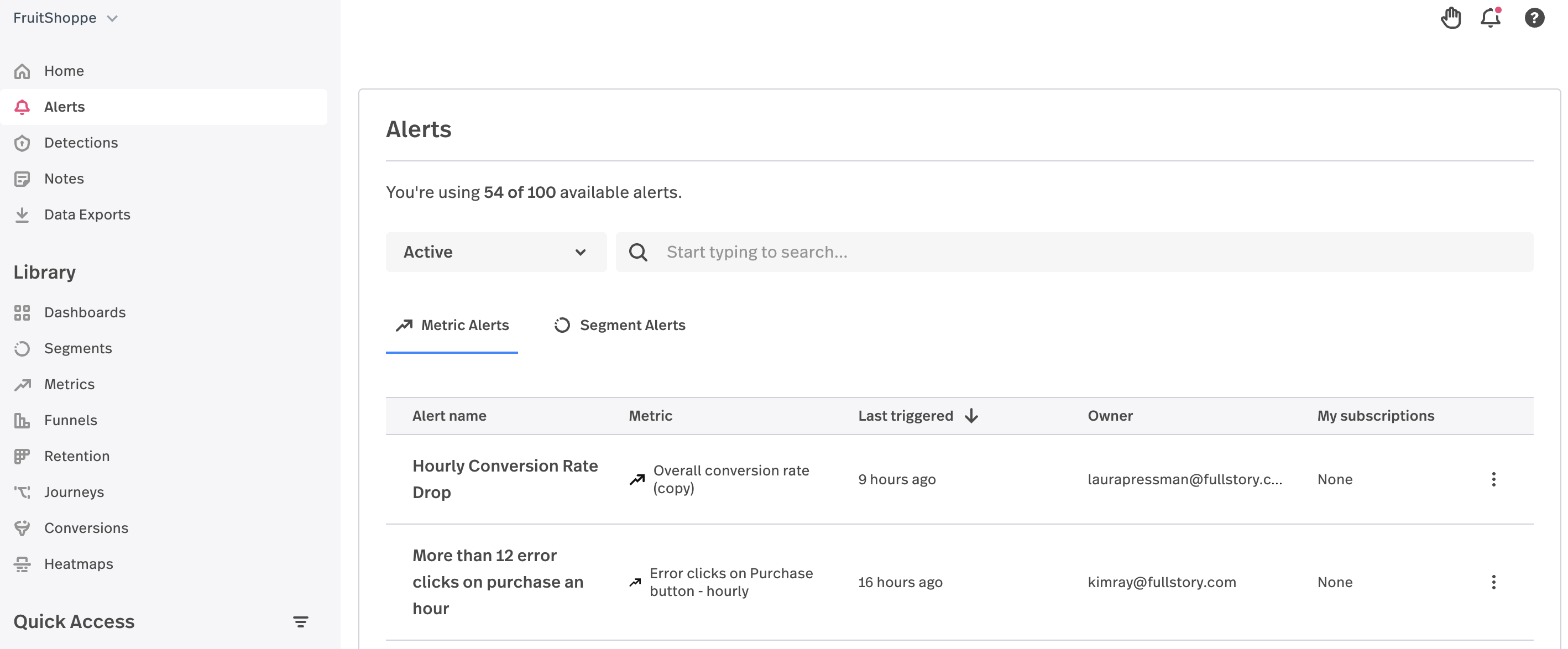 Other noteworthy updates
We've added new buttons on the home page that provide quick actions to specific data objects (Search for sessions, Track a metric, Create a dashboard and Uncover frustration)

Ongoing improvements to decrease performance impact & increase stability of fs.js, to maintain minimal impact to our customer's sites

We now offer limited support for Canvas

This does not include WebGL applications like Google Maps
---
June 2023
Account Notifications
System-generated account notifications are now accessible via the Account Notification Center. You can view these by clicking the bell icon at the top of your FullStory screen.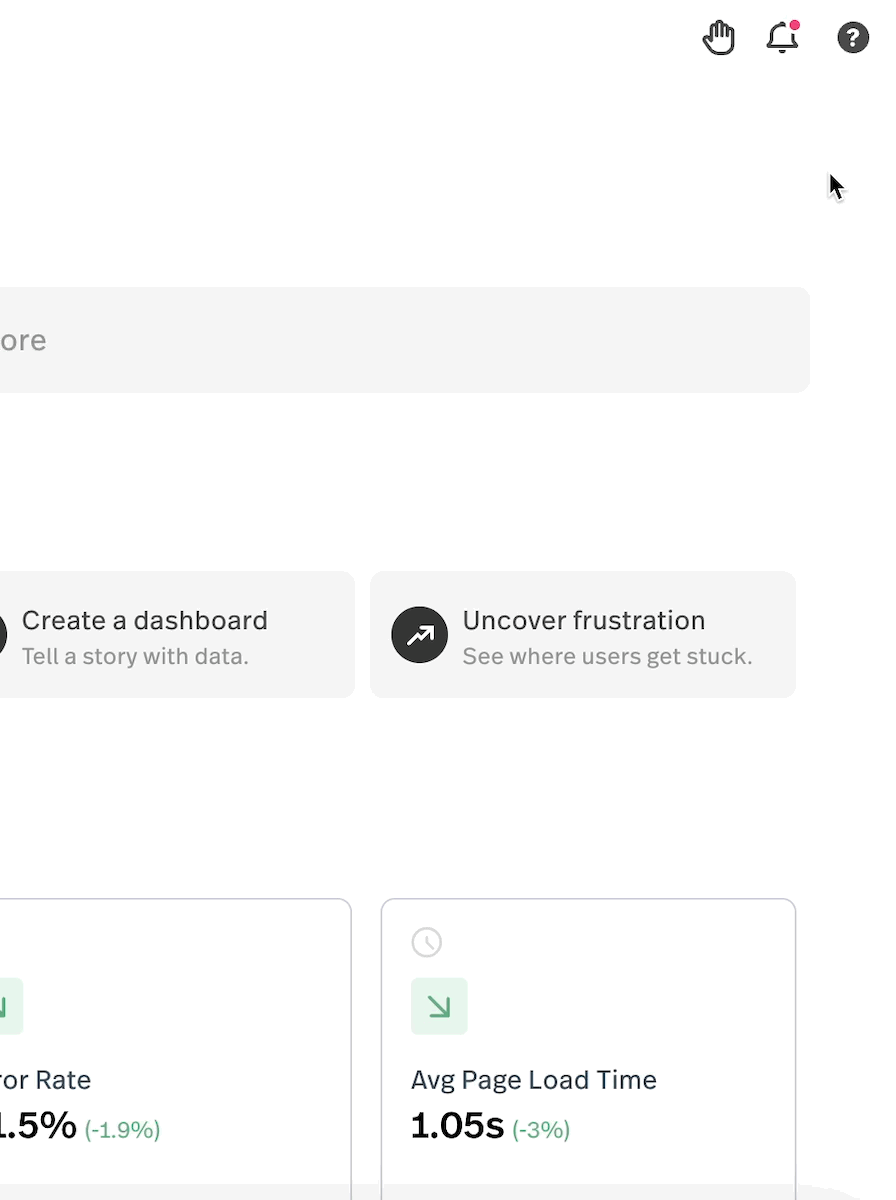 Dashboard Filters
Automatically apply segments, properties and/or time range to dashboards with new dashboard filters. Use this bulk filtering option to alter your dashboard cards simultaneously without having to edit them individually. Read more here.

---
May 2023
Session Replay Error Events Enhancements
Zoom out on error events in session replay to easily transfer from a qualitative analysis to a quantitative analysis, without interrupting your workflow. Read more here.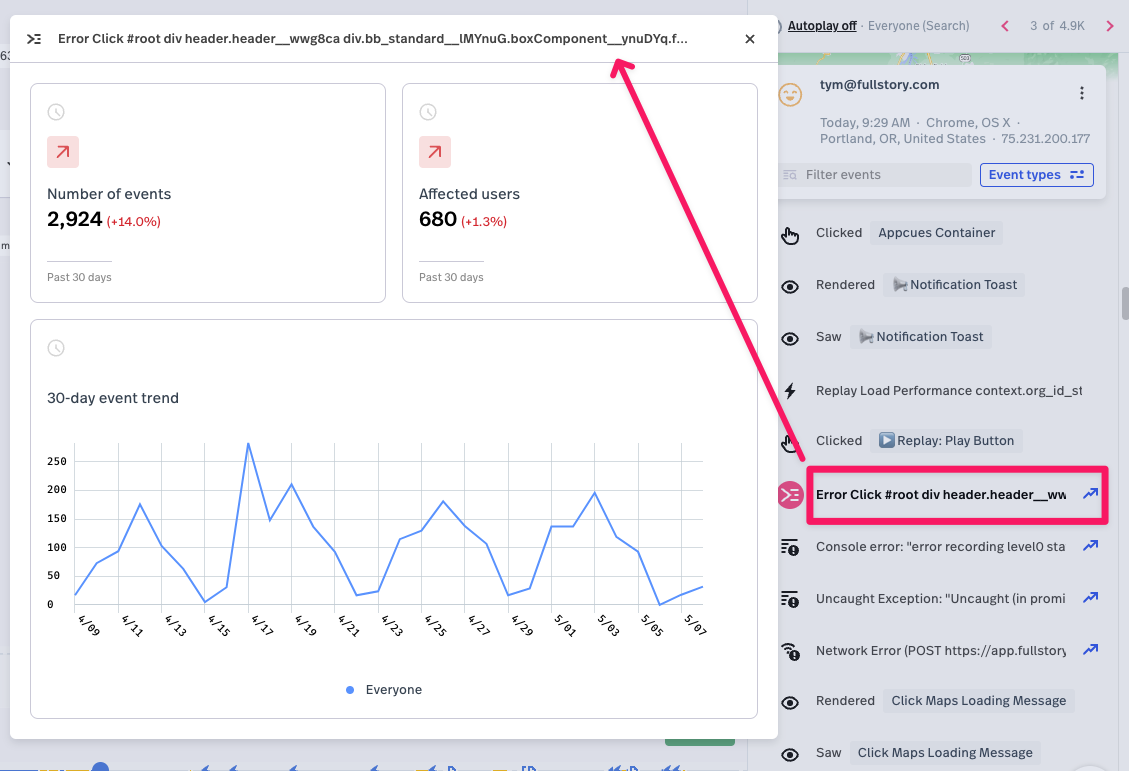 FullStory Relay Updates
FullStory Relay now offers support for native mobile SDK and Cloud Relay. Read more here.
Data Layer Observer V4
The newest version (V4) of our open source Data Layer Observer library is now available. This version allows you to apply parsing to property values and act upon the output with other operators. Additionally, properties that already end with a valid FullStory suffix will no longer have their type inferred by Data Layer Capture. If you are using Data Layer Capture with your own custom hosted rules, please review your rules to ensure they work correctly with the new library.
---
April 2023
Enhanced Refine by Filters for Funnels & Segments
Explore the number of times a user has taken an action and their retention rate with the new occurrence and within refine by filters in Funnels & Segments. Read more here. 

Tabbed Browsing
Tabbed Browsing empowers you to experience and visualize the creation, closure, and navigation between tabs in the way your end-users do, in order to better evaluate, analyze, and optimize their digital experience.
---
March 2023
Heatmaps Enhancements
We've added the ability for admins and/or architects to create elements from the menu shown within the element's card on the right side of the click map. Read more about this beta feature here.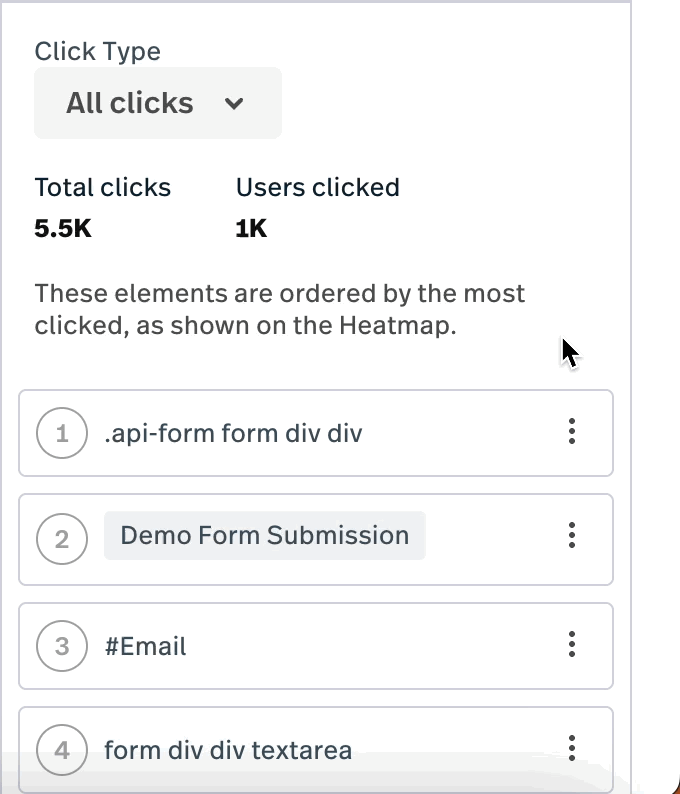 SSO Role Mapping
You can now automatically assign users to FullStory roles based on information contained within your Identity Provider (IdP) system. This is an optional configuration that allows you to remove the extra step of updating the user's permissions via the Settings UI. It applies to all FullStory user roles - Admin, Architect, Standard and Guest. Read more on this early access feature here. 
---
February 2023
FullStory in German
We now offer a fully translated version of FullStory in German! For more details, check out this helpful article.
Trello & Productboard Personalization
In addition to Jira & Slack, we now offer Individual Access Mode to users who wish to maintain their own Trello & Productboard integration configurations.
Team Management for Umbrella Orgs
We've made it easier for Umbrella Managers to view and manage team members and seat licenses from one place. Navigate to Settings > Umbrella > Users and explore the new user management options like filter and sort, last active timestamp for teammates and bulk editing options. Read more here.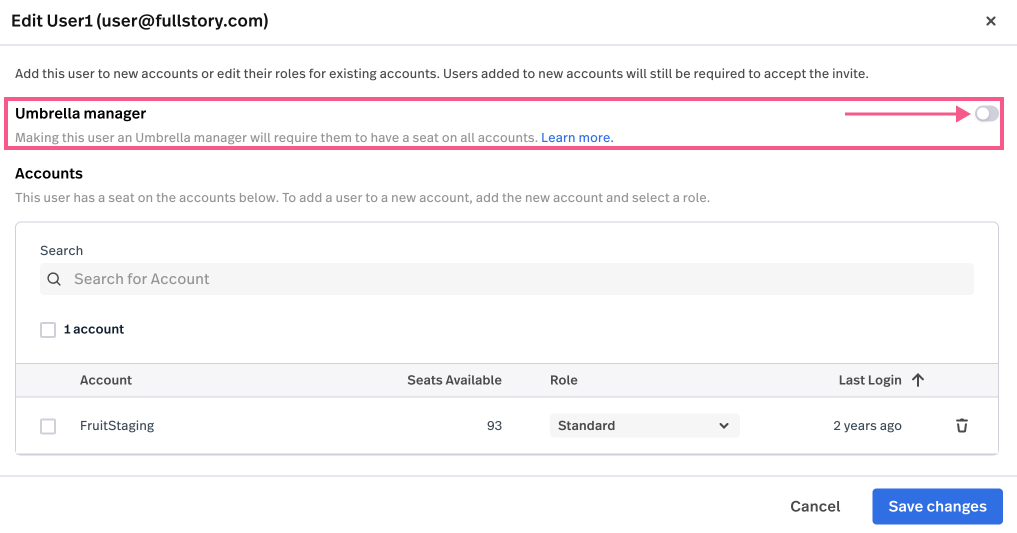 ---
January 2023
Jira Integration Personalization
Like our recent Slack integration update, we now offer Individual Access Mode to users who wish to maintain their own Jira integration configuration.
Microsoft Teams Integration
We now offer a native integration for Microsoft Teams that sends notes to a specified Teams channel. Users will be able to share insights about FullStory sessions to colleagues within their existing conversations. The messages will contain a link to view the session within FullStory. Read more here!

More Journeys' Enhancements
To allow users to see more meaningful moments in Journeys, the Event types dropdown menu now features the two specific types of events you can filter by: API Defined Events & User Defined Events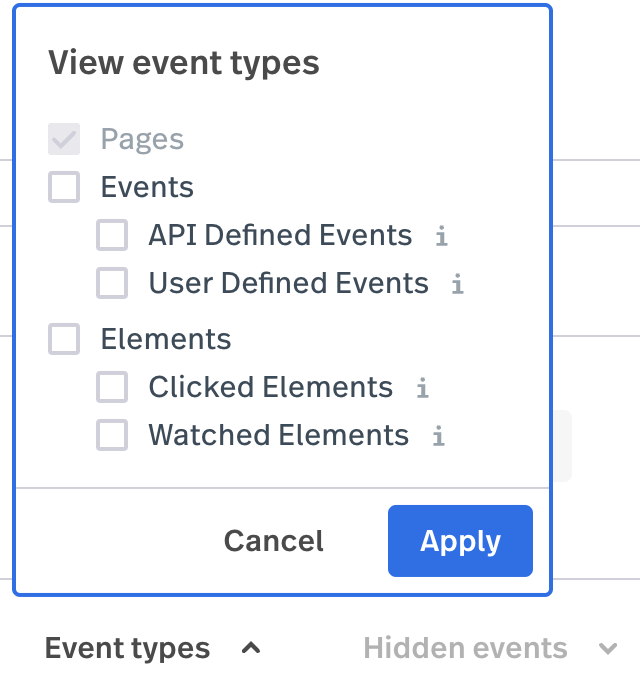 Slack Integration Personalization
We've given individual users the ability to setup and maintain their own Slack integration configuration with Individual Access Mode. This provides personalization and flexibility to any level of FullStory user when it comes to the integrations they use.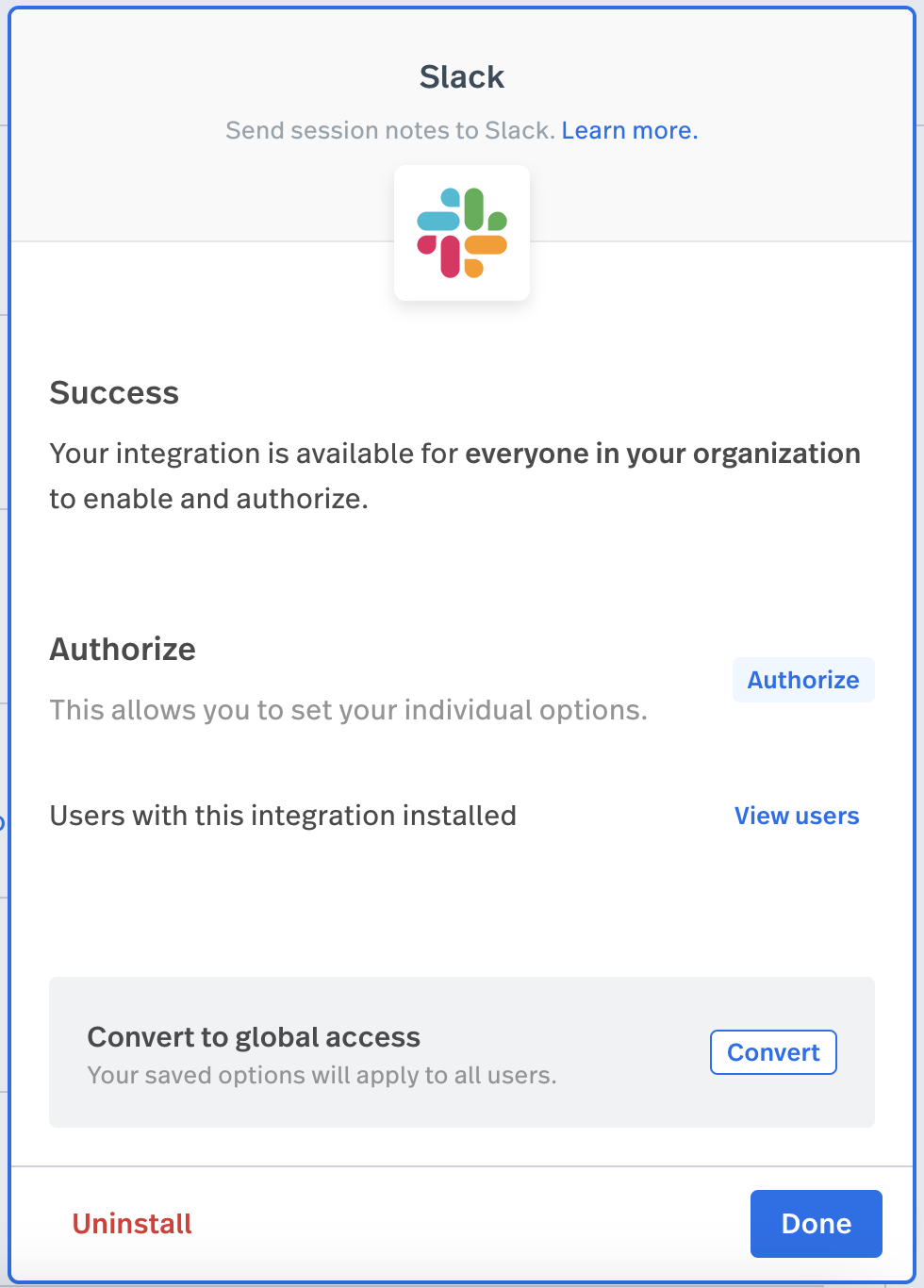 ---
December 2022
Journeys' Enhancements
Use the event types dropdown to include additional events within your visualization for a more granular analysis or exclude them to declutter. We've moved this functionality right above the Journeys' diagram that appears after clicking Explore.

Metric Insights
We now generate metric insights when there are interesting trends or anomalies in your data that helps you quickly identify thought-provoking patterns or concerning changes at a glance. Read more about these insights here!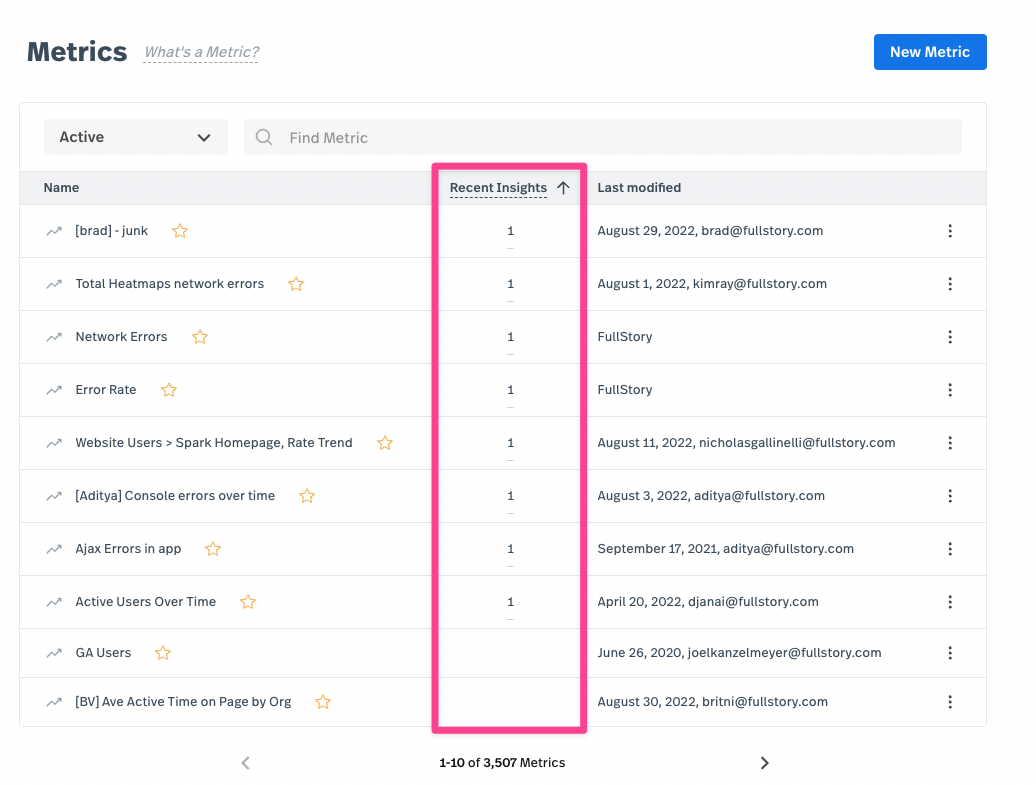 Admin Configuration of Seat Requests
Admins now have the ability to route Guest requests for seat upgrades to their organization's internal software provisioning tool so that they are able to manage FullStory seat requests from a central place. Read more here.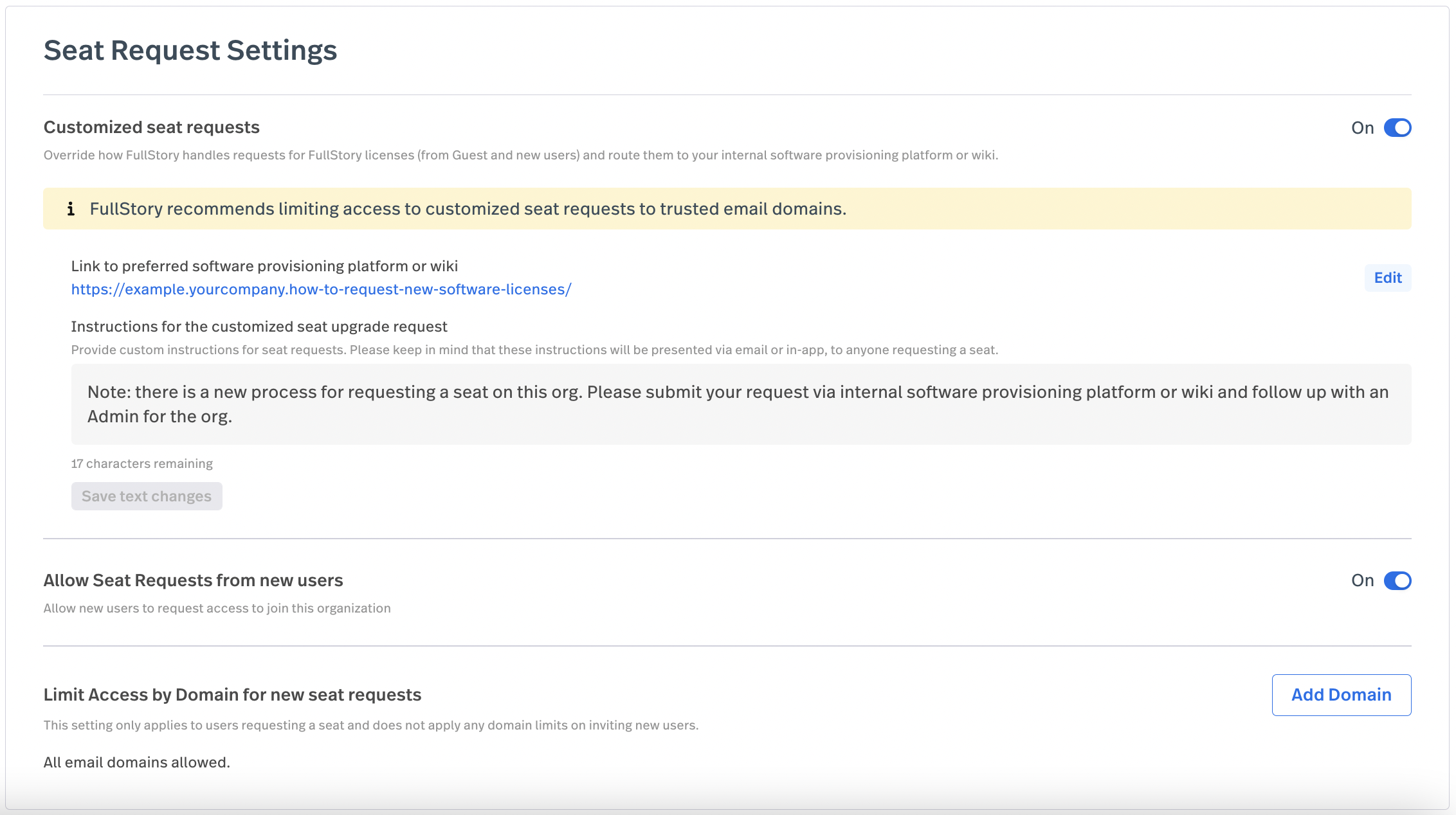 ---
November 2022
New Advanced Plan
We've launched our brand new Advanced plan type for companies that need deep product analytics and qualitative insights to grow with agility. Read more on our plans page here.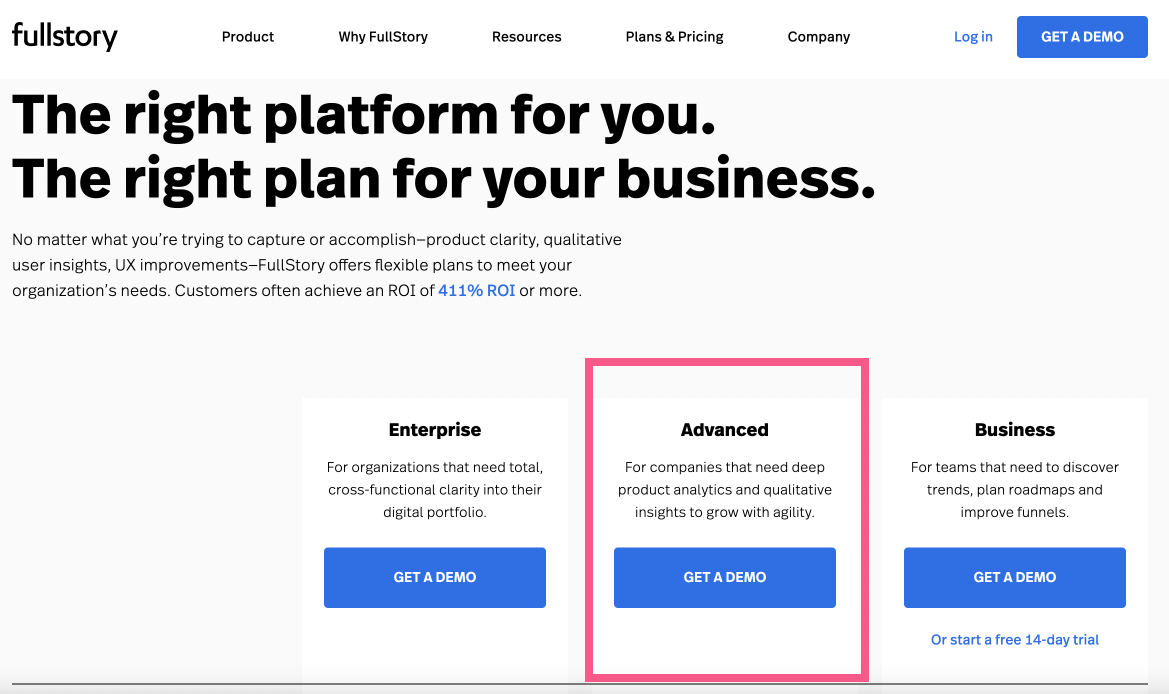 Retention Charting
Retention Charting is a powerful new feature that helps you determine if users are returning to your product and finding enough value from it to drive recurring usage. Read more on this new beta feature here!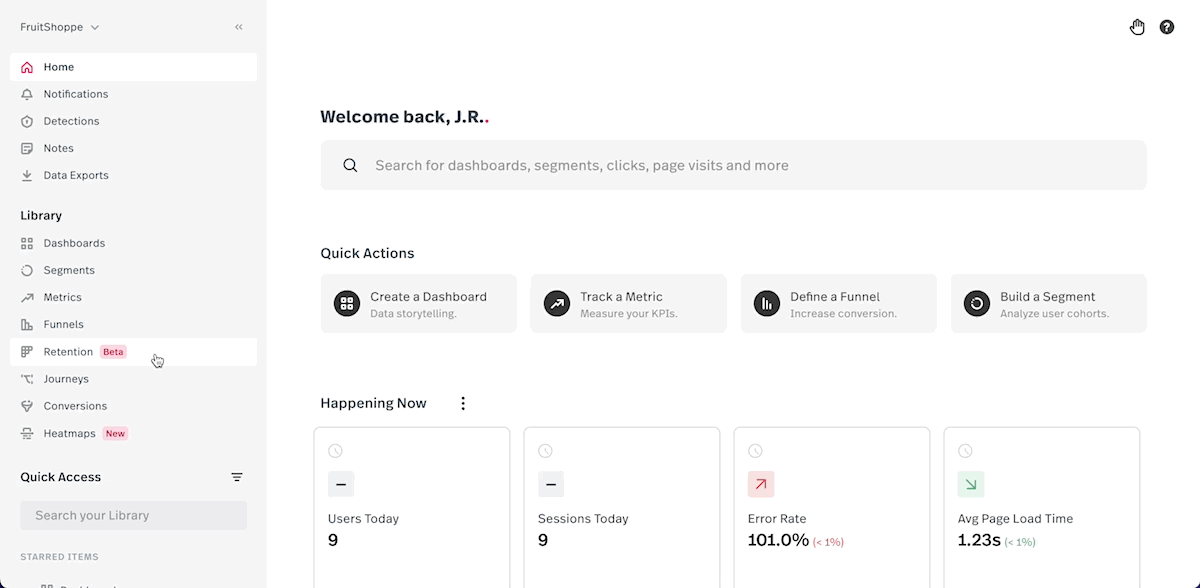 Detection Enhancements
Check out the new Detections Inbox where clicking into an event will take you to a new page with details on that specific detection event.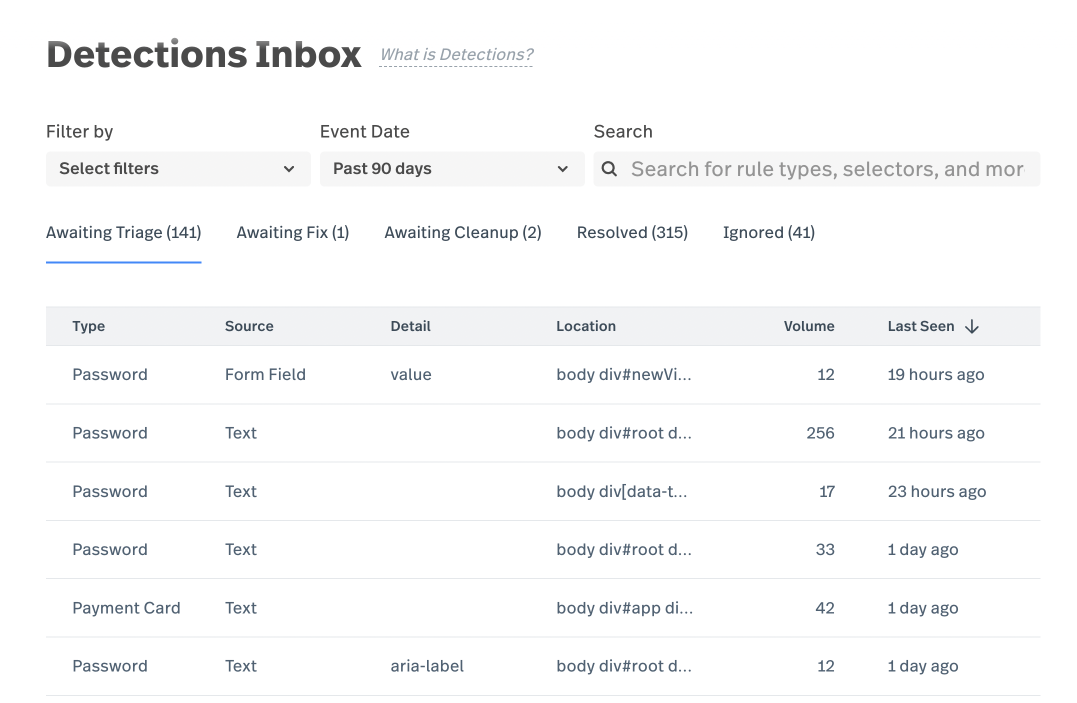 Element Enhancements
You can now select web, iOS and/or Android platforms when creating an Element in Data Management (or within Session Replay) to allow both multi and single platform tracking.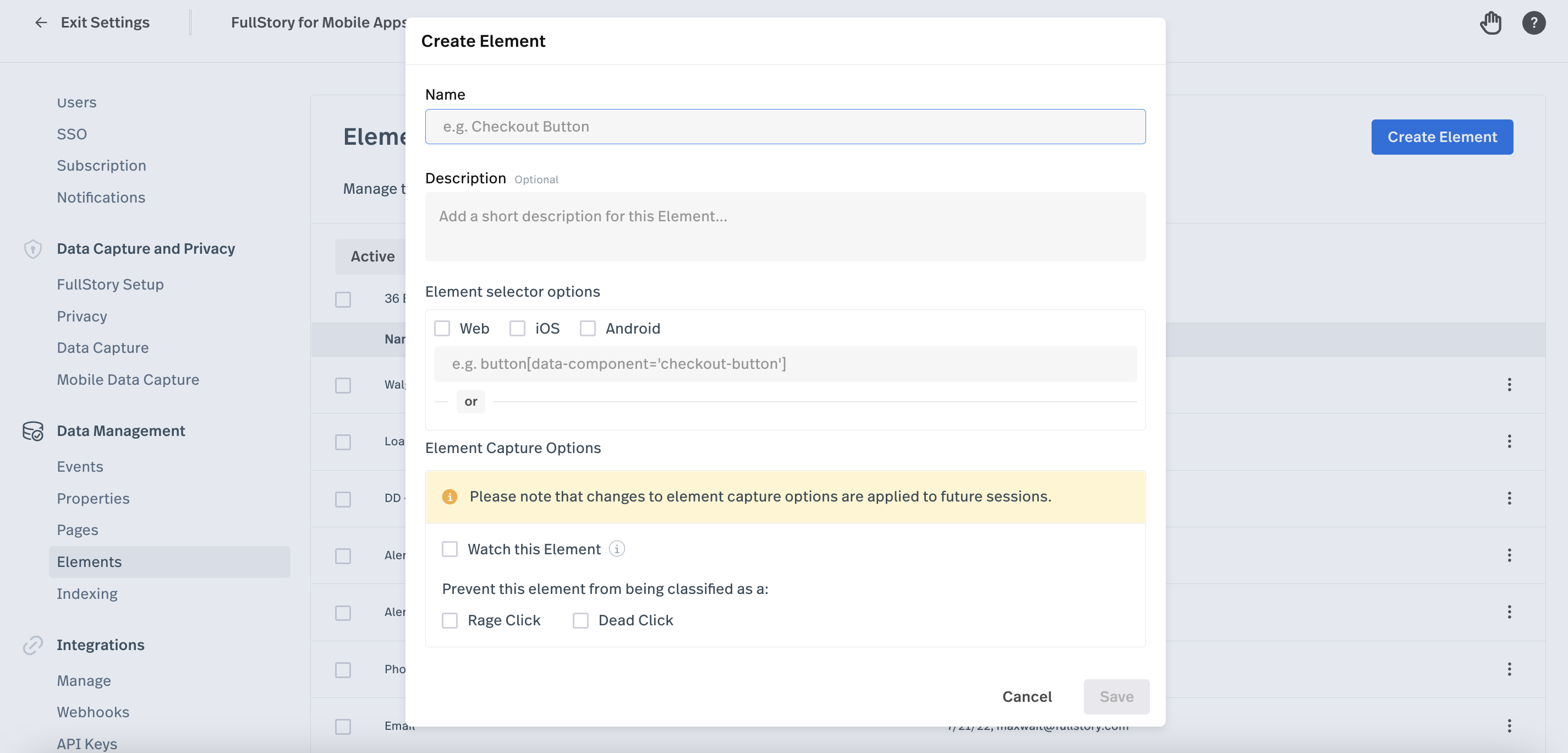 ---
October 2022
Drag & Drop on Dashboards
Try our new drag & drop capabilities on dashboards with any card. Simply click and drag them to the order of your preference.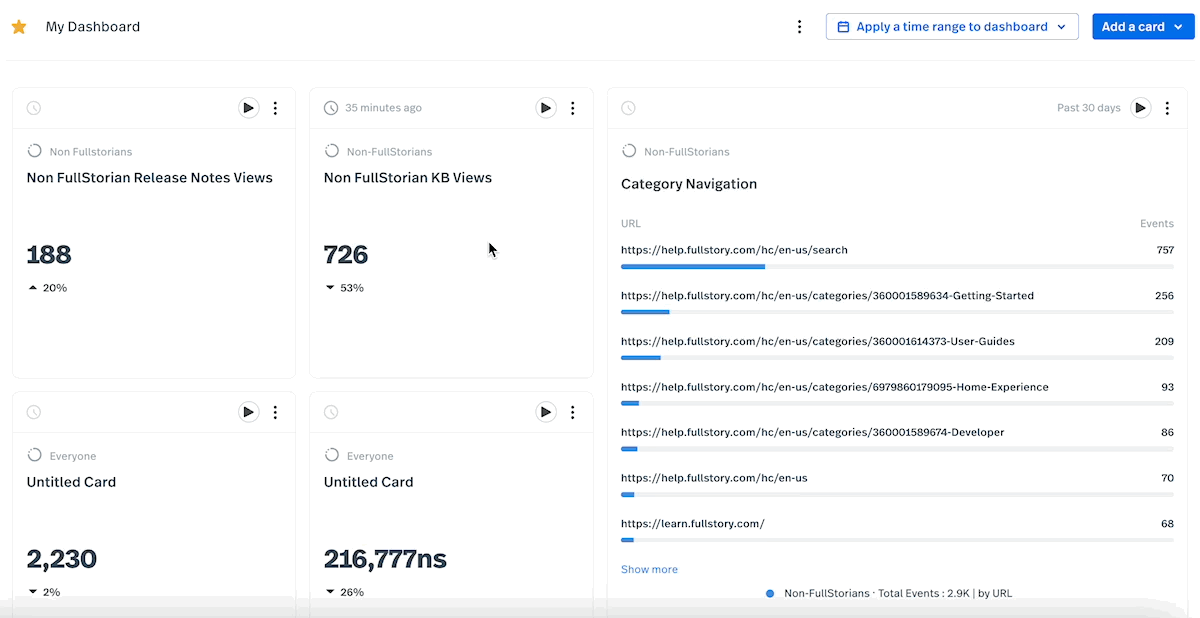 Heatmaps
Heatmaps is a new experience for Click and Scroll Maps outside of session replay providing more flexibility, control, insights and collaboration tools for users. Read more here.
Core Web Vitals
Core Web Vitals are a set of specific factors (Largest Contentful Paint, First Input Delay and Cumulative Layout Shift) that Google considers the standard for a webpage's overall user experience. You can now track these specific metrics in FullStory. Read more here.
Session Replay Speed Control Enhancements
You can now adjust the speed at which you watch a session more easily. Click the default speed button at the bottom right of the session replay window to open the speed control menu.

---
September 2022
SwiftUI Mobile support
With the launch of FullStory Plugin version 1.31.0, SwiftUI support in FullStory is now generally available! Read more on this here.
Qualtrics + FullStory Session Replay
Watch FullStory sessions within your Qualtrics dashboard with the new session replay widget! View relevant information that you're tracking from both platforms in one place. More on this here.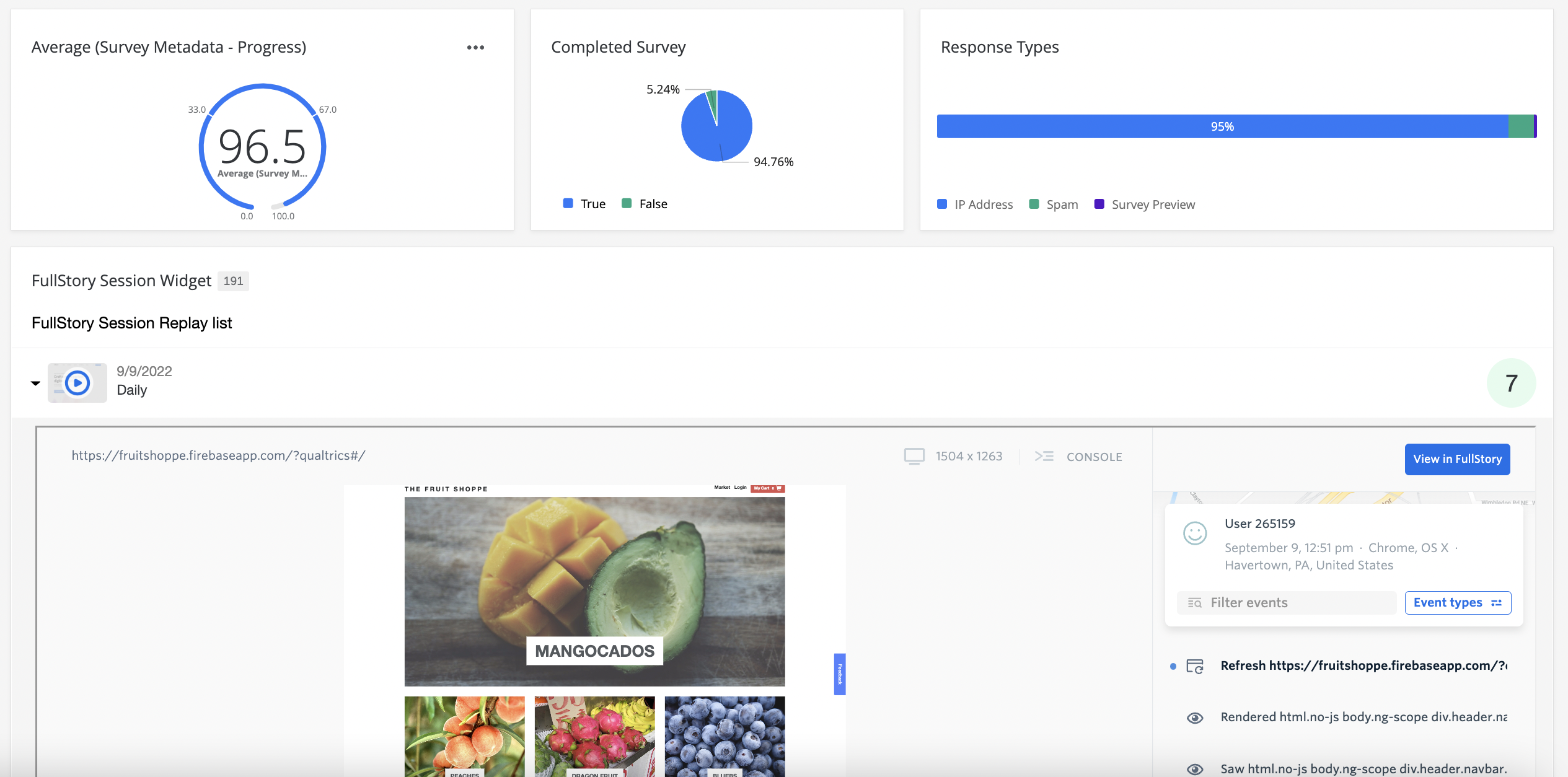 Add from Library
We've added the ability to add an existing DX object (Metrics, Funnels, etc) to your Home Experience and Dashboards. This provides a faster, less tedious flow directly from Dashboards and Home. This gives users the ability to add objects from their library to a dashboard, directly from the dashboard, and to home, directly from home.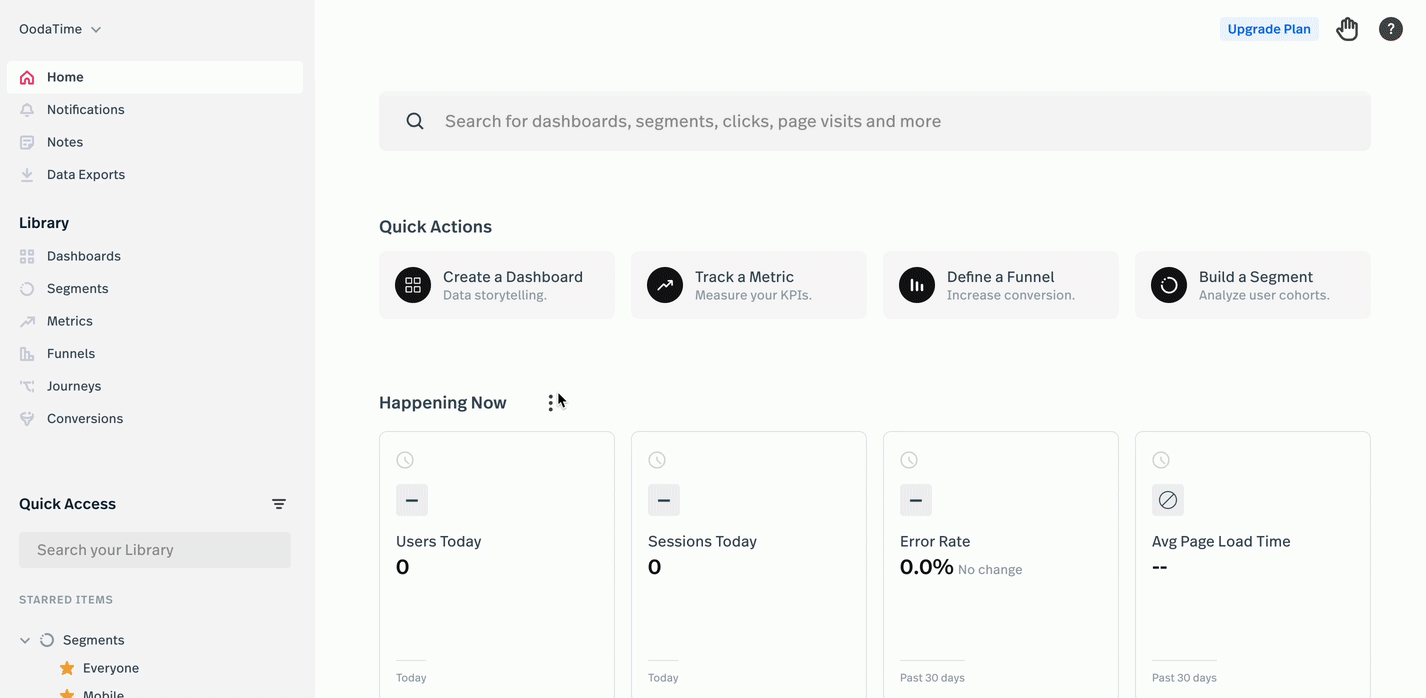 ---
August 2022
Zapier Integration Actions
We've enhanced our Zapier integration to include 2 new Actions you can take via our new server-side APIs (user properties and events). Read more here on the ability to track events and set user properties based on triggers with our Zapier integration.
Server Side Events
With our new Server Side Events API, you can pass custom event data into FullStory to measure and understand interactions that happen outside of the FullStory data capture script's visibility. This provides a more complete view of your customer experience. Read more on this new REST API here.
Segment Server Side Integration
You can now ingest server side events into FullStory via our updated Segment integration. Segment's new Cloud Mode pushes your user and transactional data directly to FullStory server-to-server. Read more on this here.

---
July 2022
Home & Search Experience
Our new Home & Search Experience empowers you and your team to work effectively from the same data set without compromising how you like to work. Check out all of these helpful resources on our Home & Search Experience Hub.
Data Management in FullStory
Data Management in FullStory helps you create structure and meaning out of the raw data being captured in your FullStory account. Explore the new UI layout via Settings > Data Management.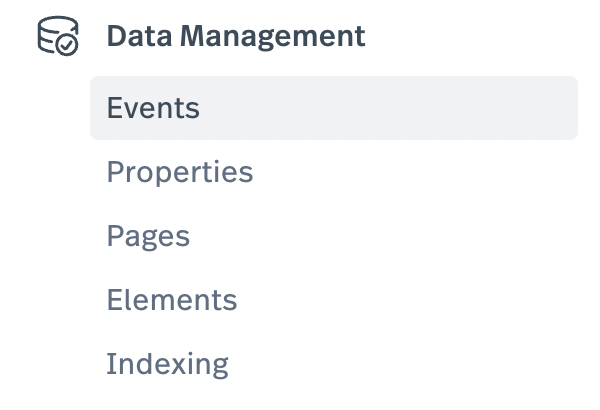 Network Capture
The ability to identify and analyze network errors via DevTools in Session Playback is now available for mobile sessions. You can also create segments & funnels based on these common network errors for mobile apps. Read more here!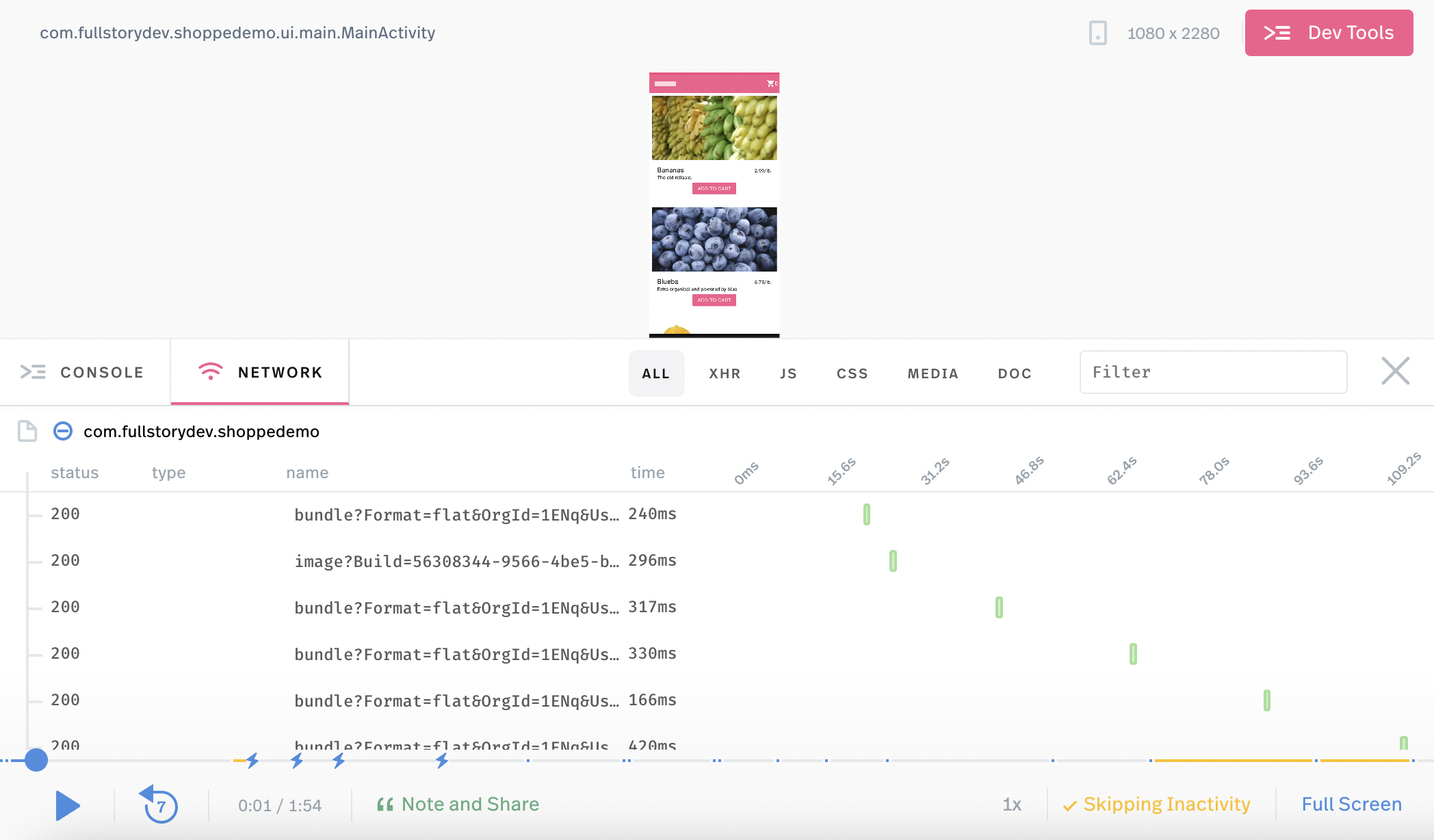 Join your company on FullStory
To make it easier for new users at FullStory to join an existing account, you can now allow them to join your company directly from the FullStory Log-in page. More on this enhancement here!
Measure Time on Page
You can now build metrics to analyze the average, median, minimum or maximum time users spend on a page. Read more on this here.

---
June 2022
Data Destinations
Data Destinations enables you to sync all of your digital experience data directly into your cloud data warehouse, such as Snowflake or Google BigQuery. We'll manage the structuring, delivery and deduplication of captured events so that you don't have to engage your engineering teams to build custom ETL pipelines. Read more on this exciting new feature here.
Snowflake
We've built an integration, powered by our Data Destinations technology, that allows you to send your structured event data directly to Snowflake. Read more on this new integration here.


Google BigQuery
We've built an integration, powered by our Data Destinations Warehouse technology, that allows you to send your raw event data directly to Google BigQuery. Read more on this new integration here.


Detections
Detections monitors for the presence of possibly-sensitive data and provides relevant sessions for further investigation. Read more on this feature here.


Asset Uploading
Asset Uploading enables session replay for orgs whose assets are behind an authentication wall or not accessible via the internet (ie. only available on a local server).
Bulk add any user role
Admins can now select any user role (Admin, Architect & Standard) when performing bulk invite via Settings > Account Management > Users.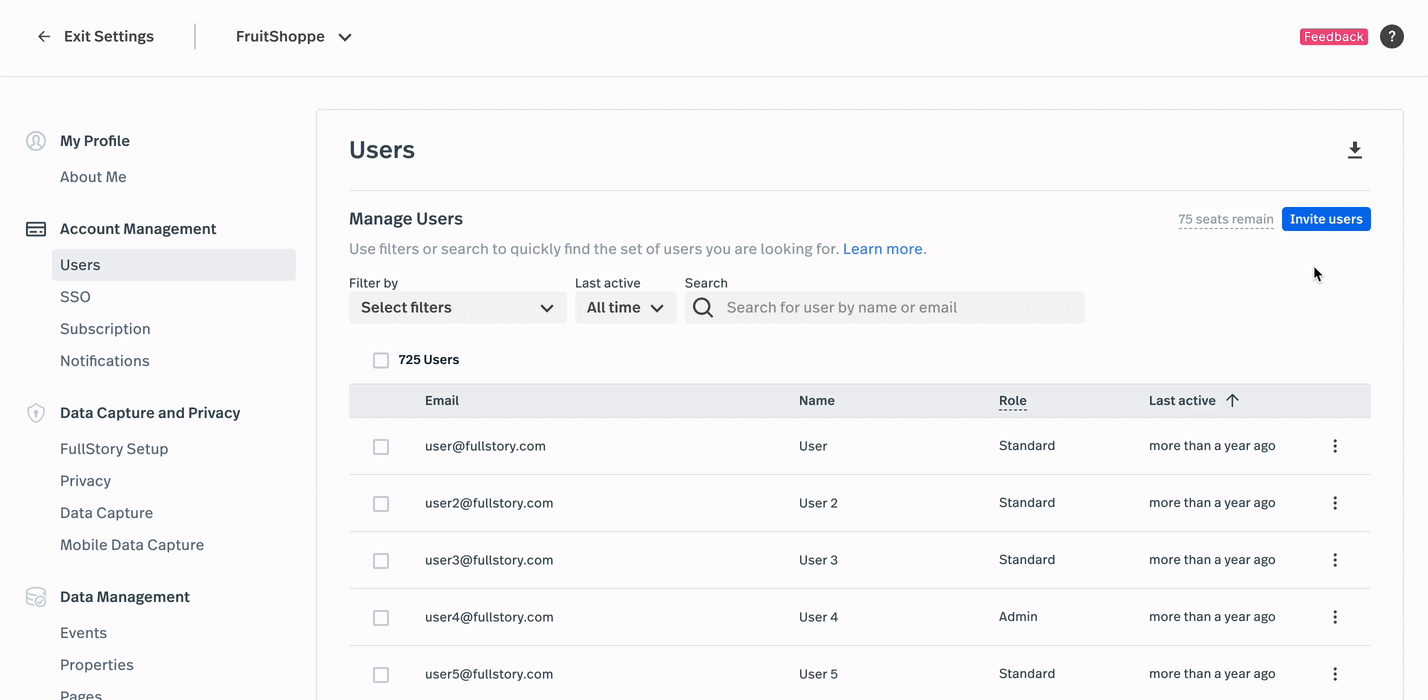 ---
May 2022
Group by Screen Resolution
We've added Screen Resolution as a dimension option to group by inside of Metrics and Funnels allowing customers to explore these further.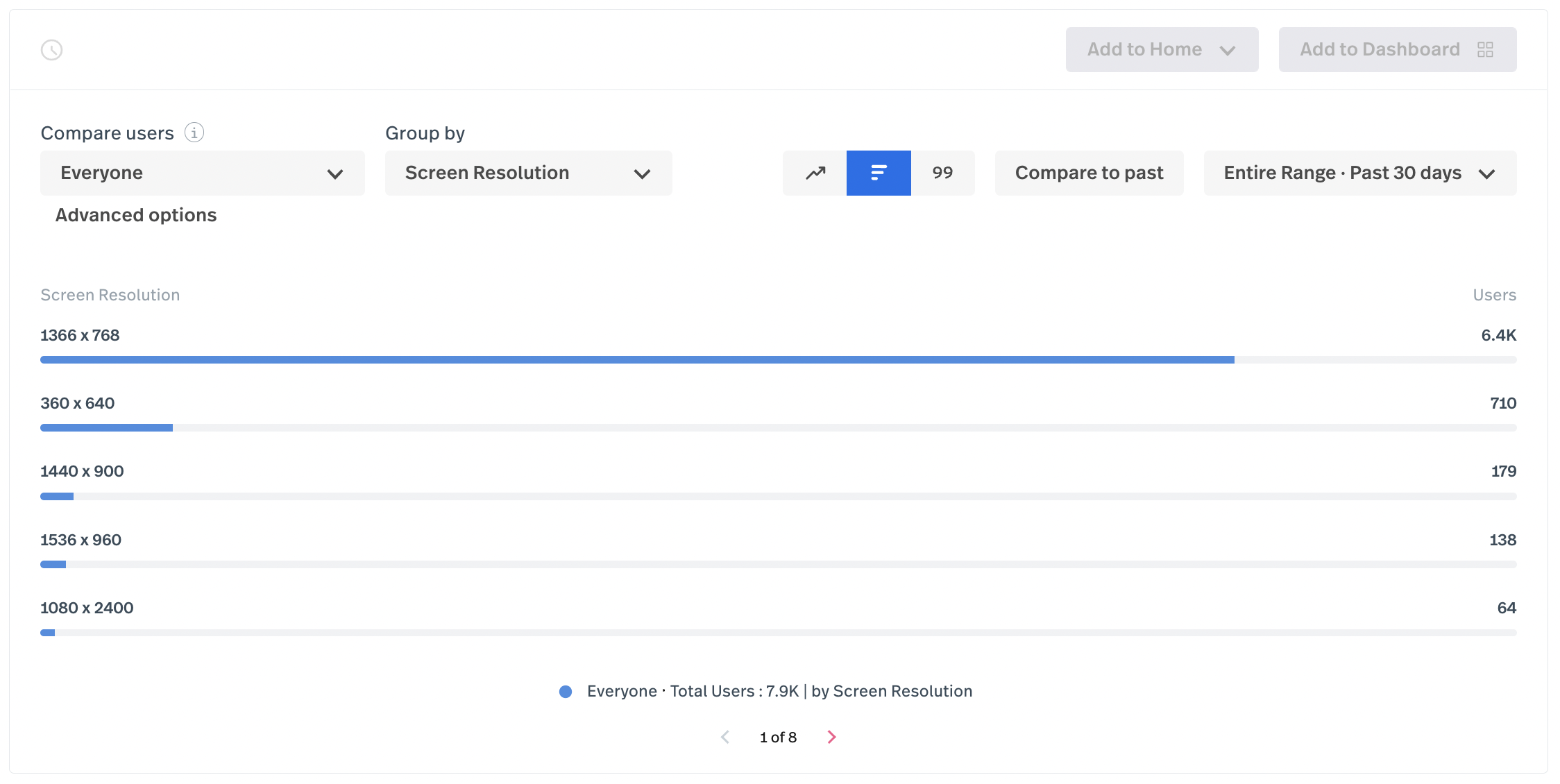 New Bulk Actions
We now offer a few new ways to manage your account via bulk settings such as inviting users to your account or adding IP addresses to your blocked list. Try these new enhancements to account management today.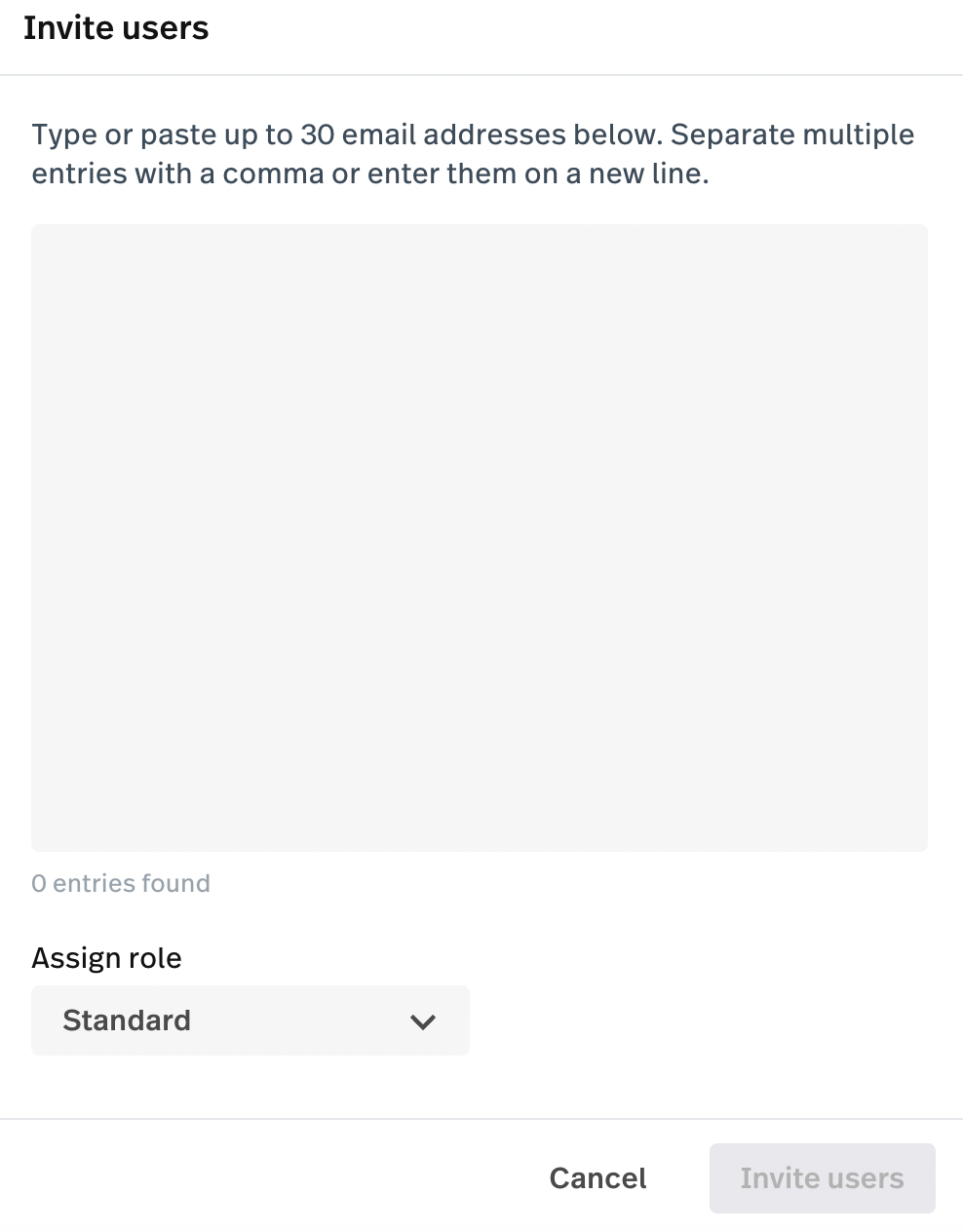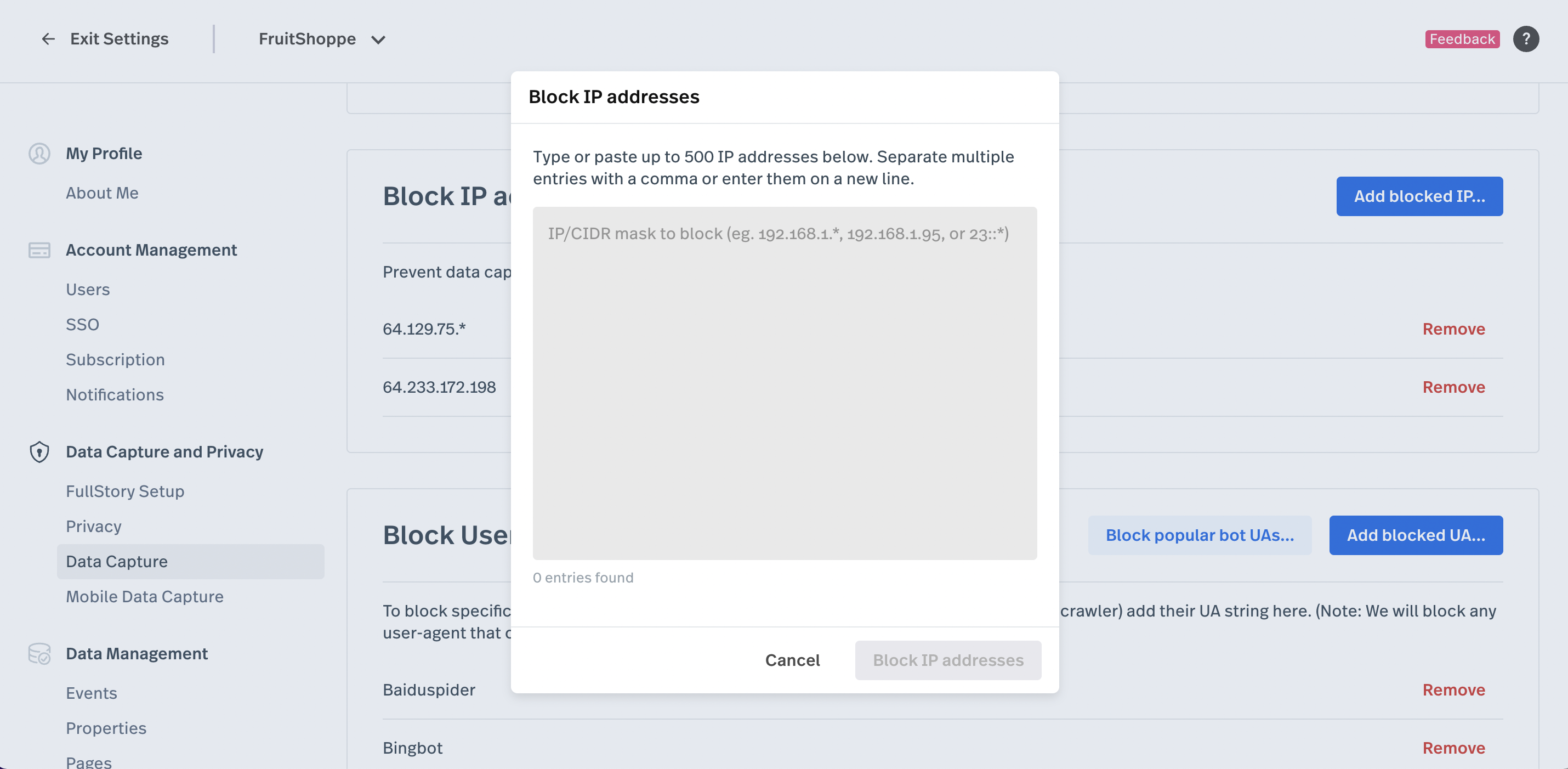 ---
April 2022
Data Layer Capture - Tealium IQ, Google, Adobe & CEDDL v1.0
We've enhanced our technology known as Data Layer Capture a step further. It now powers our out of the box integrations Tealium IQ, Google Analytics: Enhanced E-commerce, Google Analytics: Event Measurement, Adobe Analytics, CEDDL v1.0 to capture common data layer attributes and make them available in FullStory as custom events or user variables.
Server Side User Properties
FullStory now offers the ability to capture user data that often exists in different systems across your organization via Server Side User Properties. With this new API, you can send these properties to FullStory to integrate these platforms and gain a more holistic view of your customer experience.

---
March 2022
Tag or Mention in Note & Share
We now offer the ability to tag or mention a colleague via Note & Share when viewing a session. 
Privacy at Setup
All new orgs in FullStory will be taken through a step by step wizard of our privacy settings options to help ensure critical privacy and data capture settings are defined before data capture begins. For more details on the setup process, click here.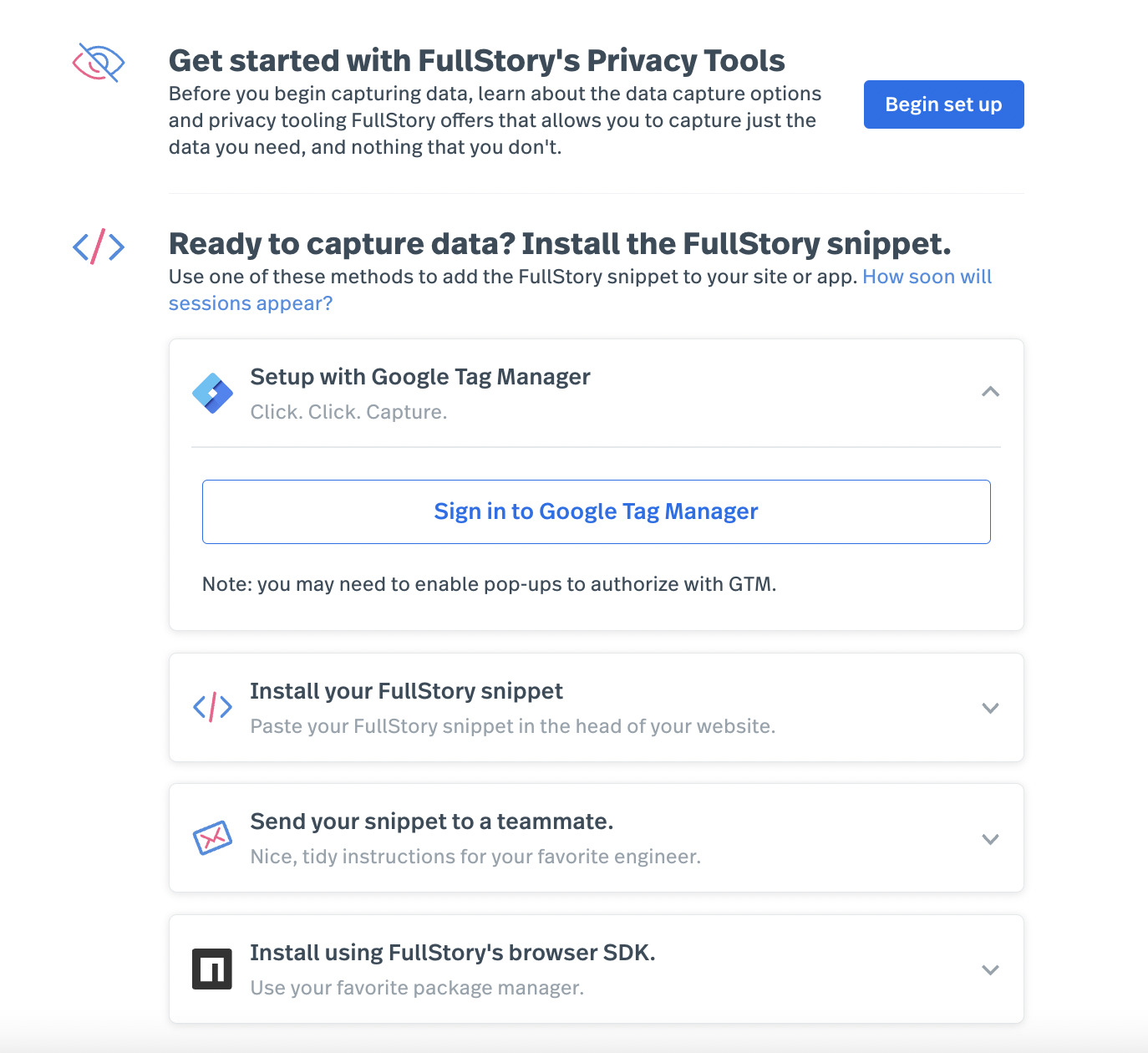 ---
February 2022
Named Elements in Journeys
Journeys now provides a few new ways to view and organize your data. First, Named Elements have been added to allow for adding unique names to complex elements like CSS selectors. After naming elements, you can search for these when analyzing your data.

Hide Events in Journeys
In addition to Named Elements, we've added the ability to hide events. With this option, you can filter out certain events in the user journey that may be redundant or not as important, allowing you to focus on other areas of the journey that take precedence.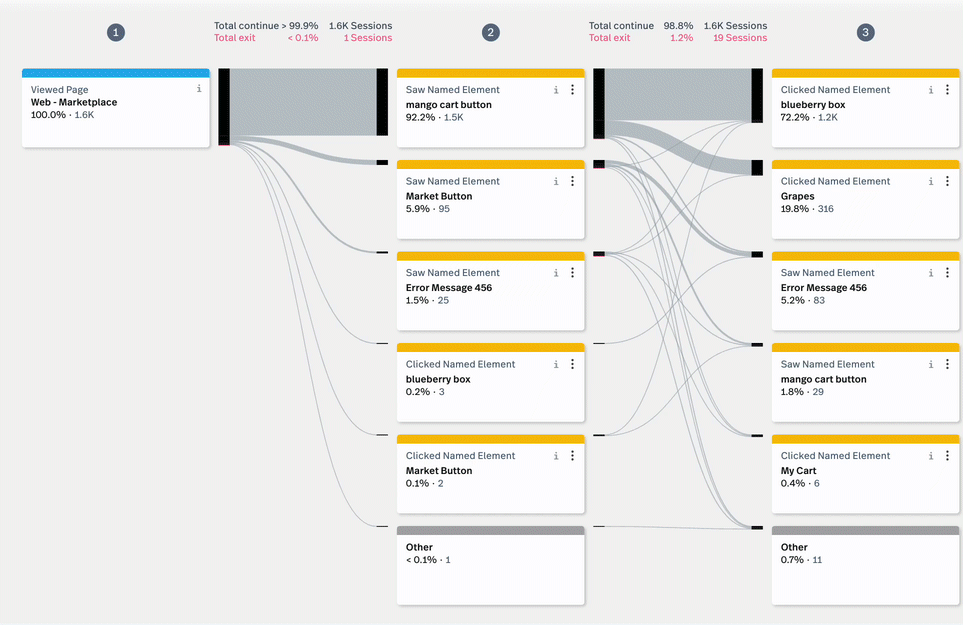 Gravity Data Integration
Gravity Data has released a new integration with FullStory which allows you to export data from your FullStory account and sync it to their database. Read more about it here!
Comparison Charting for Metrics & Funnels
Visualize the data that is important to you in a Period-Over-Period analysis by using the Compare to past button. With Compare to past, FullStory offers the tool for you to chart your data, via a set of date ranges, up close and learn what worked before and/or what is working now. Click here for more information.

---
January 2022
List Sessions API Version Update
We have launched v2 of our List Sessions API. The response JSON is now an object instead of an array, containing a field titled "sessions" that is an array of JSON objects (each one a session). All the fields in the session object are named the same but are now lowerCamelCased. userId, sessionID, and createdTime are now JSON strings instead of integers. However, they will always be of integer values. Learn more here.
User Management Enhancements
FullStory User Management has added more tools and views to help Admins efficiently allocate FullStory licenses to their teammates as well as check in on the overall user activity of their account. Check out this article for more info.

Exclude Ongoing Sessions
FullStory now gives you the power to hide online sessions from your search results if needed. Hiding online sessions allows you to focus your attention on sessions where the user's activity is already complete. Read more about this here.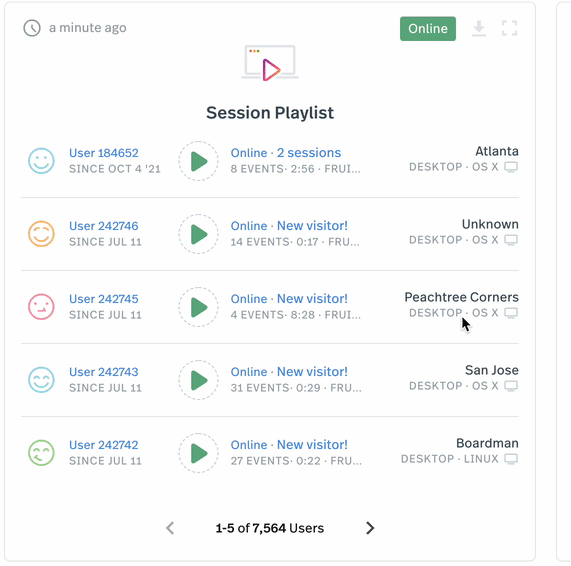 Form Privacy for Legacy Orgs
Legacy accounts/organizations (created before November 10, 2021) now have the option to enable Form Privacy via Settings.
FS.setVars
FS.setVars is a new API that allows you to send custom page names and properties into FullStory. Search for events and analyze data using your own page properties.
---
December 2021
Console Error Search
Console errors are now searchable
as an event filter in FullStory. This allows you to
search for specific error messages in Segments or in Dashboards c
reate a card of top Console Errors grouped by text.
This is especially helpful for engineers when there is a need to quickly identify and address any existing errors in the console.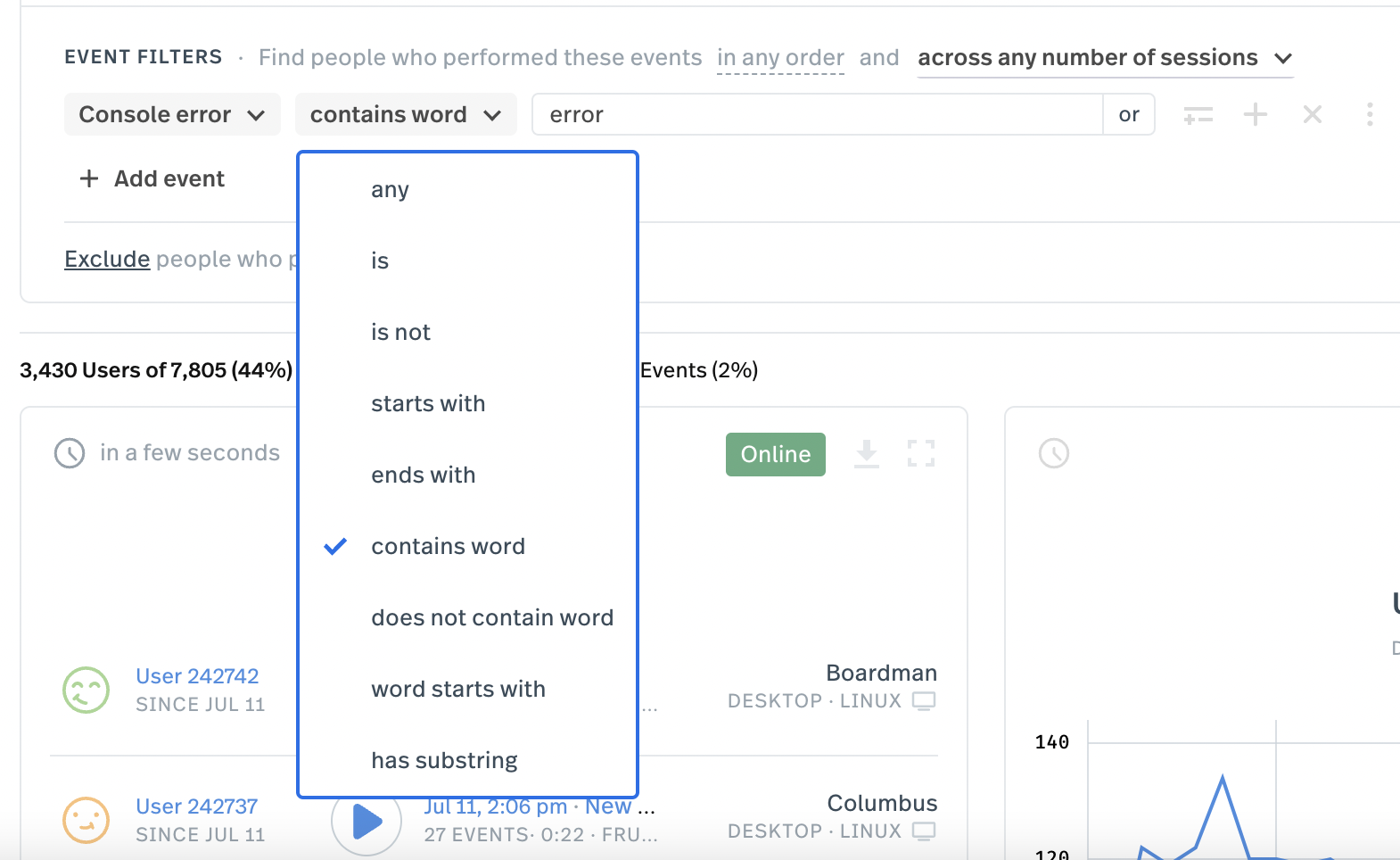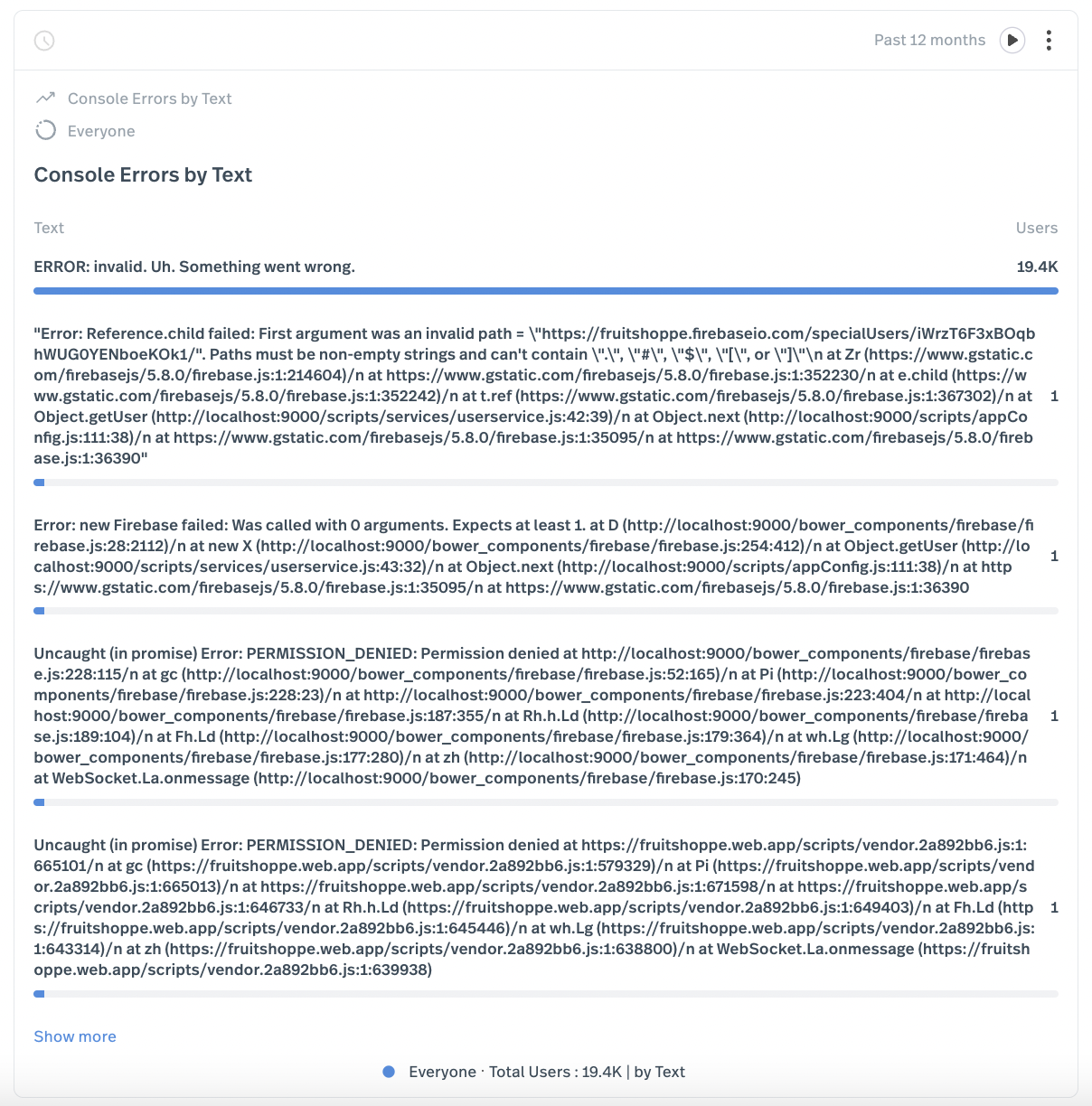 Page Search Improvements
You can now type a portion of the URL or Page you are searching for (such as a keyword within it, for example) and this will populate your results. This allows you to more easily find the page you want to analyze in search, Page Flow or Journeys.

Segment Integration Update
Segment has now launched Destination Actions, which allows more functionality and improves upon the existing process by enabling you to see and control how event data is captured and sent to action-based destinations.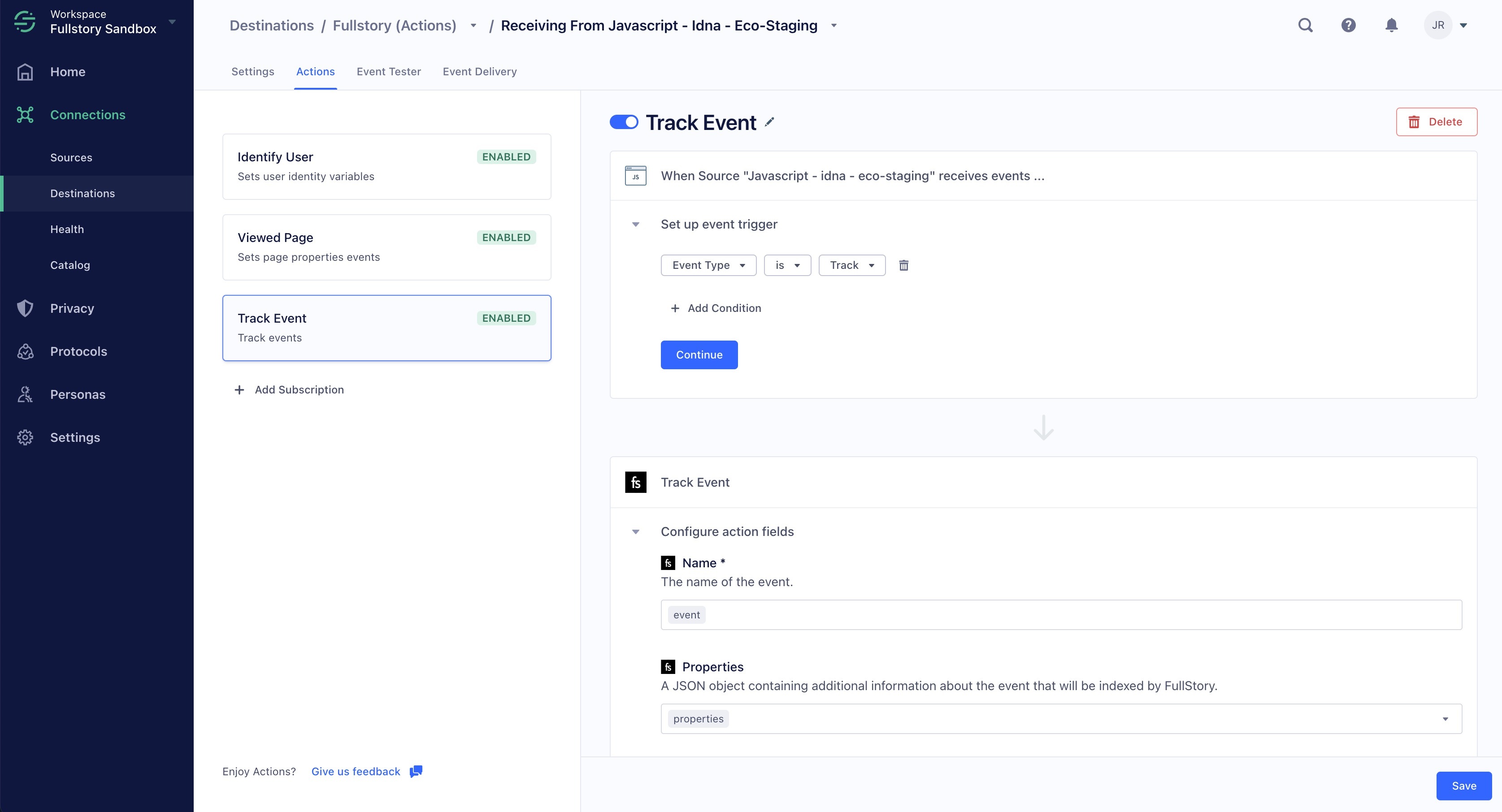 ---
November 2021
Journeys
Launched FullStory Journeys for Enterprise plans to demonstrate how users explore sites or mobile applications, showing step-by-step page navigation and other key interactions along the way.

---
October 2021
Productboard Update
To make it easier to jump back into FullStory, our Productboard integration now includes a Watch Session link.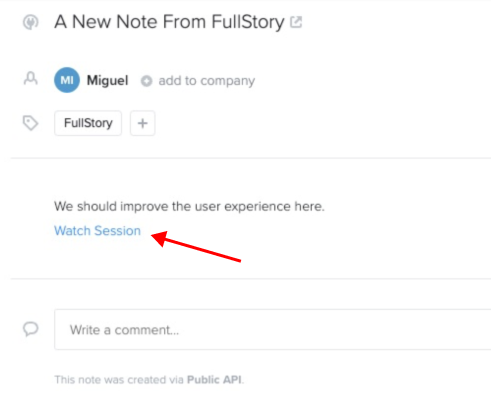 Enhancements to Account Management
The Users table (within the Settings > Account Management > Users page) is now sortable. This makes it easier for FullStory account admins to quickly determine which of their teammates have not logged in recently so that they can remove those licenses for improved security and to free up seats for other users.
The FullStory Users table can also be downloaded as a CSV (comma-separated values) file, which can then be imported into spreadsheet applications, email services and more.

---
September 2021
Page Flow Dashboard Card
Pages
We've developed a new Learned Pages machine learning algorithm to identify and group URLs into Pages on your behalf. Admins and Architects can manage these in Settings as well as create their own Page definitions. You can use these Pages anywhere in FullStory to search or build metrics. Additionally, you'll see data scoped to these Pages in Page Insights and Segment cards.
Previous & Next Pages
A new type of card is now available on Dashboards that displays the top 5 previous and next pages users view from a given page.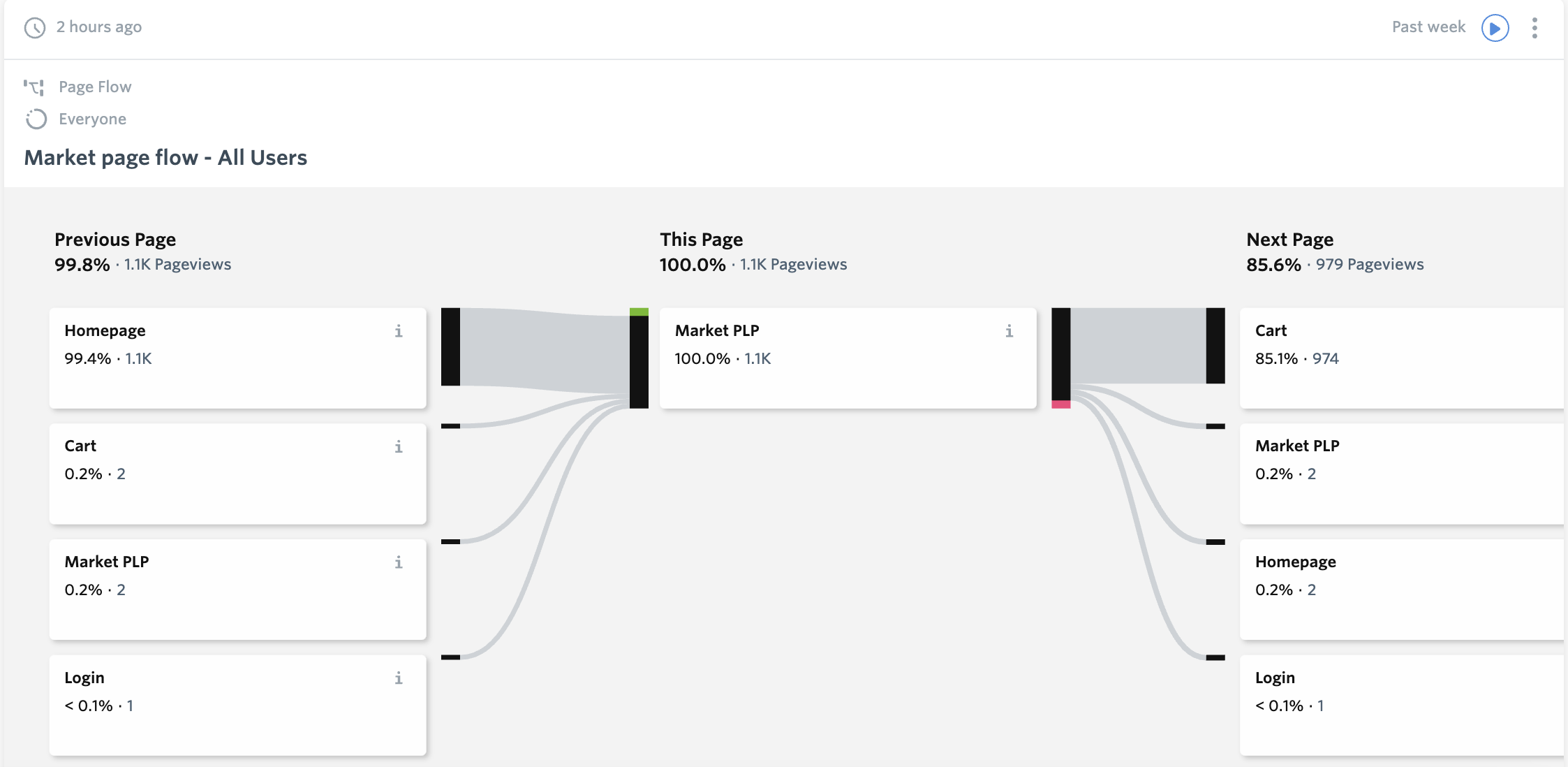 Search for Browser Version
You can now filter by Browser Version (within Event Filters) to offer a deeper look into browser type use in your sessions.


Group Data by URL Path
The URL Path dimension is now available to be used with metrics in Dimensionality Cards. This allows for a consolidated view of your data by URL, ignoring the host name and any query parameters or fragments.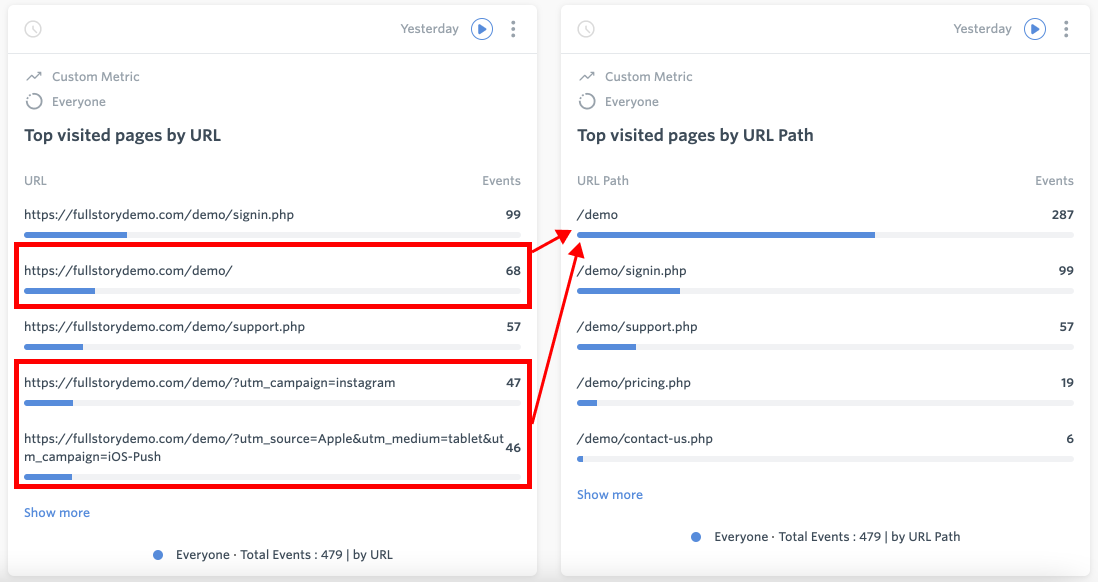 Reorganized FullStory Settings
We've updated the FullStory Settings Menu to make capabilities easier to find and to better align with the daily tasks of FullStory Admins, Architects and Umbrella Managers.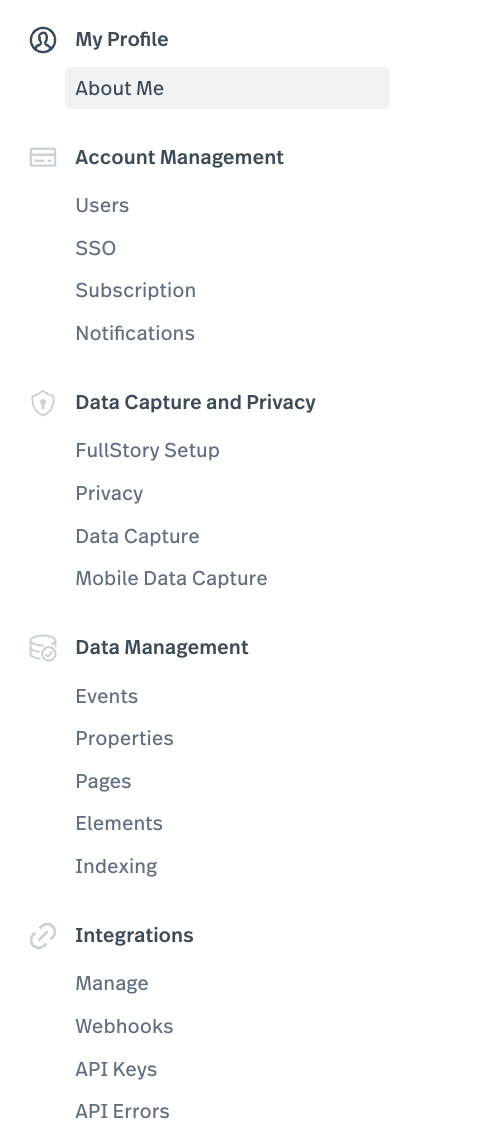 Integration Error Notifications
Integrations with broken connections now display a warning on Settings > Integrations > Manage informing you of the issue. This occurs when the person who originally set up the integration is no longer authorized or when the authorization has expired. This will make you aware of a broken integration connection and serve as a reminder to re-enable.

---
August 2021
Search against Dynamic URL Path
Segments now include a Matches URL operator event filter, so that you can match URLs with a simple wildcard syntax for search.

Jira Integration Update
A reminder to remove the older version of our Jira integration by September 30, 2021 and add the new OAuth2.0 version.
Group Data by Request URL Path
You can now group by Request URL Path in the Group by drop down menu of our Dashboards & Metrics pages to provide another layer of dimensions to explore via event filters.

Session Replay Enhancements
Error Click events in the event playlist now have an Open in Dev Tools shortcut button that opens the console to the moment in which the error click occurred.